Business
It Wasn't Just About 'Artie T.'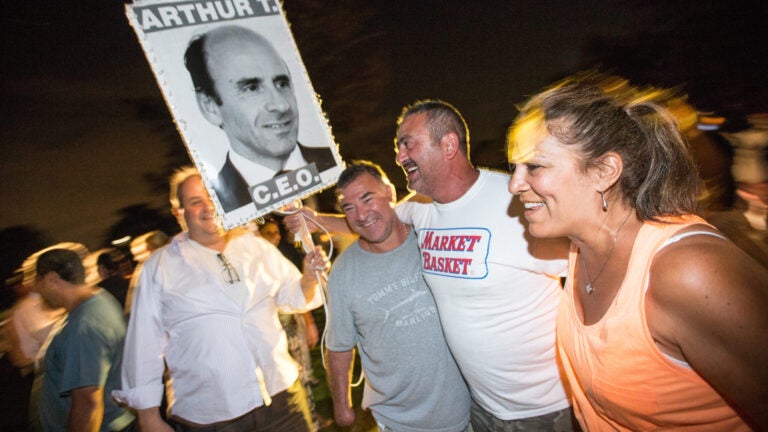 There are a few reasons Market Basket workers staged their weeks-long protest fighting for the return of Arthur T. Demoulas.
Employees are considered well-compensated by industry standards. That shows itself in base pay for many workers, and is also seen in bonuses and profit sharing benefits open to employees at all levels of the organization.
And workers, at least those that have been with the company for a while, speak fondly of their personal connections with Arthur T. They talk of his time spent at funerals and wakes of employees' loved ones, and say he makes other efforts to show his care for workers. Arthur T. also traveled to stores regularly, and though he didn't have those personal connections with all of the company's 25,000 workers, he is said to stop and chat with the stores' grocers.
But those important factors weren't the only things at play as workers voiced—and ultimately arrived at—their demands while throwing Market Basket into disarray. There's another major element that is related to both of the above, but stands on its own: They love the company they work for.
The amount of time some workers have been with Market Basket is stunning. Many employees spend decades with the company, working their way up from baggers to the front office and beyond. Between all the resignations and firings during the summer—there were fewer than 20—the company lost more than half a millennium of combined Market Basket experience. And it's not just the senior team that carries these sorts of tenures. Managers and department leaders at the company's 71 stores wear badges that say how long they've been with the company—some of which also show tenures of decades.
In other words, many workers start with Market Basket young and embrace the work, becoming lifetime employees. That, in part, has helped lead to the chain's success. Because there is so much experience at Market Basket, the senior team is pretty lean. This has historically allowed the company to operate efficiently, keeping prices low, and thus spurring further success for the chain and thus its workers. New stores provide workers new opportunities to work the way up through the chain. The beat goes on.
This pattern of success, reward, and loyalty went on under the direction of Arthur T. And before him, it happened under the direction of his father Mike. (Yes, that includes the period Mike was judged to have been in the process of fraudulently ripping company shares away from Arthur S. Demoulas and his family, launching the start of the decades-long Demoulas battle.)
So when Arthur T. was fired, the notion that the company would change its course resonated with employees. Sure, this hit on compensation concerns—employees weren't shy about voicing those. And sure, they lost the leader they adored.
However, they also said several times that they were afraid the company's culture would change under the direction of Arthur S. who, board meeting transcripts and past dealings indicate, was interested in a different approach to the company. It wasn't just Arthur T.'s job that was under fire. The way of doing business that they knew, the only way of doing business they had ever known, was also at threat. And to them, that meant Market Basket was at threat, too.
All of the reasons to protest spill into one another. Solid compensation plays a role in keeping employees around. That's especially so with a profit sharing plan that doesn't fully vest until workers have been around a few years. And Arthur T.'s attitude toward his workers was both reflected in that compensation and reflective of the culture workers cherished.
But to say employees' actions were about compensation, or that they were about their adulation for Arthur T., misses a further point: They also protested for the company they helped build. Market Basket has long invested in its workers. But the workers themselves are deeply invested in Market Basket.