Business
Major League Soccer Unveils New Logo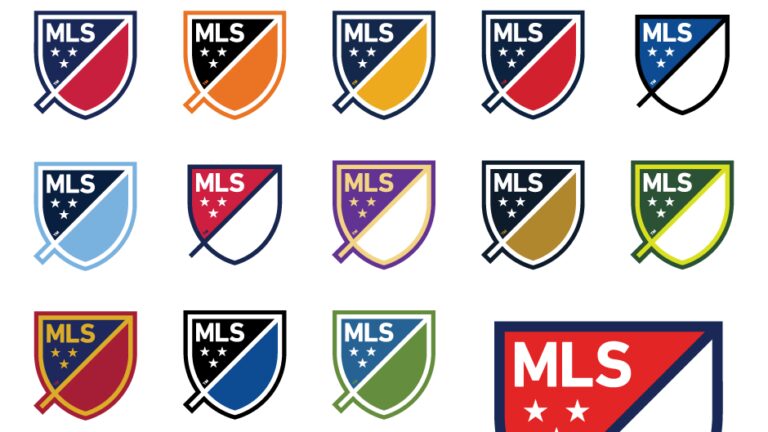 Major League Soccer is doing away with its traditional cartoon-cleat-and-soccer-ball logo for a more minimalist look.
The league's own explanation of the new logo makes for the sort of mumbo jumbo that tends to come out of marketing departments. Here's how it describes the slash that divides the crest: "The slash refers to soccer's speed and energy. The slash begins outside the perimeter and drives upward at a 45-degree angle to illustrate both the nonstop nature of our game and the rising trajectory of our league. It bisects the crest to create a 'first half' and 'second half.'''
That's a whole lot of overwrought silliness. And while I don't have a great sense for design, I'm not sure I even like the new logo. But I do find the switch itself interesting. It conveys that MLS, which is calling the rebranding effort 'MLS NEXT,' thinks it's entering a new era. That makes sense, in the context of a league that looks like it's growing up.
Next season will be MLS's 20th. Its fans have literally grown up. The league's target demographic has shifted from youth soccer families to young adults in urban areas, many of whom comprised that youth soccer target when the league launched in 1996.
The league's quality of play has improved quite a bit as well. MLS has begun developing its own stars who feature prominently on the US Men's National Team, and has also begun to draw Americans who have been playing overseas back home. Even the usually tight-pursed Revolution are getting in on the fun. International stars tend to come over once their time in Europe has run out, but that's still bringing recognizable names into the fold; think Thierry Henry; Jermain Defoe; and most famously, David Beckham, who is now vying to launch a team in Miami.
Teams are developing stadiums across the country, MLS secured a new contract earlier this year that will more than triple its TV revenues, and the league has expanded to 19 teams in the US and Canada.
Next year will see two new teams enter the league, one of which could immediately become its most prominent. That's New York City FC, a joint venture from English club Manchester City and the New York Yankees that has already signed up international stars David Villa and Frank Lampard. The other new team, Orlando City, has Brazilian star Kaká in the fold.
MLS is also thinking big. I interviewed MLS Commissioner Don Garber last winter. Over the course of the conversation, he said the league's objective was to be recognized as a top-five soccer league in the world by 2022. (That nugget wound up on the cutting room floor, but here's the interview.)
It's a big goal considering the quality of soccer worldwide. And the league has plenty of challenges to face, including potentially ecosystem-shifting collective bargaining with players this coming offseason. Time will tell how well the league follows through. But that it's undertaking a rebranding shows MLS is at least looking forward to giving it a go.