Business
Bye-Bye, Best Buy: Big Box to Leave Landmark Center in November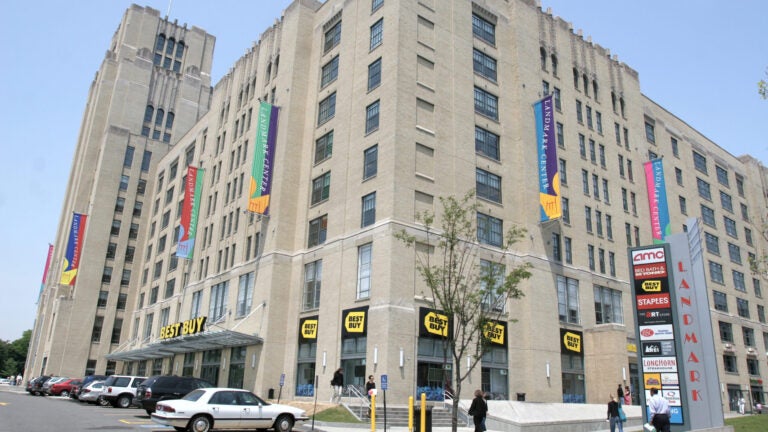 After 12 years, Best Buy is closing up its store at Landmark Center on Nov. 1, an early step in the widescale development to come at the Fenway-area outpost.
According to Best Buy spokesperson Jeff Shelman, the Minnesota-based chain took an option to get out of its lease early by Landmark Center landlord and developer Samuels & Associates.
Shelman says the store's location has posed challenges, including a loading dock that is not connected to the store itself and an abundance of Best Buys across the region. Though the chain is struggling nationally, Shelman said other stores are not expected to close. Big box stores sometimes struggle near popular event venues (like Fenway Park) because customers are deterred by large crowds, scant parking, and congested traffic.
Best Buy's departure is just the tip on the iceberg in terms of the changes ahead at Landmark Center, which is in line for a major expansion.
New buildings will be developed, adding luxury housing and new office, restaurant, and retail space to further furnish the existing commercial space right off the Green Line. The project received BRA approval earlier this year and construction is expected to begin next summer.
As of yet there is no word on the long-term future of the Best Buy space, which occupies more than 30,000 square feet. Clearing it out is a first step toward preparing for the coming changes.
"There are so many pieces moving…They all work in concert,'' said Samuels spokesperson Kate Haranis, explaining why she couldn't offer details on how the space—located on Landmark's most prominent corner—will be used in the short term.
Another Landmark Center tenant, local food chain Fresh City, was also given an offer to cancel its lease early. Fresh City is shutting down operations at Landmark Center this week.
"(The redevelopment) is going to be so disruptive that it's better for (Samuels) to get everybody out of there now,'' Fresh City CEO Pete Minich told Boston.com.
Landmark's chief office tenant, Blue Cross Blue Shield, will also be moving out of the space next spring.
Boston's first Wegmans grocery store is also planned for Landmark Center, though nothing has been finalized on that front yet. Wegmans opened its second Massachusetts store in Chestnut Hill in the spring, and a third is coming soon in Burlington. Negotiations on a lease at Landmark are ongoing, but a Wegmans spokesperson offered no further details.