Business
Mass. Voters Reject Casino Repeal; Expanded Gambling Will Stand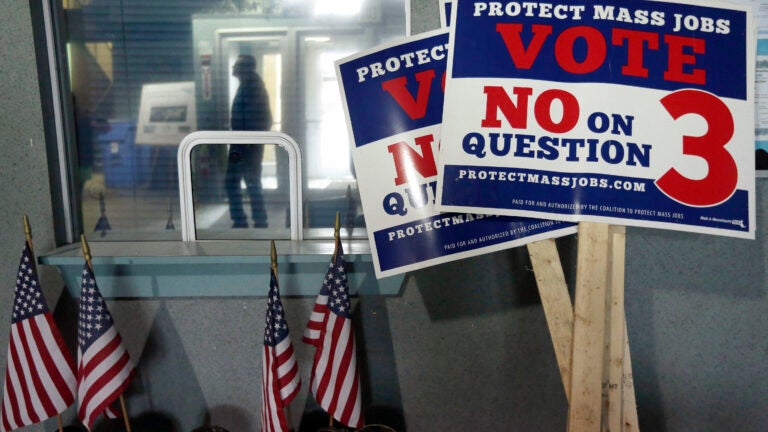 Casinos are still coming to Massachusetts.
Voters have decided not to repeal the 2011 law that allowed for three casinos and a slots parlor to be built in the Bay State. That means it's all systems go for already-approved resort casinos in Springfield and Everett, as well as the slots parlor planned for Plainville.
The result was called by The Associated Press shortly before 10:20 p.m. At the time, among counted ballots, there was a 59.5 percent to 40.5 percent lead for the 'no' vote on Question 3.
The Springfield and Everett proposals—from MGM Resorts and Wynn Resorts, respectively—received approval earlier this year, but the Massachusetts Gaming Commission held off on awarding either project a license until after the ballot question had been settled. They're now expected to pay an $85 million licensing fee, receive their licenses, and get moving on the projects.
The slots parlor, from Penn National Gaming, was given its license earlier in the year and quickly began construction. It did not slow when the question that could have shut it down was approved for Massachusetts ballots in June. That's now looking like a good gamble, if you'll excuse the pun, and it plans to open in mid-2015.
Massachusetts will take 49 percent of gambling revenues from the slots parlor and 25 percent from the casinos in taxes when the projects open. The process to award a third casino, this one in Southeastern Massachusetts, has been delayed until next summer, but with the 'no' vote on Question 3, that process will happen.
Had Question 3 passed, none of the projects would have been able to open. (However, both major party gubernatorial candidates had said that if voters rejected casinos, they would at least consider finding a way to keep the Springfield proposal moving.) The situation with Penn National's slots parlor, in particular, would have been messy, given that it has already paid for its license and is well underway in developing what it's calling the Plainridge Park Casino.
The committee of community activists that brought Question 3 to the ballots, urging the repeal of the law, fought hard to do so as Attorney General (and gubernatorial candidate) Martha Coakley initially blocked the effort. The state's Supreme Judicial Court eventually allowed the question onto ballots in June.
However, polls consistently showed voters did not plan to repeal the law. And the Committee to Protect Mass. Jobs, the group urging a 'no' vote, raised millions of dollars from Penn National, MGM, and Wynn, then took heavily to the airwaves to reinforce their position.