Business
Two Harvard Grads Are Searching For The Perfect Tomato in Africa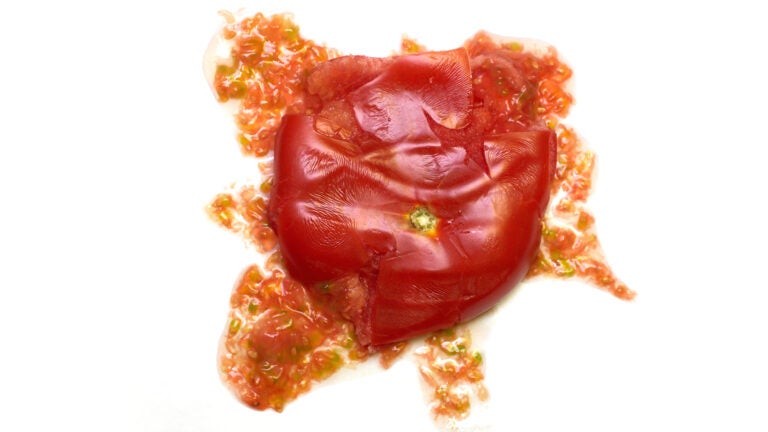 Harvard Business School graduate Mira Mehta has been splitting her time 60/40 between Cambridge and Nigeria to get her tomato paste business Tomato Jos off the ground after meeting her Kickstarter goal last month. Mehta first noticed an imbalance in supply-and-demand in Nigeria while working with the Clinton Health Access Initiative and with Harvard School of Public Health graduate Shane Kiernan, she launched a company that will harvest and tin locally grown fruit to make an all-natural tomato paste for Nigerian consumers. They named it Tomato Jos, Nigerian slang for a "cute girl''—sweet and juicy, get it?
"The ingredients of tomato paste are pretty much tomatoes and salt, so the quality comes from the tomato itself,'' Mehta explained. Tomato Jos aims to produce a product with no additives—like starch, fillers, or colors—commonly found in other local brands, so finding the perfect tomato is key.
[fragment number=0]
Mehta said tomato paste plays a large role in many popular Nigerian recipes, specifically a customary dish called red stew, which—as its name implies—is red. Very red.
"You take palm oil, which is a stock ingredient, and fry onions until they're limp and loose,'' said Mehta, noting it was the first dish she learned to cook when she moved to Nigeria. "Then you add crushed tomatoes, tomato paste, and hot red pepper. Its almost like a tomato sauce, and you add meat and water and boil it up. It ends up being this very tasty, very hearty soup served over rice with plantains.''
Producing a paste that results in a bold, vivid red without the help of artificial colors means growing the right tomato, that not only tastes right, but looks right, is the next challenge for Mehta and her team.
"Taste testing will be a very important,'' she said. "It's about the customer. Do they care more about the acidity or the sweetness if it's red enough? Do they care about thickness? What are all those characteristics that matter as much as the flavor?''
Just this week, Tomato Jos has begun to transplant their tomatoes in Panda in the north-east quarter of Nigeria, with nearly 40,000 seedlings over 4.5 acres of Tomato Jos and smallholders' land. The team experimented with several types of tomatoes this round to see which produces the tastiest results with the best color. Not to mention growing tomatoes in a foreign environment may result in unfamiliar obstacles like fielding proper irrigation, buying a truck, and raising "strong'' greenhouse seedlings for the farmers to transplant—oh, and building that greenhouse.
A small team of 10-15 work with Tomato Jos in these early stages, but Mehta hopes to reach at least 1,000 Nigerian farmers to partake in the program, with a goal of multiplying their income by a factor of five. Later on, Tomato Jos will employ transport and processing teams and a seasonal staff of about 100.
"The market in Nigeria is half a billion dollars so initially we're just going after the domestic market,'' she said. "Most tomato based products are across West Africa so we see export to landlocked companies and building a regional brand. Our plan is to operate a fully-integrated business.''
[fragment number=1]
Unfortunately, don't expect to see Tomato Jos in a Boston area market any time soon (unless you pitched in for their Kickstarter.) But keeping their product exclusive to its source is for the sake of the greater good. Mehta plans to focus the project in Nigeria, aiming to develop a sustainable market for tomato production among local smallholder farmers.
"In a local market and economy where the town has about 90,000 people, that can have a pretty big impact,'' she said. "It's that saying that every dollar invested in a rural economy can be $10 in growth.''