Business
How London's Olympics Went Way Over Budget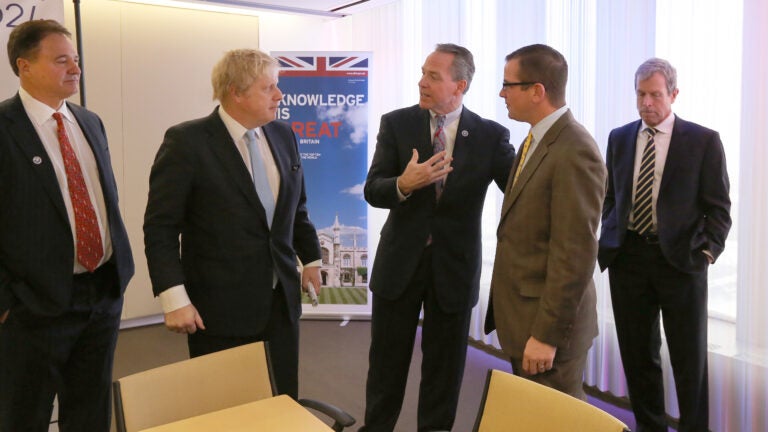 London Mayor Boris Johnson was in town Monday, and he spent some time talking about the Olympics—and their costs.
When Johnson wasn't trying out the MBTA (oof), or doing his best impression of the Boston Yeti—
[fragment number=0]
— he was meeting with Boston 2024, and later went on Boston Public Radio to chat about his city's experience hosting the 2012 games with hosts Jim Braude and Margery Eagan.
Among the discussion points on the radio show was the budget for London's 2012 Olympics and how it expaned. Johnson was asked by Braude about how London's original estimates went from $4 billion or $5 billion to eventually reachabout $15 billion. Why shouldn't Bostonians be worried about similar circumstances, Braude asked. Here's what 'BoJo,' as Londonites know him, had to say:
What happened was that the initial bid did have to be inflated, but after we got to what was a reasonable price — and this was about 5 or 6 years out — we didn't go over that budget, and we stuck with what was 9.3 billion pounds [more than $14 billion today, and over $17 billion at the time], and we brought it in under that.
In other words, once it went over budget, it didn't go over budget again. Take whatever level of comfort you will (or won't) from that, but yes indeed, Johnson said, London's costs far exceeded its original projections.
Olympic budgets are complex. In addition to the costs of actually putting on the games, there are all those other factors—infrastructure and land prep, other construction costs, security. And the money to pay for all of that can come from a number of different places, which will surely differ depending on the country and its form of government.
London, for its part, always planned to fund most of its bid with public money, from both the city and United Kingdom governments. But its original estimates were extremely optimistic. When London first pitched what was reported as a $4 billion budget to the International Olympic Committee (IOC), it wasn't just talking about operations. That figure was meant to include infrastructure and more, according to the candidature file that London's organizing committee submitted to the IOC:
The U.K. Government and the Mayor of London have agreed (sic) a package that makes allowance for ($4.04 billion) of public funding. This will be made up of ($2.5 billion) from the National Lottery, including revenue from a new game to run from 2005, and up to ($1.065 billion) from London residents, via a local tax. The remaining ($425 million), if required, will come from the city, via its development agency. …

These figures were drawn from an initial study into the cost of hosting the Games. The package is designed to cover the necessary capital, infrastructure, and staging cost of the Games. The government will also undertake the commitments required for the provision of security, medical and other Government-related services at no cost to the London Olympic Committee for the Organizing of the Games.
While that $4 billion figure is often cited as the original London Olympics budget, the documents London submitted to the IOC also estimated that London's organizing committee would bring in about $1 billion in games-related revenue. So, all told, London said at first that it would have $5 billion available to put on the games with $4 billion coming from public funds. That's probably why Johnson, speaking to Boston Public Radio on Monday, had no issue saying "80 percent, 90 percent'' of funds came from taxpayers.
That initial budget was where things stood in 2005, when the IOC chose London as host city for 2012. (That was the third time as host for London, which also put on the games in 1908 and 1948.) To put the timeline into context, we're talking 2.5 years further in the process than Boston is right now.
Within a couple of years, the London budget jumped significantly. The reasons would appear to be a mix of the original estimate having been way too rosey, and plans having grown more broad. Before the hikes were made official, it was already growing clear that a budget of more than $12 billion seemed likely. Security costs were going to jump quite a bit following the July 2005 terrorist attacks in London. Other costs related to infrastructure and "regeneration'' of the city post-Olympics were likely to grow significantly as well. The Guardian reported on the political response in 2006:
Some assembly members were surprised to hear (chairman of the London organizing group Roy) McNulty dismiss the original £2.4 bn budget as nothing more than 'a concept developed in a matter of months' when London was putting together its bid for 2012. Assembly members of all parties were unimpressed and concerned by what they heard. But, they asked, weren't the public told endlessly during the two-year bidding process that the costs had been carefully worked out and rigorously checked? How could costs have risen so dramatically, so quickly? Were the figures underestimated to help gain public approval?
A few months later, the full renewed tally was in. At the time, the figure—9.35 billion pounds—converted to more than $17 billion. From the BBC in 2007:
The Department for Culture, Media and Sport later said the £2.4bn estimate from two years ago did not include costs for such items as regeneration and infrastructure — which the £9.3bn now does.
That statement is at odds with what organizers submitted to the IOC, which directly said the $4 billion in government funding it originally proposed accounted for infrastructure.
In any event, once the much larger budget was arrived at in 2007—and once Johnson took office in 2008—London managed to deliver on those numbers five years later. That doesn't make it any less fair to say, as Johnson acknowledged Monday, that the costs of the 2012 Olympics went well beyond their first projections.
The Olympics have been shown to just about always go over budget. But in fairness to Boston 2024, it seems like London's budget swiftly jumped as high as it did because the original $4 billion plan was impossibly frugal. While Boston's bid has been sold as efficient, when you factor in all of its costs, it comes out looking similar to the final London 2012 budget.
The total costs for the Boston plans include: $4.7 billion in operating costs, which would be privately funded; $3.4 billion in venue construction costs, which Boston 2024 Chairman John Fish promised last week would be built by private interests and would not require taxpayer dollars; security costs estimated to be at least $1 billion, which would be paid for by the federal government; and $5.2 billion in infrastructure spending. (Boston 2024's estimates are in 2016 dollars, according to its bidding documents, to account for inflation.) Boston 2024 says those infrastructure projects are already in the state's plans, but let's include them to get a holistic view of what, nine years before a Boston Olympics would happen, the overall budget looks like. It adds up to a total budget of more than $14 billion, in the neighborhood of London's costs.
Unlike London, Boston 2024 has stressed that minimal public dollars would be involved. Whether that's actually possible has already become the subject of significant debate in Boston, and the idea that $4.7 billion can be privately raised to pay for operations looks like a best-case scenario. Based purely on what organizers are saying, though, Boston 2024 appears more likely to keep taxpayers off the hook than London's organizers, who said outright that they were relying heavily on public funding. Boston's plans to use a temporary Olympic stadium and other temporary venues would also serve to keep projects privately funded, at least in theory.
While London doesn't make for a perfect comparison for Boston's bid, Boston 2024 has drawn parallels to the London Olympics in the past. At a Boston Globe forum to discuss the Olympic plans in December, Juliette Kayyem, who is on Boston 2024's technology committee, said she saw the London games as the most successful in recent memory. She added, though, that there were lessons to learn from its budgeting process—specifically, the degree to which the security budget increased.
As for Johnson, London's mayor? He seems pretty happy with how things worked out, especially in East London. "You've got a whole new city basically growing up in that area around Stratford and the Olympic Park,'' he said Monday. He also predicted that opposition to the Boston Olympic plans would fade and turn to "euphoria'' if the IOC winds up selecting the city to host in 2024.
Eagan asked Johnson if his visit could be seen as an endorsement of Boston hosting the 2024 Olympics over possible bids from some of London's fellow European cities? Nah, not so fast—he said he'd do this for just about anybody who'd caught the Olympic fever. "Mayors of previous host cities, we go around supporting everybody else's bids and saying what a wonderful thing it would be,'' he said.