Business
Kickstarter Campaign for Dog Hats Saves Canine Ears From the Cold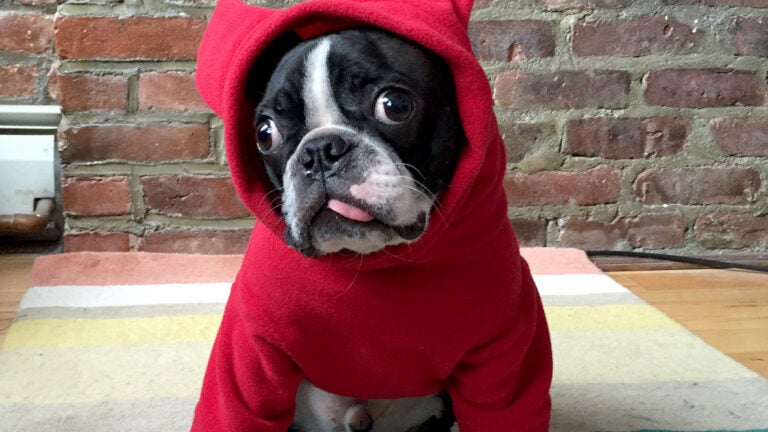 If this cold and endless winter is freezing your heart, you should see what it can do to a sensitive dog's ears.
Some breeds, including bulldogs, Dobermans, and pugs, have very thin membranes on their ears, so these tender extremities—that stand straight up—can freeze if left uncovered in the cold.
Dara Moss, founder of Snorf Industries and owner of Enzo the French bulldog, is doing something about it.
According to Moss, traditional dog snoods (essentially neck-warmers that go over dogs' heads) "push down on dog's ears and are very uncomfortable.'' So last winter, during the polar vortex, she sewed Enzo a hood with ear pockets. She called the garment a Bat Hat, and started selling them on Etsy under the 'Snorf' company name (after the sound French Bulldogs make when they breathe).
Moss isn't the first to come up with the ear pocket design. But the Portland, Maine, native, who now lives in New Jersey, said she sets her products apart by making the hats and hoodies exclusively out of high-quality fleece.
"The thing is that being from Maine, there's a certain percentage of your wardrobe that's from L.L. Bean, whether you like it or not,'' Moss explained. L.L. Bean uses exclusively Polartec fleece, which is manufactured in Lawrence, and Moss followed their lead.
"Maine made me a fleece snob,'' said Moss.
The commitment to quality seems to be working: Not only is there high demand for the standard options that Snorf offers, but Moss gets custom orders, too. She made this snazzy leopard print hat for Anje, a Doberman who lives with her owner Laurie in Pennsylvania (Moss did not make the jacket):
[fragment number=0]
Moss started Snorf Industries as a side project, but she recently quit her job in advertising to pursue the business full time. She launched a Kickstarter campaign to manufacture the Bat Hats and hoodies in a factory.
Because even though she's now devoting all her time to making canine caps, Moss can't keep up with the volume of orders that are coming in from all over the world.
"There's a dog, a Petit Brabançon named Pilou, who lives in France, in Nice,'' Moss said. "And his dad Frédéric owns a record store and drives a little motorscooter. And Pilou gets so excited when his dad takes out his Bat Hat, because it means they're going to scooter.''
[fragment number=1]
It's hard to watch the video Moss—who double-majored in film and animation at NYU—made for her Kickstarter without smiling.
[fragment number=2]
Or without laughing, for that matter. Because there are few things more heartwarming on a cold winter's day than watching an English bulldog wearing a fleece hat with ear pockets shake his head back and forth in slow motion.