Business
Would public money fund Boston's Olympic Stadium?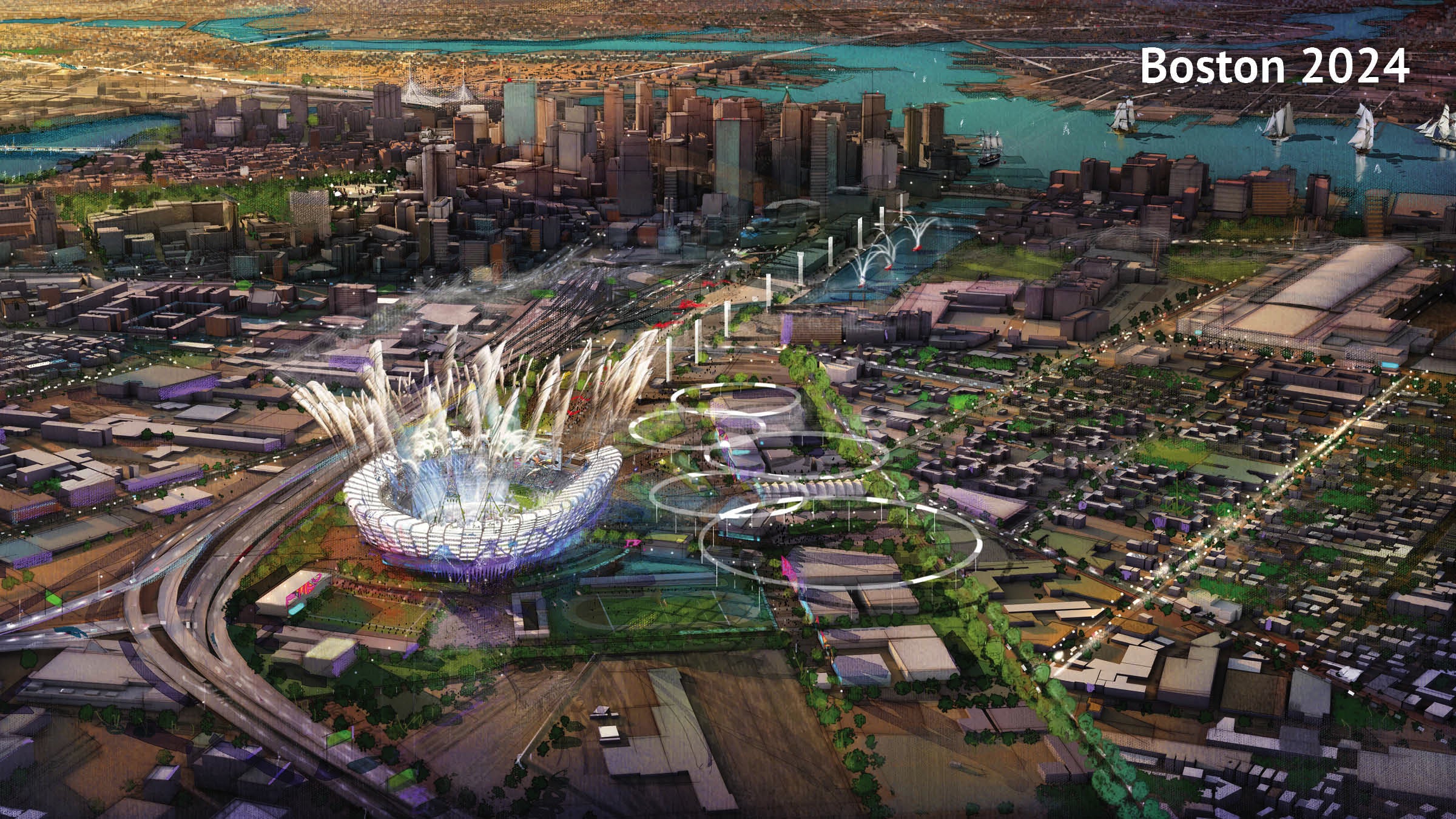 Boston's Olympic bid has been presented as one that would not rely on public money. But newly released documents showing that organizers' original plans would, in fact, need some city support have whirled up fresh concerns.
In January, Boston's Olympic bidding committee put its planning documents out to the public. They were more or less the plan Boston 2024 had sent to the United States Olympic Committee last December, but some of the information submitted to the USOC was held back.
This week, Boston magazine and The Boston Business Journal each got their hands on the full bidding plan, and it carried previously undisclosed details.
One detail in particular has attracted significant media attention—and outrage among opponents of the bid—because it suggests the group had planned to use public money to purchase and prepare the proposed Olympic Stadium site.
What's the big takeaway?
The unredacted documents provide details about Boston 2024's financing plan for a temporary Olympic Stadium at Widett Circle, on the South End-South Boston border.
The plan says Boston 2024 would pay for the construction of the stadium through private funds, but land preparation and acquisition would be done differently. Specifically, an unspecified public authority would issue bonds to pay for those purposes.
This idea was in the redacted version of the bidding documents, too. Those documents, released in January, said "acquisition and improvements will be financed by the issuance of bonds,'' and that the group "has devised a financial strategy that captures increased land values and new tax revenues to finance the cost of land assemblage and infrastructure upgrades.''
But that language was somewhat vague. The unredacted documents get right at it, saying: "The financing will utilize tax increment financing (TIF) bonds…Initially, a public authority (e.g. City of Boston affiliated Industrial Development Authority) will fund land acquisition and infrastructure costs.''
According to the documents, these funds would cover $345 million worth of land costs and work on the site.
How would that work?
Even the more specific language is not clear about how exactly a bond plan would function. But the basic idea seems to be as follows:
Boston 2024 has said the long-term plan for the site would be to take down the temporary stadium and develop the area for a variety of uses. Working on that assumption, the bidding documents say, Public Authority X would pay to acquire and develop land by issuing bonds. The debt would be paid for by new revenues that would come as a result of the new development.
This sounds similar to District Improvement Financing, a system that allows Massachusetts cities to fund infrastructure improvements and pay back the debt using new tax revenues derived from increased property spurred by development. As a point of comparison, District Improvement Financing was the mechanism used to pay for infrastructure at Assembly Row, the big new mixed-use development in Somerville.
According to the plan, a to-be-determined private developer could ultimately take over the debt payments: "A private sector development group will be selected for the proposed development of the project that will provide funds to pay for the debt service on the initial financing utilized for land acquisition and infrastructure costs.''
Didn't Boston 2024 say no public money would be used?
The plan seems to contradict the claim that Boston 2024 would privately fund venue construction.
Did Boston 2024 lie? Well, the bond plan was alluded to in the previously released bidding documents, and Boston Mayor Marty Walsh had previously said land use and infrastructure costs could fall on the city. But it's safe to say the bidding committee hasn't been very upfront about the stadium land's financing plan.
Boston 2024 has said at public meetings that it would not need public funds for venue construction or for games operations. It has said it would need federal dollars to cover security, and infrastructure costs would also fall on the public dime.
But there is a gray area between those lines, and it's where we are when we talk about this plan: the costs to prepare land that a privately developed venue would be built upon.
Boston 2024 has never really talked about those plans in public, instead repeatedly saying venues would be privately funded. It has also said the only infrastructure work it needs would be projects that are already underway—a category that doesn't include work on the stadium site.
At some level, this reflects the complex nature of an Olympics budget. There is no one, clear, definitive budget. Instead, there are different ways of looking at the money required for operations, venues, infrastructure, security, and more. Some parts would need public money, others might not.
That seems like a lot of nuance.
It sure is. So goes Olympics financing.
The bottom line is that when asked, voters have said they are far less likely to support hosting the Olympics if it involves using public money for venues or operations. (Don't forget, public support is crucial to the bid, which is expected to face a referendum next year.)
Acquiring and preparing the land a venue—and later, a new neighborhood—would stand upon may technically not count as paying to build a stadium. But if Boston 2024 sticks with this plan, that argument could be a tough sell after so much talk about privately funded venues.
No Boston Olympics, which opposes the bid, called the bond issuance plan "the smoking gun'' in a statement Thursday, adding: "[The new] revelations call into question the veracity of the organization's past and future statements about the bid.''
Is this plan definite?
Boston 2024 says no. It has said that about all of its plans, which it calls "proof of concept,'' since before they were released. In a statement Wednesday, the group said: "Many elements contained in those preliminary documents have already changed and some will continue to change as the bid evolves.''
Boston 2024 has said it will publicly issue a new version of its plans by June 30. The upcoming release is expected to include details about the Olympic Stadium proposal as well as a more detailed look at the bid's financial plan, and more.
A Boston 2024 spokesperson told The Boston Globe that it was not yet known whether the bonding plan would be included in the June release.
Walsh, meanwhile, told the Globe Thursday that city money would not go toward the actual venues, but repeated that it would go toward some infrastructure work around venues. On property tax-based financing plans in particular, he said: "We do tax financing all the time for developments in the city of Boston. … In some cases it works. You need to see the individual deals. You can't just do it blanket across the board.''
Walsh also went on WEEI Thursday, saying such funding would be used "not for the Olympics but for what happens before the Olympics and what happens after the Olympics, as far as the development of a site.''
25 quintessential things to do in Boston every year
[bdc-gallery id="334359″]