Business
Why taxi strikes against Uber will backfire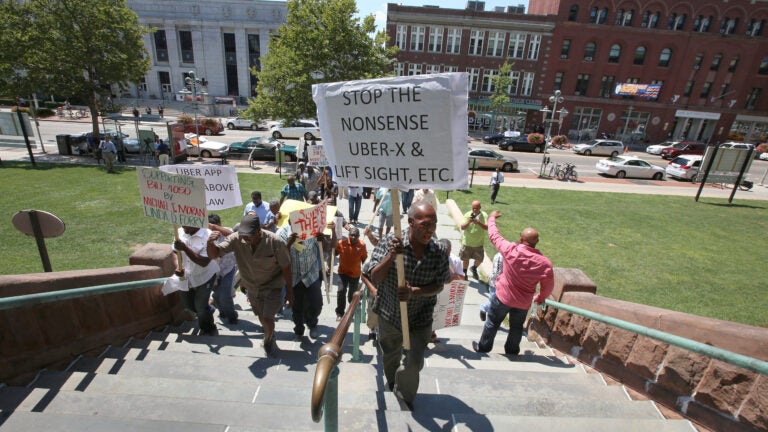 In what may have been the nation's first organized taxi driver work stoppage in protest of Uber, a few dozen cabbies in Cambridge took to the streets earlier this week to pressure the city to crack down on the ride-hailing services that threaten to put them out of business.
Taxi driver protests against Uber are now becoming a familiar refrain across the U.S., including one in Boston outside Uber's local office last year that snarled traffic. But a planned, organized work stoppage with cabs out of commission? Until this week's Cambridge action, taxi strikes have been confined to foreign shores, experts say. In Paris, thousands of taxi drivers participated in a strike in June that devolved into violence, with protesters burning tires and police in riot gear taking to the streets with tear gas.
Those protests led the country's president, Francois Hollande, to ask Paris police to issue a decree against Uber. But labor experts caution that work stoppages don't share the same support in the U.S. as they do in Europe, where strikes are more common occurrences. And as ride-hailing services continue to rapidly gain popularity, taxis risk losing the battle for public support.
"Americans are reluctant [about regulation],'' Boston College labor law professor Thomas Kohler said. "It's all part of this kind of extreme individualism.''
Just ask New York City Mayor Bill de Blasio, who recently learned the hard way that attacking Uber comes at a steep cost. After a nasty public fight, de Blasio was forced to back off a plan to cap the number of Uber vehicles allowed on the city's streets. And new public poll numbers now show the mayor has suffered a precipitous drop in the wake of the Uber fiasco.
The Cambridge drivers parked their cabs to protest the fact that the taxi industry is subject to regulations and costs that Uber and Lyft drivers aren't, including set meter fees and higher insurance costs. Cabbies are also upset about the dwindling value of medallions, the limited number of municipal operating licenses that cost taxi owners hundreds of thousands of dollars to acquire.
As a result, cabbies say, their operating expenses are far higher, which creates an inequitable system on the roads. Like taxi drivers in other American cities, they want ride-sharing services to be subject to the same government regulations.
Kohler said he wasn't so sure that message would resonate very well with an audience in the U.S., where "regulation'' is often seen as a negative.
"I don't know that people really understand what this is about,'' Kohler said, "or that they have much sympathy for them.''
The cab industry would be better served walking the halls of power rather than protesting on the streets, said Janice Griffith, a Suffolk University professor who has studied the Uber and taxicab rift. Steve Regan, a spokesperson for the Massachusetts Regional Taxi Advocacy Group, who did not support the Cambridge action, agreed, and said the industry is focusing on legislative action, where progress is possible. Regan added that work stoppages could have "a negative backlash'' by angering the public and potential taxi customers who can't get a ride.
Drivers should be pressuring lawmakers to address problems faced by taxis—such as the drops in the value of medallions, or what they may consider too-tight regulations—rather than focusing on tightening rules on ride-hailing services, Griffith said. Or, she said, they ought to focus on better technology to connect drivers with riders in order to try to compete with Uber and Lyft.
Uber and Lyft's "vociferous'' user bases have caused lawmakers to respond to the market and adopt policies that are friendly to ride-sharing services, Griffith said.
Cambridge officials have tried twice in recent years to take regulatory action that would have all but shut down Uber and Lyft. They were loudly rebuked by its users and drivers in the city. Gov. Charlie Baker and Massachusetts legislators have each put forward competing sets of proposed regulations on ride-hailing apps at the state level. State leaders are expected to begin taking up the issue next month.
Advocates who share the same regulatory goals said they weren't supportive of taxi work stoppages.
"We don't recommend this kind of action,'' said Rebecca Walls, a spokesperson for the "Who's Driving You'' campaign, which is pushing for nationwide ride-hailing regulations similar to those faced by the cab industry.
Walls said her group was not aware of any other organized taxi work stoppages in the U.S. prior to Monday. (Whether Cambridge drivers really stopped working en masse was less clear: there were reports of cabbies still picking up rides.)
"What works in Europe may not work in the U.S.,'' Walls said. "In the U.S., not a lot of businesses or people feel that sympathy.''
Here's what the MBTA used to look like:
[bdc-gallery id="56566″]