Business
Uber's carpooling option launched this morning in Boston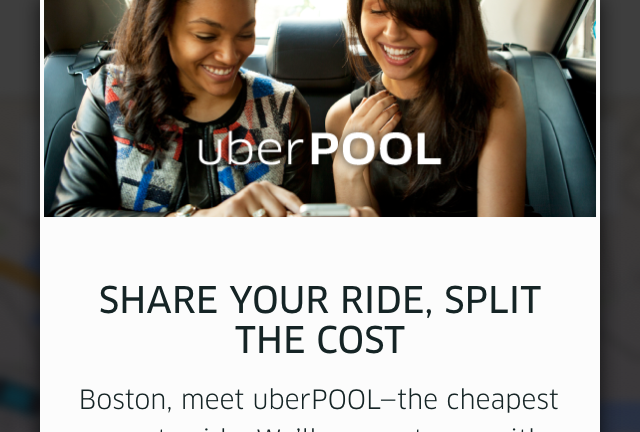 UberPOOL, the carpooling system from the controversial ride-hailing company, debuted in Boston on Thursday morning.
With the release, Boston becomes the fifth city in the U.S. to have access to UberPOOL. Through the regular app, Uber riders can choose to carpool with a stranger traveling in the same direction, adding a bit more time to the commute but cutting down on the price.
Here's what an iPhone screen looks like when you first scroll over to UberPOOL on the app.
UberPOOL also comes with a guaranteed fare that is cheaper than the UberX price, the company said. The program is now available in Downtown Boston, Cambridge, South Boston, Dorchester, Somerville, Brighton, Allston, Brookline, Jamaica Plain, and Roxbury.
Uber's introduction into the area over the past few years has rankled Boston's and Cambridge's taxi drivers, who say the company openly ignores local regulations and puts taxis on an uneven playing field. Cambridge taxi drivers staged a one-day protest at City Hall last week to protest Uber, as well as its ride-hailing competitor Lyft.
Gallery: How French cab drivers responded to Uber.
[bdc-gallery id="108741″]