Business
Olympics head built close relationship with Boston 2024 while transportation secretary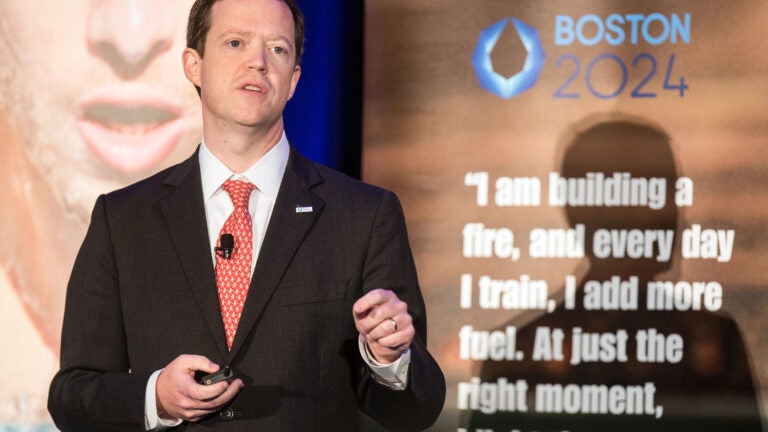 Newly released emails show the CEO of Boston 2024 built a close working relationship with the Olympic bidding group well before he took the job, while still serving as Massachusetts secretary of transportation.
The emails, sent during Rich Davey's final months at the Department of Transportation, show he spoke internally about the possibility of moving a state transportation structure to accommodate an Olympic stadium months before he left MassDOT. Davey dialed in to Boston 2024 executive committee meetings dating back to spring of 2014, the emails show. And he met with a consultant in London to discuss the Olympics and forwarded what he learned to Boston 2024 leaders.
The correspondences are further indication of the connections the Olympic bidding group forged with government officials. The emails also illustrate how Davey's work at MassDOT helped to further the work of the bid committee he would later join.
The emails were obtained through an open records request by anti-Olympic activist Jonathan Cohn and shared with Boston.com. Davey stepped down from his state job in October 2014 and became the chief executive officer of Boston 2024 about three months later, in January 2015.
State ethics law states that public officials are not allowed to work with a private organization on issues relevant to the organization if they are in discussions or negotiations to work there. While Davey's emails include multiple references to potentially joining the committee at some point, he told Boston.com that he did not begin discussing the job until after he left the state.
In April 2014, Davey met with John Fish, Boston 2024's then-chairman, about building an Olympic stadium near Widett Circle in South Boston. Afterward, he emailed then-MBTA General Manager Beverly Scott to tell her that the discussion—which he called "both conceptual and confidential''—focused on the proposed Olympic Stadium plan.
The stadium "would have obvious impacts on our operations,'' he wrote. Building it would require moving an MBTA facility in that area, while other facilities would be built around. He asked Scott if she could volunteer a couple of MBTA representatives to meet with Boston 2024 to talk about the potential operational impacts.
It is also against state law for employees to join organizations to work on a "particular matter'' he or she also worked on while in a public position. A particular matter refers to things like contracts, applications, judicial action, and other sorts of binding work.
Davey said his participation with Boston 2024 while at the state was more conceptual, focusing on high-level possibilities rather than "particular matters.''
In May 2014, Davey began receiving invitations to join conference calls with Boston 2024's executive committee, which included regional business and political leaders. Davey was able to make some of the meetings, but not others.
In June 2014, four months before Davey left MassDOT, then-state highway administrator Frank DePaola forwarded Davey a Boston Herald column that was critical of the still-nascent Olympic idea.
The column said that an Olympic bid would bode well for "tubby coatholders looking to set themselves up.''
"At least if it turns out to be you leading the effort they cannot call you a tubby coatholder,'' DePaola wrote to the svelte Davey, an apparent suggestion that Davey could eventually wind up at the helm of the bidding group.
"I haven't been tubby since the nifty beer gut I had in college…'' Davey responded.
In September 2014, while in London, Davey met with a consultant who provided some insight into transportation around the 2012 Olympics. When he returned to the U.S., Davey asked the consultant to send along slides with more details. He then forwarded it to Fish.
"Thank you for sending this along, I really appreciate it!'' Fish wrote back.
The emails show Davey also introduced Boston 2024's first CEO, Dan O'Connell, to MassDOT CFO Dana Levenson, who had previously helped steer a bid for the 2016 Olympics when he worked for the city of Chicago.
Davey did express some private skepticism about whether or not the Olympics could succeed in Boston. After a Boston Globe column in October 2014 quoted Davey as expressing interest in joining the "exciting'' Olympics once he left office, he received an email from Rick Sullivan, who was Gov. Deval Patrick's chief of staff at the time.
"Hope the Olympics gig is real, that will be an awesome job!'' Sullivan said.
"i was being polite on the olympics,'' Davey wrote back. "still not sure how i feel about them, frankly.''
The repeated references to the possibility that he could work for the bidding group raise questions about when Davey began talking about joining Boston 2024.
Davey said he is confident that he did not violate any state ethics rules by taking a position with Boston 2024, and that he received legal advice about how to navigate any potential issues. Davey did not file a disclosure with the state ethics commission about his work with Boston 2024 while he was secretary of transportation.
He said his discussions to join the group did not begin until after he left the position. The first serious conversation about joining Boston 2024 occurred around Thanksgiving 2014, he said. Joining the organization always depended on Boston becoming the U.S. Olympic bidding city, which did not happen until early January, he said.
"Of the 15 to 20 priorities in my last six months [as secretary], the Olympics was not one of those,'' Davey said. "In retrospect, I was personally surprised when Boston won. I think we beat some pretty long odds.''
Davey also said he recused himself from direct discussions with MassDOT, the MBTA, and MassPORT while with Boston 2024.
Based on the tenor of the emails, it did not sound as though Davey violated state ethics law, said Pamela Wilmot, the executive director of Common Cause Massachusetts, a government transparency watchdog.
"Preliminary talks probably wouldn't count,'' she said. "I think there would have been more red flags if he had left in October and [the new job] was announced in November. … That timeline supports the break between his public and private roles.''
Davey said his work on the Olympic bid while with the state fell under his work responsibilities.
"I wouldn't call it friendly,'' Davey said of his early relationship with the Olympic bidding group. "I'd call it working, on behalf of the administration.''
Former Gov. Deval Patrick, Davey's former boss, was supportive of the Olympic bid, and several members of his administration wound up joining Boston 2024. Patrick himself joined the group as a consultant in March just two months after leaving office, a move that proved wildly unpopular, forcing him to forgo a $7,500 per diem fee.
Boston 2024's staff and consultant roster also had close ties to Boston Mayor Marty Walsh's administration, and previously released emails have shown that the group worked closely with city officials on public relations efforts.
Cohn, the anti-Olympics activist, said it is common for Olympic bidding groups to tap public officials. In Los Angeles, which has replaced Boston as the U.S. bidding city, the bidding group recently hired a top mayoral aide.
Even if it does not violate the law, Cohn said he finds relationships between bidding organizations—which can hold significant sway over public processes—and government officials distressing.
"It erodes confidence in public service, because it makes public service look like you're opening the door to higher-paying jobs in the future,'' Cohn said. "It's endemic to the Olympic process.''
The major players in Boston's Olympic bid:
[bdc-gallery id="107972″]