Business
Should Uber drivers be fingerprinted?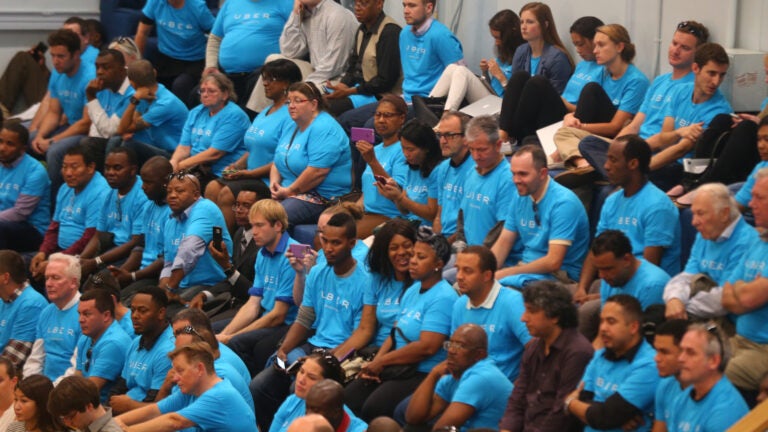 Uber is fighting back against lawmakers who want to implement fingerprint checks on its drivers, sparking a debate over to what degree drivers should be vetted before joining the ride-hailing service's massive fleet.
One of several bills pending in the Massachusetts legislature would require Uber applicants to submit fingerprint samples that would be cross-referenced against state and FBI databases, in addition to a separate background check based on personal information. But Uber has resisted attempts to institute a fingerprint check in Massachusetts, arguing that such scans can cause certain applicants to be flagged unfairly while others with a questionable criminal history may actually slip through the cracks.
"The FBI database and the state database against which … fingerprints are matched include arrest records for people who were never charged let alone convicted,'' Uber spokesman Taylor Bennett said in a statement. "This known issue often flags innocent people, unfairly discriminating against them from earning a living.''
In the same statement, Bennett said: "[G]enerally only criminal records linked with a fingerprint can be identified and reported. This is not necessarily someone's full criminal history.'' (He acknowledged that Uber's existing background check system can occasionally fail, too.)
State Rep. Michael Moran, a Democrat who co-sponsored the bill that would require fingerprinting, said he thinks Uber is really worried that fingerprinting could slow the process of hiring drivers. The company has pushed hard to get more drivers on the road to serve high demand.
"Anything that slows down their ability to get [an applicant] in a car and driving for Uber, they don't want,'' Moran said.
Bennett did not deny that quickly getting drivers on the road could be an issue when it comes to fingerprinting.
Drivers may be less likely to follow through with an application if they have to physically go somewhere to get fingerprinted, rather than simply entering information online, which is how Uber's current background check process works.
Uber already requires driver fingerprints in two cities that have mandated it by law: Houston and Columbus, Ohio. But the company has resisted laws that would require fingerprint checks elsewhere in the country. It recently campaigned against fingerprinting in St. Louis, even suing regulators in that city to avoid the issue.
Moran said the biggest concerns about Uber have revolved around passenger safety, which makes fingerprinting an important security measure.
"Why wouldn't you want the highest level of checks on your drivers that are going to be working for you?'' he said.
Currently, Uber outsources background checks to an outside company before allowing drivers to use its system. Applicants are asked to input their social security numbers and other identifying information when signing up to drive on the service.
Matt Blackbourn, a researcher for The Pioneer Institute, a Massachusetts policy analysis organization backed by conservative donors, thinks it's reasonable for Uber to oppose fingerprinting because of the possible driver hiring slowdown.
Uber's existing background check is "sufficiently thorough,'' said Blackbourn, whose organization has released a policy paper arguing against Moran's pro-fingerprint bill.
"If they have to go through this process for all 10,000 drivers [in Boston], it could take several weeks or months,'' he said. "It's a pretty significant burden.''
Another bill, supported by Uber and proposed by Gov. Charlie Baker, would forgo fingerprints but add an additional layer of a background check run by the state. The Baker bill would not mandate a fingerprint at the state level, but it would not preclude cities and towns from requiring them of Uber drivers.
The fingerprint debate in Massachusetts is compounded by the fact that requirements differ across the state for drivers in the taxi industry, which supports Moran's bill. Some cities and towns require fingerprints, but there is no uniform requirement statewide.
In Boston, taxi drivers are not currently fingerprinted. Boston Police Commissioner William Evans, who supports fingerprinting Uber drivers, said at a September State House hearing that he hopes to eventually fingerprint cabbies.
The taxi and livery lobbies would be eager to see a statewide fingerprinting requirement for all transportation services, including their own drivers, according to Stephen Regan, a spokesman for the Massachusetts Regional Taxi Advocacy Group.
At the September hearing on the competing bills, Scott Solombrino, a board member of the National Limousine Association, practically begged for the state to require fingerprinting for all for-hire drivers.
"We want your help,'' he said of a fingerprint requirement. "Give it to us.''
Earlier this year, France erupted in anti-Uber protests:
[bdc-gallery id="108741″]