Business
Advocates see station design as a Green Line extension compromise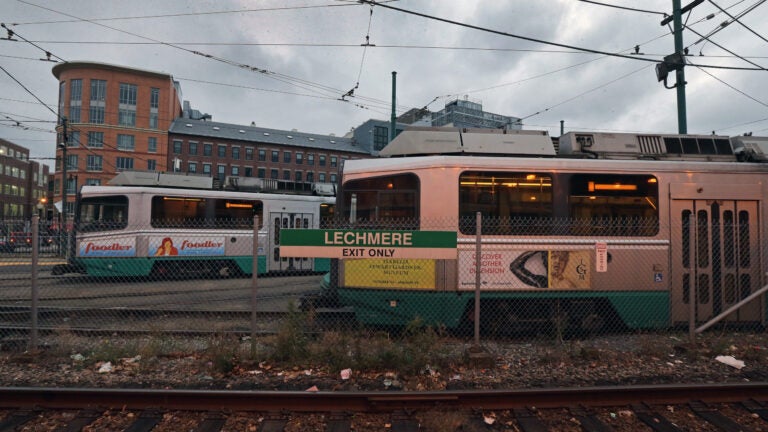 Longtime advocates of the Green Line extension into Somerville and Medford aren't willing to see the project stopped or any of its proposed stations eliminated in light of the August news that it was running as much as $1 billion over budget.
But they are willing to stomach some adjustments to the plan, such as simplifying the designs for the new stations the long-anticipated rail project would bring.
Amenities at some planned stations include sleekly designed full headhouses, providing ample sheltered space and more. A cost-cutting alternative could be to downsize stations so they are more similar to the simple trolley platforms elsewhere on the Green Line.
"If you can do everything else, we can live with the fact that the stations weren't originally as we envisioned,'' said Rafael Mares, a vice president at the Conservation Law Foundation, which last decade sued the state to force the Green Line extension to move forward.
Mares said that's not ideal—survey data shows people are more likely to use public transit when stations have more shelter, he said—but it's acceptable.
"I don't think it would be as good of a project as it would otherwise,'' he said. But, "if you're confronted with an increase in costs, you have to look first at what can give,'' he said.
Somerville Mayor Joseph Curtatone has long championed the transit project that would bring five new stations to his city, and sees smaller stations as a way to help balance the ballooning budget. If the full stations were cut, they could still come down the line, Curtatone spokesman Daniel DeMaina said.
"[Curtatone] considers that a viable place to cut back because the important part is that each station is functional and accessible to everyone who wants and needs access to the Green Line,'' DeMaina said in a statement. "If someone is developing land next to or near a future station and wants to contribute to an enhanced station, they can do so.''
Ellin Reisner, a transit advocate with the Somerville Transportation Equity Partnership, said there is not a clear need for the full stations.
"Station design got a little more, I don't want to say fancier, but a little more than was expected or needed,'' she said.
Simpler stations could cut back not just on construction costs, but also operation costs down the line, because the stations would likely require less staffing, she said.
However, stripped-down stations would still require some significant work, Reisner said.
The simple stations on the western branches of the Green Line are located at the same level as the street. Pedestrian access won't be so easy at the new stations because the Green Line extension rail runs separate from the roadways, with Somerville's hilly terrain sending portions of the tracks above the streets and other parts under bridges. That means that even without a headhouse and other amenities, pedestrian access to the stations—including elevators for the disabled—will still need to be built.
The MBTA said in an August presentation that cutting back on station design could save $40 million—a relatively small sum in the face of the much broader deficit.
Another possible cut—a planned maintenance and storage facility—could save as much as $149 million, and also has the support of Mares and other advocates if necessary.
Whether either option becomes a reality remains to be seen. The T could also seek new revenue to make up the shortfall (such as through the private sector partnerships or by working with Somerville and Medford to utilize municipal financing strategies). Or it could put the contract back out to bid in an effort to rein in costs, as the contracting method used for the extension has received some of the early blame from onlookers and experts for the budget issues. Cancelling the project outright has also been floated as a possibility, but one that generated significant pushback.
The state has hired an outside consultant group—a partnership between Nossaman LLP and Berkeley Research Group, according to MBTA spokesman Joe Pesaturo—to study what went wrong with the budget. It's holding off on any decision making until after that process ends. Secretary of Transportation Stephanie Pollack has said the state hopes to have a strategy in place by Thanksgiving.
Correction: Due to a reporting error, an earlier version of this article said the MBTA estimates savings of $28 million by cutting back on station design. In fact, it estimates savings as high as $40 million.
What Boston transit used to look like:
[bdc-gallery id="56566″]