Business
The public isn't so confident in the MBTA this winter
After last year, can you blame them?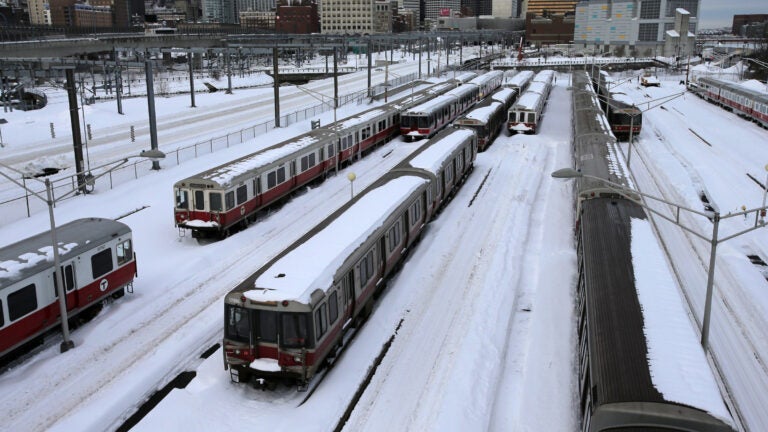 Bostonians aren't so confident in the state's ability to keep them moving on public transit this winter.
A new survey of 500 registered Massachusetts voters from MassINC Polling Group said only 37 percent think the Massachusetts Bay Transportation Authority is prepared to handle a winter like the last one, and 47 percent think the T is not ready. Those polled in Boston and its nearest suburbs, who are closest to the T's epicenter, seem the least confident: 54 percent said they don't think the T is prepared for that kind of snowfall.
The T has funneled a whole lot of energy and about $83 million to prep the ailing agency for the season. The effort to prevent a repeat of last winter's transit calamity has included new third rail on the Red Line, new heating equipment on the Orange Line, new plows on trains, new snow-clearing equipment for the commuter rail, storm response training, and more.
The plan assumes a similar winter to last year's, and officials have said trains would run even in the same record-setting snow.
MBTA General Manager Frank DePaola says he can ''guarantee'' a better winter for commuters. An eager Steven Hicks, MBTA senior director of vehicle maintenance, told Boston.com last month: "I feel bad for the first few snowflakes.''
Even Gov. Charlie Baker has adopted a just-bring-it attitude for the winter. "We all feel a little bit like the guys in the Dunkin' Donuts with the plows in the driveway, waiting for the first snowflake to fall, just so we can prove how ready we are to deal with it,'' the governor told the WGBH program Boston Public Radio last week.
The public, it seems, is a little more tempered.
Despite the worries about the winter, 52 percent of voters said they approve of Baker's approach to solving the T's problems in 2015, according to the poll. And the poll found that 63 percent see Baker favorably, with only 10 percent who view him unfavorably.
But Baker himself seems aware of the potential ramifications of another bad winter on the MBTA.
"People are going to judge me by whether or not the T works this winter,'' he told Boston Public Radio.
Photos: Last winter's woes on the MBTA
[bdc-gallery id="141492″]