Business
Uber adviser doubles down on fingerprint opposition
David Plouffe, a former adviser to President Barack Obama, spoke in Boston Tuesday morning.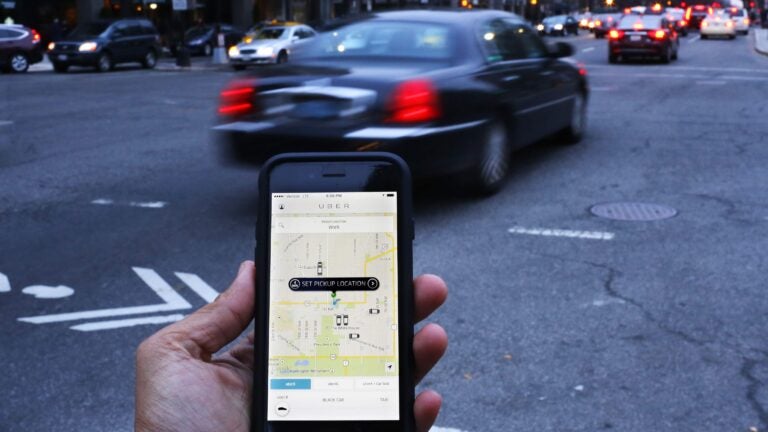 A day after Boston police announced the city's cab drivers would undergo fingerprint background checks, an Uber executive doubled down on the company's resistance to the measure for drivers on its smart phone-enabled transportation service.
Uber chief adviser David Plouffe's comments to reporters followed remarks at an event in Roxbury intended to highlight increased access to transportation and work for inner-city residents through the company.
"Our problem with fingerprinting is we think it's discriminatory, meaning there's a lot of people who might have been arrested who weren't convicted, that would be denied,'' said Plouffe, previously a campaign official for President Barack Obama and former Massachusetts Gov. Deval Patrick.
Plouffe defended Uber's current third-party background checks, echoing a company line that has been heard in Boston and elsewhere as lawmakers grapple with how to best regulate Uber and similar services, such as Lyft. The company's existing process involves a search of legal records but does not include fingerprinting.
"Most places around the country, they have accepted the background check and security regiment that we and our competitors have utilized,'' Plouffe said.
Massachusetts lawmakers are expected to unveil a bill governing the services in the near future. A bill proposed last year that would have included a statewide fingerprint background check was sharply opposed by Uber. On Monday, Boston Police—whose commissioner, William Evans, is among many law enforcement officials to support fingerprinting drivers—announced all of the city's cab drivers would be fingerprinted.
Uber has threatened to walk away from other markets in the past when a fingerprint requirement has been broached.
Plouffe declined to say whether the company would continue to operate in Massachusetts if the legislature ultimately mandates fingerprinting, but suggested such a measure would ultimately result in fewer drivers on the road and less access to service for riders.
"I'm not going to speculate, but obviously, what you don't want to do is turn services like Uber and Lyft into old taxi companies,'' he said. "Here in Massachusetts, over 60 percent of our drivers drive less than 10 hours a week. They're doing this on the side, they're not making a career commitment. So you want to make sure this is something that is consistent with the … drivers and who they are.''
There are currently about 20,000 Uber drivers in the Boston area, Plouffe said.
When asked whether further safety measures could have prevented the deadly shooting rampage of Uber driver Jason Dalton last weekend in Michigan, Plouffe said he did not "want to speak to the investigation'' by law enforcement. But he suggested the company's existing safety measures are beneficial to authorities.
"We think our technology is important when something does happen, because we have complete transparency about what happens: What riders were in the car, what route was taken,'' he said.
Dalton did not have a criminal record prior to the Michigan violence, according to reports.
Plouffe was joined by former New England Patriots linebacker Willie McGinest, who said inner cities areas are underserved by taxi services.
"I commend Uber for being in those areas, for coming in, and for providing a service to communities where I'm from,'' McGinest said.
Plouffe said the company is forming a community group to provide input to Uber from Boston's inner-city areas. The group will be led by Darnell Williams, CEO of the Urban League of Eastern Massachusetts. Williams said the input will focus on Uber policies, work opportunities, and "transportation deserts'' where access to transportation is limited.