Business
Wynn official: Everett casino construction is 'effectively on hold'
The company's rivalry with Somerville Mayor Joseph Curtatone escalated with the announcement.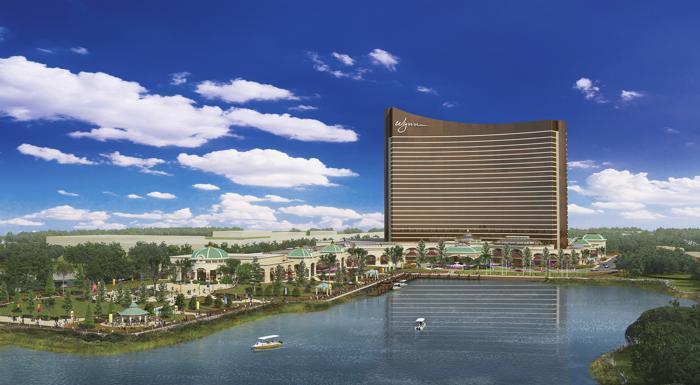 Wynn Resorts, which intends to build a $1.7 billion resort casino in Everett, announced Wednesday that a planned spring groundbreaking for the project will be delayed, that upcoming job fairs will be canceled, and that a project-related hiring freeze will go into effect.
The company said the moves are a result of Somerville Mayor Joseph Curtatone's appeal of an environmental permit for waterside construction projects. Curtatone has been a staunch opponent of the casino project for years, and filed the appeal earlier this month.
"All of that, due to this appeal that was put in by the city of Somerville,'' Wynn Everett President Robert DeSalvio said at a press conference announcing the changes. "With these announcements, basically, the construction of the Wynn resort is effectively on hold.''
"We are not going anywhere,'' DeSalvio added. "We will get this project started as soon as possible. We will get this amazing project done. But for now, unfortunately, due to the delay that's caused by the appeal, we are actually going to have to go on hold.''
In a press conference of his own held later Wednesday at Somerville City Hall, Curtatone rejected the idea that he was at fault for the casino's delay, instead assigning blame to Wynn.
"The appeals are a necessary part of the checks and balances to make sure we get it right,'' Curtatone said. "They knew the appeal was coming, and their claim that everything from this point on is the responsibility of the city of Somerville is really based on Wynn's fantasy timeline where they are above the rules and regulations of this Commonwealth, and that they're not subject to the normal appeals process.''
Curtatone said the appeal was prompted by the city's belief that the project does not have a "meaningful traffic mitigation plan'' and that he believes the additional casino traffic could cause air pollution-related health issues for Somerville residents.
"We want to see good jobs come to the area as much as anybody else,'' Curtatone said. "As soon as Wynn is willing to step up to the plate to develop a responsible traffic plan and address our environmental concerns, then this project has a possibility of moving forward.''
Wynn's news conference, held under a tent on the Wynn site along the Mystic River, functioned as a full-court press from the casino company to convince Curtatone to drop his appeal, highlighting the delays of putting thousands of construction laborers to work and allowing the state to collect gambling taxes.
Labor representatives and Everett Mayor Carlo DeMaria were among the speakers at the Wynn event, urging Curtatone to drop his opposition.
"We want to go to work,'' said Leo Fahey of Pipefitters Local 537.
DeMaria encouraged attendees at the event to "inundate'' Curtatone's phone to complain about the appeal.
"I'm appealing to my friend, who hasn't taken my call in a couple days now,'' DeMaria said. "Mayor Curtatone: There's thousands of people who would come to your office if you need them to come. And if you want us all to come, we will come there and ask that you just cut it out.''
John Fish, the CEO of Suffolk Construction, which will oversee the casino's construction, also spoke on behalf of the project Wednesday. Fish is a campaign donor to Curtatone whose projects in Somerville include the construction of the Partners HealthCare office building at Assembly Square, across the river from the casino site.
"I have a lot of respect for Mayor Curtatone,'' Fish said in an interview. "This doesn't cause me to lose respect for Mayor Curtatone. … The parties have to deal with it in the most appropriate way possible. I think what we identified today is, what impacts is this delay having?''
Curtatone indicated he would not give in to the pressure.
"No amount of political theater and public harassment from Wynn will keep me as the mayor of Somerville from doing my job in advocating for the health and well-being of the residents of our community,'' he said.
The process of hearing Somerville's appeal could last up to a year, the state's Department of Environmental Protection says. DeSalvio said the company could still do some work, such as utility relocation, while the permit appeal is ongoing. But any construction that had been allowed under the permit cannot be done during the appeal, he said.
Curtatone has separately filed lawsuits against the casino project. But his challenge of the environmental permit came shortly after Boston Mayor Marty Walsh dropped his opposition to the casino, ending a long-simmering feud between Walsh and Wynn. Walsh's concerns were also highlighted by traffic issues at Sullivan Square in Boston, which neighbors both Everett and Somerville. Walsh resolved his issues with Wynn when the two sides struck a mitigation deal in January, which included short-term and long-term funding for Sullivan Square traffic improvements.
Curtatone, who sought more mitigation money from Wynn in 2014 than he ultimately received in an arbitration process, has said of the appeal, "This is not about money.'' But he also acknowledged in a Boston Globe article published Tuesday that he asked for more money in discussions prior to filing the appeal.
DeSalvio said during the Wynn press conference that the company would not revisit its mitigation agreement with Somerville, which would pay the city $650,000 per year.
DeSalvio pointed to the construction occurring at Assembly Square and asked: "Why is it okay on that side of the river when it's not okay on this side?''
Curtatone called the comparison "laughable,'' arguing the Somerville mega-development included significantly more preparatory infrastructure work compared to the Wynn casino.
DeSalvio also suggested it was unlikely that Wynn Resorts's namesake, gambling mogul Steve Wynn, would deal directly with Curtatone. "Mr. Wynn is very busy running a global empire,'' he said.
Wynn received the Greater Boston region's sole casino license in 2014, about three years after the legislature allowed casino gambling in the state.