Business
Cab industry, police chief 'disappointed' in proposed Mass. Uber law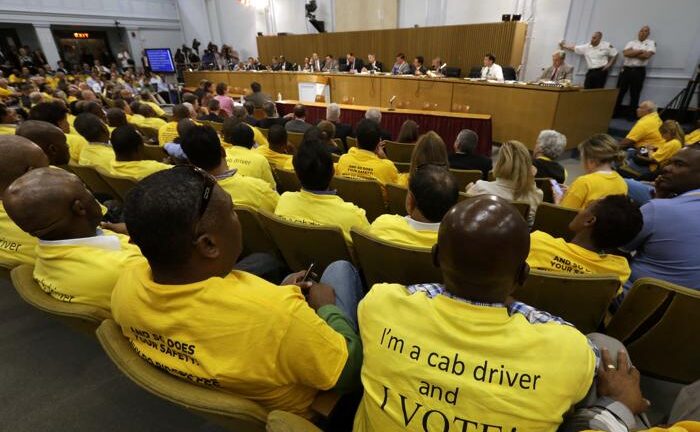 A group representing the cab and livery industries is "very disappointed'' in a bill released by lawmakers Friday that would impose new regulations on Uber and Lyft.
The proposal does not require fingerprint background checks for digital-age ride-hail service drivers, nor does it require the drivers' cars to be covered by round-the-clock commercial insurance, stipulations the livery industry had sought while legislators deliberated.
"[W]e are very disappointed that the bill language released today does not include any of the key provisions that we believe are necessary to ensure passenger safety—fingerprinting of drivers, commercial insurance, and vehicle identification plates,'' Scott Solombrino, spokesman for the Ride Safe Massachusetts Coalition and a limo industry executive, said in a prepared statement.
Traditional ride-for-hire businesses have been rocked in recent years by the popularity of services like Lyft and especially Uber, which have of yet not been regulated in Massachusetts. They have demanded laws that would "level the playing field.''
Cab drivers recently began undergoing fingerprinting in Boston. There are no statewide regulations regarding fingerprinting for cab and livery drivers, though Solombrino called for such a measure while a legislative committee considered multiple bills related to the industry.
Solombrino said fingerprinting, which had also been supported by various law enforcement officials, "is necessary to ensure we stop the epidemic of assaults that have occurred by [Uber] drivers.'' He said he is hopeful the proposal will change before it becomes law.
"It is the job of lawmakers to protect our state's residents and we look forward to continuing to work with the legislature to strengthen the bill language as it moves through the legislative process,'' he said.
Boston Police Commissioner William Evans is among the public officials seeking fingerprinting for Uber and Lyft drivers. In a statement released Friday, Evans echoed the taxi industry, which his department oversees in Boston, in saying he was "disappointed.''
"Especially seeing how quick and simple the process has gone with Boston taxi drivers,'' Evans said, according to The Boston Herald. "I will continue to push for the highest public safety standards.''
The bill does include some provisions for cabs and limos. For example, it would restrict Lyft and most Uber drivers from accepting rides at Logan Airport and the Boston Convention and Exhibition Center. And it would provide some access to financial and technological services for small taxi companies.
Cab and livery officials last year came out in support of a bill that would have included fingerprinting and commercial insurance requirements.
Uber and Lyft rallied against that bill.
The companies have yet to comment on the specifics of the proposed law released Friday. Spokespeople for both companies said only that they are reviewing the new legislation.