Business
A new law would thwart Uber's quest to allow more drivers at Logan Airport
The ride-for-hire service has still been able to dispatch drivers despite a Massport ban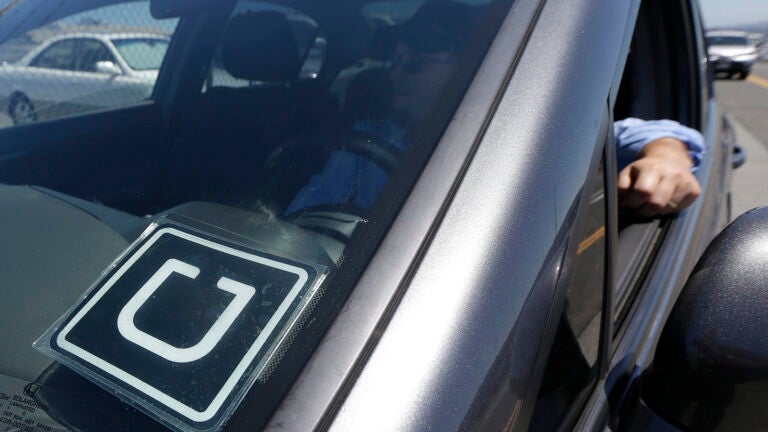 One of the provisions of a proposed law seeking to regulate Uber and similar ride-for-hire services in Massachusetts would ban drivers from picking up passengers at Logan International Airport for five years.
The ban is one of Uber's several gripes with the bill, which the company has expressed in media appearances and a blog post. But if enacted, it would change nothing about how Uber currently does business at Logan. That's because Logan's overseer, Massport, already restricts most Uber drivers from picking up riders at the airport — and the transportation service has still been able to dispatch drivers to pick them up anyway.
Today you can indeed step off a plane and summon an Uber ride home. That system would be preserved even if the five-year ban took effect. So why is Uber upset?
Cementing the ban with the new law would thwart the company's attempts to get rid of the existing Logan ban and open the airport to more drivers, which is something it has been fighting for.
"That's something that we've been hoping to achieve since we've been here, and something we would very much like to find a way to make possible," said Meghan Joyce, Uber's east coast general manager, who acknowledged there would be no functional change to how the company currently does business at Logan under the proposed law.
How is Uber able to offer rides from the airport, despite the existing restrictions?
Uber's most ubiquitous service is its lower-cost "ride-share" service, UberX, which allows just about anybody with a car to apply to become a driver and offer rides in a personal, non-commercial vehicle. However, the San Francisco-based company also offers more expensive services that connect riders with licensed livery vehicles, like black car services.
To pick up passengers at Logan, Massport requires that commercial transportation services must be licensed as a livery vehicle and registered separately with Massport. That means UberX is a no-go at Logan, but the livery services offered through the app are fair game.
So when an Uber user calls for an UberX ride at the airport, the alert only goes out to the licensed livery vehicles and riders are directed to head to their terminal's limousine lot to meet their driver. At its own discretion, Uber allows those licensed drivers to charge riders at the UberX rate for what is usually a more expensive ride.
From the rider's perspective, it's still a trip from the airport summoned through UberX and served at an UberX rate — though there may be a wait because of the limited supply of properly permitted drivers. The arrangement was explored last year in a report from CommonWealth magazine.
The proposed law would keep the same system in place. The five-year ban would apply to UberX drivers, but licensed livery drivers could still pick up riders at Logan. (Uber's chief competitor Lyft, which also opposes the bill, does not connect riders with livery services, so it cannot currently pick up any riders at Logan.)
Massport spokeswoman Jennifer Mehigan said there have been no significant conversations with Uber about opening the doors to UberX drivers.
Joyce said allowing UberX drivers to pick up at the airport would result in shorter wait times for riders as they disembark from airplanes. Plenty of UberX drivers are already on-premises at Logan on a daily basis because they can drop riders off there. But since they are not allowed to pick up, they leave Logan with empty backseats. Uber currently charges riders an extra $3.50 fee for trips to Logan as an "incentive" for drivers who figure to leave without picking up a new fare.
"There is a dramatic difference in availability and liquidity of rides at airports that have ride-sharing available and those that don't. You might notice, when you touch down at Logan Airport, the ETAs to get UberX are significantly longer, if you see an UberX at all, than you see at [other airports]," Joyce said. "And that's because our ride sharing product isn't allowed."
Needless to say, more rides out of Logan would also mean more money for Uber.
At other airports in the U.S., Uber has reached agreements that open the gates for UberX in exchange for per-trip fees, similar to a fee incurred for taxi rides from the airport. The taxi industry, which believes the bill does not go far enough in regulating Uber and Lyft, would stand to benefit the most from the five-year ban.
The Logan ban is far from the only issue Uber has with the bill, which passed in the House earlier this month and is now awaiting action and possible changes from the Senate.
Uber doesn't like a similar pick-up ban in the bill at the Boston Convention and Exhibition Center. Nor does it support requirements that all UberX drivers undergo a certification through the state's Department of Public Utilities and notify their personal insurance agencies that they are driving for Uber. The company also hopes the Senate will scratch a stipulation restricting ride-for-hire companies from raising fares during states of emergency, like blizzards. Each of those would represent a change to how Uber operates in Massachusetts today.
But the Logan ban is the only provision Uber disapproves of simply because it would preserve the status quo, rather than change it.