Business
Joined by Walsh and Baker, General Electric CEO makes pitch to Boston
Meanwhile, protesters demonstrated outside.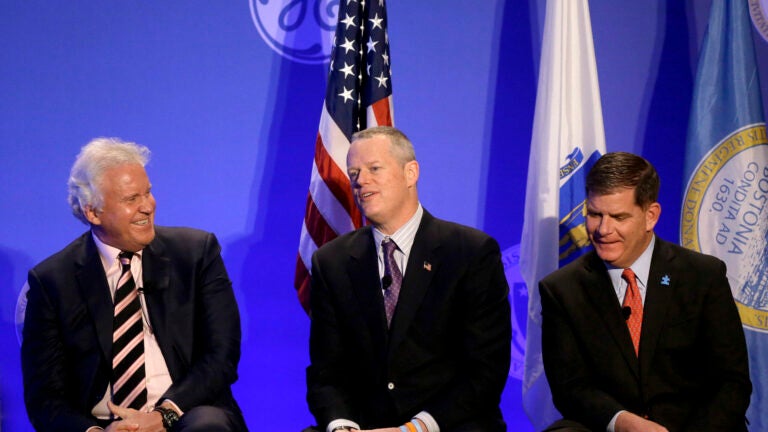 On a snowy State Street sidewalk, upwards of 60 activists rallied Monday afternoon to protest General Electric's impending headquarters move to Boston.
Drawn from dozens of different community groups with varying priorities, they held signs criticizing General Electric on grounds ranging from a city and state package of tax breaks and grants totaling up to $145 million, to the company's role as a weapons manufacturer. They chanted, "I pay, you pay, why shouldn't GE pay?"
Susan Strelec, of Jewish Voice for Peace, said Gov. Charlie Baker and Boston Mayor Marty Walsh are "suckers" for thinking bringing GE to town will benefit the city or the state. Another protester, Ronda Jackson of the Mass. Alliance of HUD Tenants, looked upward into falling snow and called into a megaphone: "You can't silence us, GE!"
Her shout was directed 33 floors up to the glitzy State Room event venue, where GE would soon hold a press conference followed by a celebration of its choice of a new 800-employee home in the Seaport District with Boston business leaders and elected officials. GE plans to begin its move into temporary space this summer, and will complete the move into new headquarters in 2018.
Upstairs, about an hour later, GE CEO Jeff Immelt fielded a question about the protest down below and why a Fortune 10 company should be offered city and state financial incentives as part of the move. Immelt acknowledged the activists, but said the company's presence will behoove the city — trust him.
"I respect the question and I empathize with the people who are outside — particularly today," he said, a nod to the weather. "They have to be dedicated. I think it's an investment the mayor and governor have made in this as a business proposition. It's up to us to prove them right as time goes on. I think as time goes on, your question will answer itself — in terms of tax revenue, job creation, city growth, giving back to the community. … I think they took a bet on the GE team. My colleagues and myself are going to be dedicated to prove them right."
Immelt, along with Walsh and Baker, held the stage at an event that started with a celebratory tone. It kicked off with a video package celebrating Boston — with its universities and tech scene — as a perfect fit for GE as it seeks to refocus itself on developing Internet-connected industrial appliances.
"If you truly want to start a world-changing industrial revolution, there's really only one place to go," said the narrator of the video, which included alluring images of Boston landmarks and some sports highlights (perhaps to the pleasure of New England Patriots owner Bob Kraft, one of several power players in attendance).
In opening remarks, Immelt detailed $50 million the company pledged earlier in the day to donate in the state over five years, including $25 million to Boston Public Schools. And he made it clear: GE's presence in Boston will, at the very least, be noticeable.
"My only requirement [for the headquarters] — I don't have an eye for it, we have better architects in the company — is that it has a GE logo you can see from Mars," Immelt said.
Baker and Walsh followed him, the governor reflecting on Boston's growth as a business and innovation spheres — "The Seaport District is the Seaport District in part because of the decisions that some forward-looking people made to clean up Boston Harbor, build the third harbor tunnel, extend the Silver Line, and create a whole new neighborhood to be developed," he said — and the mayor emphasizing his belief that Boston will gain from GE's move.
Seemingly anticipating questions about the city tax breaks worth up to $25 million over 20 years that GE secured as part of the move, Walsh said the renovated property set to host GE will generate more in property tax revenue than it does now even with the incentive. And Walsh celebrated the philanthropy GE promised earlier in the day, announcing that Madison Park Technical Vocational High School will be a focus of the school-funding effort.
"We're going to help reinvent vocational high school in the 21st century," Walsh said.
Asked specifically how the GE deal would qualify as a success, Baker said he would judge the company on how it affects the rest of the region. For example, he said, partnerships between GE and universities, startup accelerators, and other businesses could help grow the Greater Boston economy. GE could also play a role in how the region thinks about issues like the MBTA, he said. And the governor said he expects the company's presence here to influence other businesses to move to Boston.
"I get the fact that there are going to be 800 jobs here. But they already have 5,000 jobs here, and I fully expect those numbers are going to keep getting bigger all the time," Baker said. "For me, the real sort of exponential benefit here is going to be in the partnerships and investments they make."
Walsh again pointed to the philanthropy, saying it had a chance to help address the city's issues with income inequality.
Protesters also targeted income inequality as part of their argument for why GE should not have received a property tax break. And outside in the snow, some said GE's philanthropy was no substitute for the taxes they felt the company should be paying to the city and money they felt the state should not be giving to corporations.
"It's about the injustice of it, about corporations being able to set the public agenda with donations," Chelsea resident Suren Moodliar said.
In his opening remarks, Immelt considered things he liked about Boston. He did not directly refer to the skepticism over the financial incentives, but he mentioned that the city had a "chip on your shoulder."
"It's good for companies," he said. "You never feel like you're quite where you want to be. I love that. So we're happy to be part of it."