Business
General Electric CEO Jeff Immelt on noncompete clauses: 'Whatever happens, happens'
The issue is expected to come up before the legislature again this year.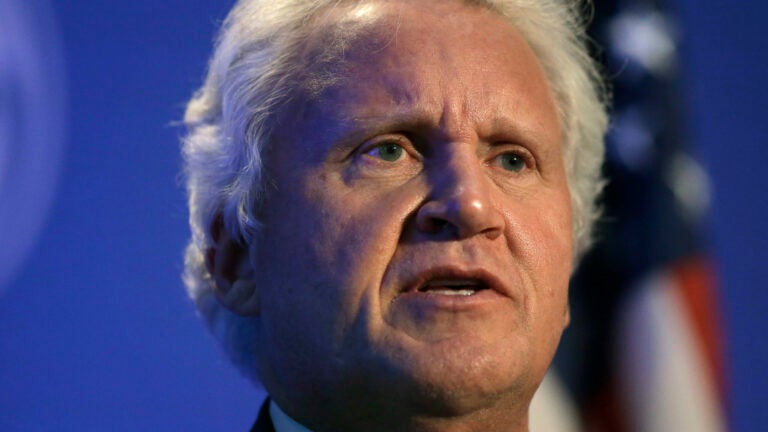 General Electric, a massive conglomerate with more than a century of history, has spoken adoringly about Boston's startup scene since the company announced it would bring its headquarters to town in January. But how does it feel about one of the major issues Massachusetts startups have championed in recent years?
GE CEO Jeff Immelt was asked how the company — which requires some employees to sign noncompete agreements — would react to efforts to limit their use in Massachusetts at a Monday afternoon press conference. The startup community has long called for eliminating or limiting the contractual clauses, which bar employees from working at a competitor for a certain amount of time after leaving a company, arguing they stifle innovation by preventing companies from competing for talent and limiting workers' ability to start their own ventures.
Immelt's answer wasn't exactly direct, but it hit on two main points: GE will follow the law, and noncompetes shouldn't be the company's primary strategy for retaining talent.
"Oh gosh, my HR leader's right here. She's probably going to kill me," he said. "I think if you really have to worry so much about noncompete agreements, you're going to ultimately not be very competitive. We follow the laws of what we're in. We kind of anticipate that whatever happens, happens. Sometimes we use them, sometimes we don't, right? It's the way business is done. But I always — when a good person leaves GE, I don't blame them, I blame their manager. So I think it's up to us to create the kind of workplace that people want to be at."
House Speaker Robert DeLeo said earlier this year that the chamber will take up noncompetes before the end of the legislative session this summer. He said a potential law, which has yet to be unveiled, would limit noncompetes to a one-year timeframe. (It would also require employers to inform employees about the noncompete clause before the employee accepts a job offer, and protect low-income workers from the clauses, DeLeo said.)
The startup crowd had a mixed reaction, noting it was an improvement over the status quo but still not the outright elimination they had sought or even the six-month limitation lawmakers considered in 2014. That push failed amid opposition from bigger businesses who say the clauses protect trade secrets.