Business
HubSpot co-founders: 'This has not been the most fun week we've had'
They responded in a blog post to the critical new book that takes aim at the company.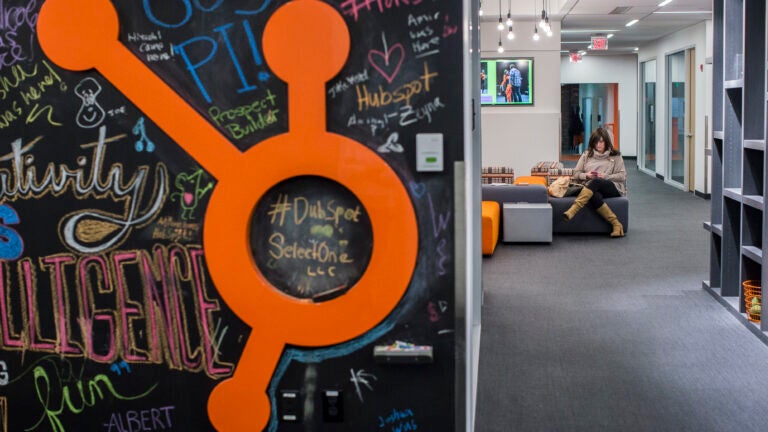 The top brass at HubSpot — the Cambridge-based tech company that helps companies develop business through social media, email, and blogging — published a blog post of their own Tuesday, responding to a writer's new book lambasting their corporate culture.
Co-founders Dharmesh Shah and Brian Halligan said they are "not too upset" about the book, but added that "this has not been the most fun week we've had."
Disrupted: My Misadventure in the Start-Up Bubble, published last week by former journalist and writer on the HBO tech satire Silicon Valley Dan Lyons, recounts the author's year-and-change stint at HubSpot. Lyons described the workplace as similar to a frat house, ageist, and lacking in diversity. According to Mashable, Lyons has described working at HubSpot as like "joining a cult" wherein workers believe they are "changing the world" by providing online marketing assistance that he sees as little more than online spam.
In their post, Shah and Halligan said they "don't appeal to everyone," but cite the company's ranking on a list of the best places to work — No. 4 — on the workplace rating website Glassdoor in 2016 as indicative of a healthy workplace. They defended their business model, saying the company's revenue growth and successful 2014 IPO are a sign of success.
"But, Lyons would argue, 'You're not profitable!' He's right," they wrote. "There's usually a tradeoff between growth and profitability. We've been growing revenues over 50% year over year while simultaneously improving our margins by 12 percentage points in [the fourth quarter of] 2015."
Shah and Halligan didn't bicker with every point from Lyons, however. They said they agree that the company is not diverse enough.
"We both would be thrilled to see HubSpot become remarkable in this area and will be pushing the team and ourselves to help make that happen," they wrote. "Thank you Dan for the kick-in-the-pants. Honestly though, we would have been fine with a bit of a softer kick."
And they admitted that one of the details in Lyons's book — that the company described employee firings as "graduations" –was true.
"A while back, we realized that it was a mistake," the co-founders wrote. "It was disrespectful and misleading — not our intention at all. Lesson learned and change already made. We're sorry."
The book generated significant buzz prior to its release, after HubSpot marketing executive Mike Volpe was fired last year for an ethics violation. Volpe had apparently attempted to get his hands on the manuscript prior to publication. And Halligan, who is the company's CEO, was fined for not quickly bringing information of the incident to HubSpot's board.
Shah and Halligan wrote that they would not have believed it if somebody told them their company would be at the center of a satirical author's ire when launching HubSpot in 2006.
"That was definitely not the plan," they wrote. "Besides, who's going to want to read a book about HubSpot?"
On Tuesday, the book was the top seller in the business technology section on Amazon, and the No. 20 new release overall.