Business
Marty Walsh, Robert Kraft have built close working relationship
They talk weekly, according to a top Walsh aide.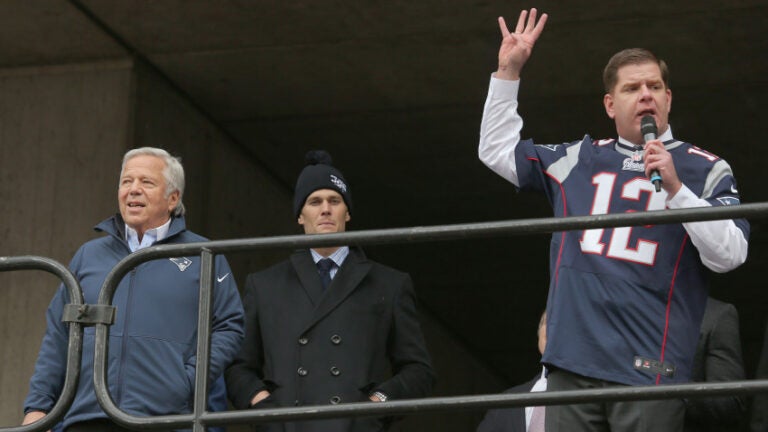 Boston Mayor Marty Walsh spiked the ball twice in April with a pair of events marking his two big business deals of 2016. Last week brought a celebration of General Electric's decision to move its headquarters to the city, and on Tuesday came the announcement that Verizon would install a high-speed fiber-optic network in Boston after years of ignoring the city's pleas.
Present at each event was New England Patriots owner Robert Kraft, who city officials say helped both deals cross the goal line. Kraft's friendships with the CEOs of GE and Verizon played a role in the courtships, said Daniel Koh, Walsh's chief of staff.
He schmoozed with GE CEO Jeff Immelt while the company sought a new headquarters last year, selling the company on Boston. That salesmanship reportedly included hosting Immelt at a Patriots game in November. (Immelt joined Kraft again for a January playoff game days after GE announced it would move to Boston.)
Kraft's participation in the FiOS deal was more "tangible," Koh said. Walsh had first met with Verizon officials about bringing fiber to Boston shortly after his inauguration, to no avail. Walsh eventually told Kraft about the city's efforts, and Kraft reached out to his friend, Verizon CEO Lowell McAdam. He arranged a lunch meeting between Walsh and McAdam at his Chestnut Hill manor in September, according to Koh.
"The mayor was able to directly pitch Lowell about what was so great about Boston, how innovative the city is, where it's going, all that stuff," Koh said. "Lowell seemed very moved by the mayor's comments and said, let's explore this."
Kraft arranged a second meeting in January between the mayor and McAdam, kicking off more in-depth conversations that resulted in Tuesday's FiOS announcement.
Neither Walsh nor Kraft were available for interviews for this article. But Koh said the two have developed a close working relationship and a friendship since Walsh's tenure as mayor began, and they speak by phone on a weekly basis.
Prior to his 2013 election, though, Walsh's relationship with Kraft was purely as a customer. He was a longtime Patriots season ticket holder who had never met the team's owner.
"The mayor and Mr. Kraft met after the first few, really, weeks on the job," Koh said. "Mr. Kraft reached out to him pretty early on."
In an email, Patriots spokesman Stacey James said Kraft is a "big fan" of both Walsh and Governor Charlie Baker, who worked with the mayor and offered state grants to entice GE to move to Boston.
"Robert Kraft has always advocated for Boston and its surrounding communities," James said. "He is a big fan of the vision and leadership being provided by both Mayor Walsh and Governor Baker. I know that he feels that Boston has a competitive advantage over many other cities because of their collaborative leadership."
For his part, Walsh has played the part of Patriots fan in office, hosting a Super Bowl parade in the aftermath of a blizzard and issuing an official statement in support of the team when quarterback Tom Brady's four-game Deflategate suspension was vacated by a federal judge days before the start of the 2015 season.
Kraft's relationship with Walsh's predecessor, the late Mayor Thomas Menino, was not so cordial.
Their work together is mostly remembered for Kraft's politically tense and unsuccessful effort to move the Patriots from Foxborough to a new stadium on the South Boston waterfront in the 1990s. Menino did not support the project, and The Boston Globe's archives provide ample evidence of the relationship straining. Menino later arranged for Patriots Super Bowl celebrations on the streets of Boston, but he and Kraft never developed much of a working relationship.
In 2007, Menino's previously stated interest in building a soccer stadium for Kraft's New England Revolution — who also play in Foxborough — dissipated, and a proposal to build the stadium in Roxbury withered. After Walsh took office, the Krafts looked toward the city again, where the new mayor seemed more receptive to the soccer stadium idea.
A possible Revs stadium has the potential to move Kraft's role in Boston from city advocate to business partner. Public records have shown Kraft's interest in a city-owned parcel on the South End-South Boston border for the stadium, and that he hired Goldman Sachs to draw up financing ideas. Walsh and Kraft continue to discuss a stadium, Koh said, but "nothing substantive has come out of it so far."
"I think the mayor has expressed he wants to see the Revolution have a home in Boston and I think the Krafts also really want that to happen," he said. "It's just a matter of where it would potentially be sited and the financing of the stadium. Those are the things that haven't really been talked about in depth yet."
More recent open records requests by Boston.com did not indicate the stadium talks have advanced since last summer. However, the records did turn up another meeting facilitated by Kraft between Walsh and a wealthy global executive. Last October, through an assistant, Kraft invited Walsh to join him for an introductory meeting with Wang Jianlin, the chairman of the Chinese real estate giant Dalian Wanda Group. Wang, who is considered the richest man in China, was in town for a talk at Harvard.