Business
Massachusetts gaming chairman rips proposed Brockton casino within days of vote
A decision on the project is expected this week.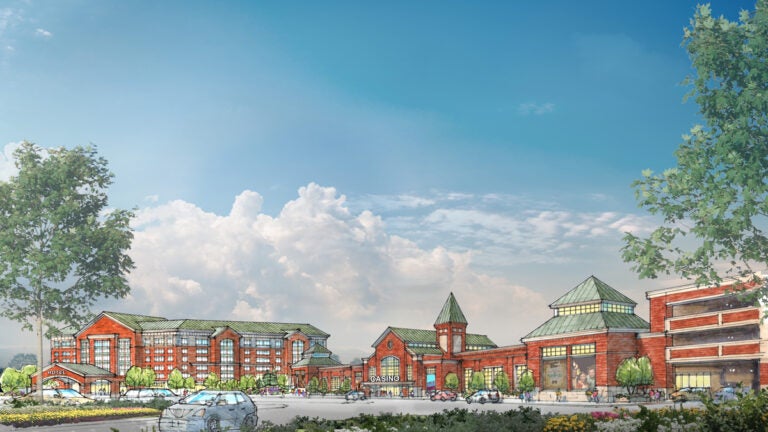 The state's lead gambling regulator is not impressed with the Brockton resort casino proposal.
The project is slated for a Massachusetts Gaming Commission vote soon on whether it will become the third and final casino to be licensed in the state. But Commission Chairman Stephen Crosby may have dampened its hopes with a sharply unfavorable review during Wednesday's deliberations.
In a presentation, Crosby critiqued the $677 million project from Mass Gaming & Entertainment as a "convenience casino" that does little to differentiate itself, does not adequately pay homage to what would be its host city or the state, and would be unlikely to improve the surrounding area.
"The facility itself is isolated from the community, and is basically inward rather than outward looking," Crosby wrote. "Most restaurants for example cannot be reached from outside the casino."
Crosby said Rush Street Gaming — a Midwest casino company that partnered with Brockton businessman George Carney to form Mass Gaming & Entertainment — had demonstrated elsewhere that it could operate a casino that might meet the commission's standards, but that it had failed to make its case in its Massachusetts application.
"The approach of the applicant seemed to be: 'We will do good things. Just trust us,'" read Crosby's presentation.
He contrasted the project with the planned MGM casino in Springfield, which is integrated into several blocks of the city and was well-received by the commission when it was approved in 2014.
"This proposal has virtually none of those features," he wrote. "It sits in the middle of a vast parking lot, completely isolated from any other operating part of the community, with no links or coherent strategies for broader urban renewal or economic development. In this respect, it is a great disappointment."
Speaking to commissioners after his presentation, Crosby said he was surprised Mass Gaming & Entertainment was not influenced by the Springfield casino.
"I would have thought – the good news about being last is you get a chance to see what we, what the commission values, and what other people have done, and what we have noted as distinctive," he said.
Mass Gaming & Entertainment will have the opportunity to respond to the criticism in writing. But after Wednesday's gaming board meeting, Brockton Mayor Bill Carpenter fired back at Crosby in an interview.
"I don't get it," Carpenter told Boston.com. "I think his criticism is unfair. I don't think it's based on facts."
Carpenter said the casino would represent a major economic boon for Brockton, and that terms of its host community agreement with the city would result in jobs for residents and vending opportunities for local companies.
"They would be not just the largest employer in the city but the largest customer in the city," he said. "If Chairman Crosby is so worried about Brockton's economic development, please tell me: then what, if not the casino?"
Despite the chairman's comments, Carpenter said he was "cautiously optimistic" that other commissioners would vote to approve the proposal, which has gone through the approval process as competitor bids in New Bedford and other parts of southeastern Massachusetts died off. If commissioners opt not to issue the license, he said, "then what in the world did they put us through this past 16-month ordeal for?"
The proposed red-brick resort, which Brockton residents approved last year by just 143 votes, has been a major question mark in the state's and the region's casino market. A half-hour drive away, the Mashpee Wampanoag Tribe has begun work on a casino on tribal land in Taunton.
That casino does not require a state license, but has agreed to pay a 17 percent tax to the state on gambling revenue, a discount from the 25 percent rate for commercial casinos. But the tribe will not pay the tax if it has to share the regional market with another casino — like the Brockton proposal.
And on Monday, a consultant said opening both casinos — in addition to planned casinos in Everett and Springfield and an already-operational slots parlor in Plainville — could result in an annual tax revenue drop of $42 million for the state compared to just opening the Taunton casino. Mass Gaming & Entertainment, however, has cited its own consultants in saying the state would see a net positive in tax revenue even with both casinos.
Complicating matters even further, the tribal casino faces a murky future of its own. With the backing of Rush Street's chairman, Neil Bluhm, Taunton residents are challenging last year's federal decision granting the tribe sovereignty over its casino land.
Gaming Commissioner Lloyd Macdonald, a former judge, said the legal challenge is "weighty" and could prove successful based on Supreme Court precedent. He also speculated — as Bluhm has previously argued — that the Mashpee may struggle to finance the entirety of the casino project as long as the legal challenge is pending.
Commissioner Enrique Zuniga said the legal challenge, as well as worries that the tribe may only complete early stages of the larger four-phase development, make the market difficult to forecast. But decision time is coming for Brockton, with the commission expected to vote on either Thursday or Friday.