Business
The 'Uber Grandma' of Portsmouth battles City Hall
Stephanie Franz is at war in New Hampshire's small seacoast city—and she's illuminating Uber's preference for statewide rules over local law in the process.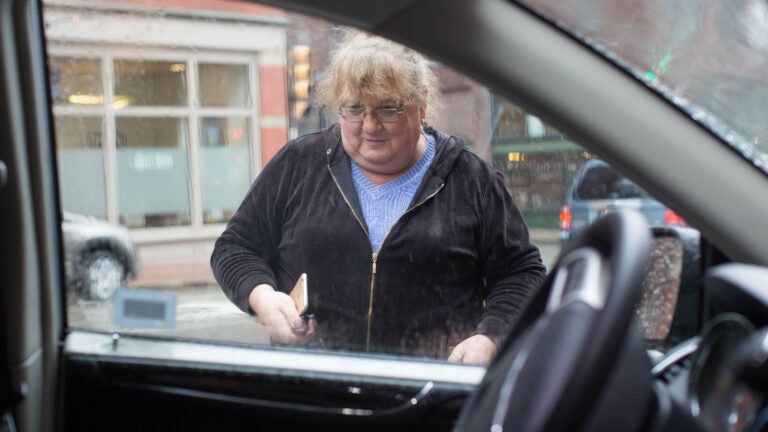 Stephanie Franz gets along pretty well with police in Portsmouth, New Hampshire. Yes, they've cited her seven times (and counting) for illegal use of the ride-hailing app Uber. Her fines now total $7,500, she said, but whenever the cops pull her over, the conversation is pleasant at least.
"They treat me like, first of all, a professional," Franz said. "When one officer came up to the window, I asked him, 'What's the charge?' He said, 'I think you know, Stephanie. I think you know.' Nice guy. What a super nice guy. So I gave him my license and registration. … We talked a little bit after. I said, 'Look, I know you guys are under the gun, and I don't have anything against the policemen or anything like that.' He said thank you, and it was a nice conversation."
It may be of the polite sort, but make no mistake: Franz is in open rebellion in the small seacoast city. The 64-year-old Deerfield resident is fighting City Hall and the seven citations in court. In the meantime, she continues to drive for Uber in defiance of a Portsmouth ordinance passed in the fall that requires drivers to meet certain background check and insurance requirements, which she hasn't done.
Her resistance is a microcosm of Uber's broader approach to regulation: With the company already conducting background checks and providing commercial insurance when rides are in progress, she considers the requirements unnecessarily burdensome. So she ignores them.
Case in point: As she was exchanging pleasantries with the Portsmouth officer, Franz said, "I was thinking, when's he going to be done so I can go pick somebody up?"
Her three most recent citations came the last weekend of March—two that Friday and one on Saturday. But she has no plans to back down. Why should she? Uber, which is no fan of the Portsmouth rules, is paying her legal fees as she continues to haul passengers around.
With just over 20,000 residents and 300,000 in the surrounding area, Portsmouth is a small market for Uber. But the dining, shopping, and tourism hub between Massachusetts and Maine has offered sharp insight into one way Uber responds to local regulatory efforts. The game plan in New Hampshire? Resist, until more favorable laws are passed at the state level.
• • •
The city ordinance that launched Franz—colloquially known as the "Uber Grandma"—to urban legend status passed in September after months of contentious debate.
While lawmakers and officials in many states, including those in Massachusetts, have sought to carve out regulations for ride-sharing services like Uber that are distinct from those for taxis, Portsmouth took a different approach. The city's officials created a law that put Uber and taxi drivers under the same umbrella, holding everyone to same standards, mainly for background checks and insurance.
The local law, in theory, satisfied the chief complaint from taxi companies across the country: since Uber is either unregulated or governed differently from the taxi industry, the competing transportation services are not on a level playing field.
The new Portsmouth ordinance met somewhere in the middle. By applying the same rules to everyone, it effectively lightened restrictions on taxis while tightening them on their digital-era competition. For cabbies, it ended the medallion system limiting the number of taxis that could operate, and ended city regulation of fare rates, putting pricing in the hands of the private companies. It requires background checks for all taxi and Uber drivers going back further than Uber's in-house system, and requires all cars be covered by round-the-clock commercial insurance policies covering up to $300,000 in personal injury liability per accident.
That means Uber drivers now face restrictions they previously hadn't.
"We tried to accommodate Uber," said Peter Bresciano, who serves on the city's transportation committee and helped craft the rules. "We just tried to put everyone on a level playing field."
John Palreiro, the owner of Great Bay Taxi Company in Portsmouth, was pleased with the ordinance. He said he doesn't care about medallions, and that he is open to the competition Uber brings, as long as everybody plays by the same rules.
"It's a free market, and I'm a firm believer in it," he said. "But we have to have rules and regulations in the free market. Having Uber comply with the city ordinances the way they're written—that's fine with me."
But he is apoplectic about the way things have gone, with police proving ineffectual in stopping Uber drivers who have "clearly violated a city ordinance."
"I'm not very happy that they passed an ordinance that they cannot enforce," he said. "They're stealing money from us. … If I owned a store and somebody came in and took my product, they'd be arrested. Well, the streets are my stores."
Uber disagrees that it should be regulated similarly to taxi companies because eventually the company intends to offer services that go beyond personal rides for hire, such as food delivery or shuttle bus service, according to Uber spokeswoman Kelly Smith.
"One of the things, generally, with the Portsmouth regulations is that it treats or lumps taxis and ride-sharing industries into one pool," Smith said. "And so that, in general, can be seen as leveling the playing field between us, but does not recognize the differences between us."
The company also felt the Portsmouth regulations would hurt its ability to quickly get drivers behind the wheel. So it resolved to fight the law, and several of its drivers continued to operate illegally. According to the city clerk, only three drivers have properly registered.
Uber experts say Portsmouth's approach—to consider Uber and taxis as essentially equals and regulating them under the same set of rules—is not a common one.
Even when cities have pushed for rules that Uber protests and calls too restrictive, they are generally presented in a format that applies specifically to Uber drivers and are separate from existing taxi laws, said Harry Campbell, who runs a popular blog called The Rideshare Guy.
"They're usually segregated in a different manner," added Janice Griffith, a Suffolk University professor who closely studies Uber. "In effect, they're acknowledging the fact that Uber is operating without [the same] controls and making that available to others."
The idea that cities should regulate Uber and taxis exactly the same has been a talking point in the legal system in recent months. Federal judges in both Chicago and Boston have expressed skepticism at claims from those cities that they can treat taxis and Uber differently, citing equal protection rights. In Boston, a judge told city officials to rethink its taxi rules by September, or else the court could force the city to regulate Uber according to its taxi laws.
• • •
Franz, the first—and for several months, the only—outlaw driver to be cited, began driving for Uber in June, a few months before the Portsmouth rules took hold. Coming off of a challenging divorce, she took up the gig to supplement her income as a school bus driver and restaurant server.
"I like talking to people," she said. "It was something I could do in the evening. I didn't want to waste my money watching television in the evening."
Franz is not blindly loyal to Uber. She worries about the company's repeated moves to cut fare prices, and she thinks the app should allow riders to tip. But as a once-entrepreneur, she is comfortable working under the independent contractor designation that critics say prevents the company from paying fair wages and benefits.
She quickly found herself making enough money driving for Uber that she dropped the server job. Later, a back injury forced her out of work as a bus driver. She did not return to that job, and driving for Uber became her sole source of income.
Two days after being pulled over in October, she turned up in a Portsmouth Herald article as the "grandmother cited for being Uber driver in Portsmouth." She quickly became the face of the city's feud with the company.
A T-shirt company printed shirts in support of her. She gave interviews to news outlets in New Hampshire, Maine, and Massachusetts. She was nominated for an activism award by the Free State Project, a libertarian group. Riders started telling her that they hoped she'd pick them up—that they would get the chance to ride with the Uber Grandma.
With the publicity came scrutiny. She was cited four times before the end of 2015, and through January, was the only driver to carry that distinction, according to Portsmouth Police Lt. Chris Cummings. (Other drivers have since been cited, Cummings said.) A December report in the Portsmouth Herald about her plan to fight the citations in court was picked up by the Associated Press and appeared in publications across the country.
Even though she is not yet even a senior citizen, the idea of a scofflaw grandmother has appeal, Franz said.
"People are kind of sympathetic to me. First of all: Grandma. Everybody has a grandma," she said. "Here's some little old lady out there trying to make a living, and the big bad Portsmouth police are trying to stop her from doing that. It's kind of like David and Goliath, I guess."
She paused to acknowledge she also has the political and legal support of a company valued at more than $60 billion, headquartered across the country in San Francisco. Uber is paying for Franz to fight her citations in court, and she has met several times with company officials. Her dispute to all seven citations will be heard in July.
"But I have the army of Uber behind me," she said.
• • •
Uber featured heavily in the city's politics throughout the fall, as the company attempted to loosen the regulations. The effort failed in December, and city councilors said they felt the ordinance's present form ensured public safety, according to minutes of the meeting.
Uber has fiercely fought local regulations in places as small as Portsmouth and Braintree, and as large as St. Louis and Austin. The city where Uber has most famously submitted to tough regulations, where drivers must hold commercial insurance and special licenses in order to operate, is New York, a market that can't be considered typical because it's so massive, said Campbell, the industry blogger.
One of Uber's favored techniques on the regulatory front is to seek statewide regulations that supersede any local laws. The company tends to oppose driver requirements that add hurdles to getting drivers on the road, like fingerprint background checks, vehicle inspections, or 24/7 commercial insurance policies. By pushing favorable laws at a statewide level, and preempting local laws from taking hold, Uber minimizes those hurdles across an entire state while creating consistency across local boundaries.
"They don't want anything that's going to hinder their ability to scale up or scale down with their driver workforce very quickly," Campbell said.
That's why Franz is fighting Portsmouth, she said. A commercial insurance policy would be costlier than she's willing to pay. And even if she could clear it, she'd still take issue with the idea of registering as a driver at the local level. An Uber driver in Portsmouth is likely to wind up bringing riders to other nearby towns. While Portsmouth charges just $25 for a driver to register with the city, Franz said both the costs and the hassle would add up if every community has separate requirements.
Uber's focus in New Hampshire has been statewide in recent months. The company supports a state bill that essentially allows for business as usual, similar to Uber-friendly laws that have passed in more than 20 other states and ask very little of individual drivers. The bill passed New Hampshire's House of Representatives in March, and it would preempt all local laws. In other words, if it becomes law, the Portsmouth ordinance would no longer be of issue.
That sounds good to Franz, even though she's already starting to romanticize her time operating outside the law.
"I'm going to kind of miss it," she said. "Miss the cat-and-mouse of it."