Business
Why New Balance wanted the Bruins and Celtics nearby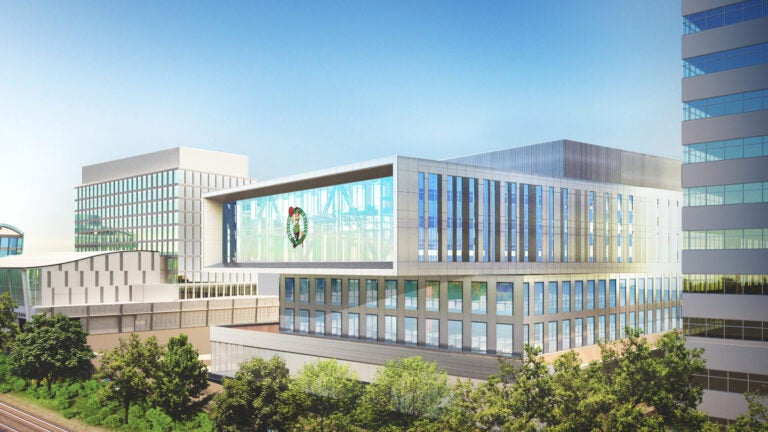 The Bruins and the Celtics have long shared an arena for home games. And, in a couple of years, they'll be in the same neck of the woods for practices, too.
Both teams are slated to open practice facilities at Boston Landing, the New Balance-owned development site in Allston-Brighton that includes the company's new headquarters. Ground broke on the Warrior Ice Arena in 2014, and the B's are expected to skate there this fall. The Celtics, meanwhile, announced they'd call Boston Landing their new practice home earlier this month, with a projected 2018 opening.
With the two professional teams, not to mention an athletics-focused company like New Balance, Boston Landing is becoming a "sports city within a city," said Albert Saiz, director of MIT's Center for Real Estate.
That image could be further bolstered in a few years, as New Balance intends to eventually open a track and athletic center at the site for elite running events.
"It places well within New Balance's objectives of creating something that is health, wellness, and movement-oriented," said Jim Halliday, the managing director of NB Development Group, the company's real estate arm.
From a business perspective, establishing Boston Landing as a sports-centric part of the city could serve as a draw to future retail, restaurant, or office tenants who want to be associated with the teams, he said. It should also strengthen the business relationship between the company — which owns Warrior, a hockey gear and apparel company that is also the ice rink's name — and the Bruins. And it could allow the company to explore new business opportunities with the Celtics, Halliday said (though Nike is the exclusive apparel provider for the NBA).
And when Boston Landing's planned 295-unit residential complex eventually opens, Halliday hopes the practice facilities will help to fill it.
"Frankly, we're hoping that that's something some of the athletes with the Bruins and Celtics might be interested in," he said.
Halliday declined to describe the company's deals with the Bruins and the Celtics, except to say both are on long-term leases. The Bruins will have exclusive use of office space and other amenities connected to the ice rink, but the arena itself will be open for other groups to rent ice time. The Celtics, meanwhile, will have exclusive use of their practice space.
Both Saiz and Peter Giorgio, who leads Deloitte's sports consultancy out of a Boston office, speculated that the deals may not be very lucrative for New Balance. But the facilities serve as anchors that can draw in other tenants and develop a sporty atmosphere, they said.
"It's space that could perhaps be better used," Giorgio said. "The fact that the Celtics have such a presence there and the Bruins have such a presence there will more than make up for that point. … When you're building real estate, you're trying to build buzz, trying to create demand. Who else will you be associating with by being in this area?"
Though it's smaller in scale, Giorgio likened Boston Landing to Patriot Place in Foxborough, the broad commercial real estate development that grew around Gillette Stadium. He also said that the concept is similar to stadium bunching in some cities, where multiple teams from different sports have their home facilities in the same neighborhood. The big difference, of course, is that there are far less fans flocking to practice facilities. (Bruins practices will be open to the public, with seating for 650, while the Celtics' will not.)
"In this case it may be more interesting commercially than from a fan perspective, but it's the same idea," Giorgio said.
Saiz sees the teams' presence as a plus for the area, though he noted that it isn't entirely aligned with the common bohemian or student-oriented perception of the neighborhood.
"It's a little less connected to the Allston-Brighton theme," he said. "They chose that theme, and that doesn't come to your mind when you think of Allston: sports city."
But the sports vision is on-brand for New Balance. And New Balance, he said, has plenty of claim to being part of the area's fabric, having been based there since 1980.
"The fact that New Balance is there, it makes a lot of sense," Saiz said.