Business
Many states govern Uber exactly the way it wants. Will Massachusetts?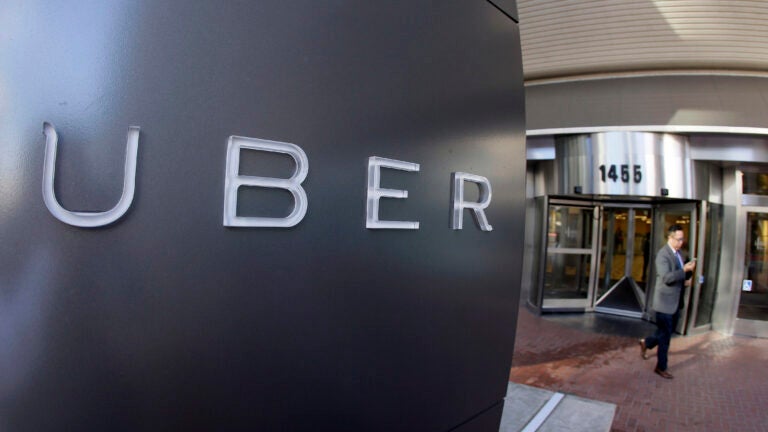 More than two dozen states have laws on the books governing Uber and Lyft. In Massachusetts, where the state Senate is expected to vote on proposed industry rules next week, lawmakers hope to join them — but it's not yet clear what the rules will look like.
Uber, which has famously threatened to leave cities or states if they pass laws they deem too burdensome, has actually supported most states' laws governing its hired-ride service. That's because the states have passed what has been referred to as the industry's "model legislation."
The laws say Uber and similar services must conduct a background check for every driver, or cover drivers with commercial insurance policies while rides are underway.
Those light-touch rules match Uber's existing business practices, and Uber essentially said as much in a 2014 blog post announcing the first such law in the country in Colorado:
From the beginning, Uber has required extensive screenings for potential driver-partners, vehicle inspections and best-in-class insurance coverage. [The bill] codifies our responsibility to the riding public and drivers by creating a new vehicle class called "Transportation Network Companies."
From there, Uber pushed for similar laws in dozens of other states, creating systems that govern the company exactly as it wants to be governed. Quartz has described the process as a "stunning political coup," adding that "Uber likes being regulated so long as it can write the rules" in a follow-up post.
"Uber is very good at making money. Now it's also focusing on making laws," said The Wall Street Journal in 2015, early in the company's state-by-state legislative campaign.
New Hampshire lawmakers recently passed a law that follows the model legislation guidelines. Because the law is statewide, it wipes out local laws, such as one in Portsmouth that the company and its drivers rebelled against. In Texas, after Uber and Lyft pulled out of Austin due to rules that include fingerprint-based background check for drivers, some state lawmakers hope to take a similar approach to quell the local rules. The prospect of fingerprinting also has Uber threatening to leave New Jersey.
Last year, Uber and Lyft supported a bill in Massachusetts proposed by Gov. Charlie Baker that largely borrowed from the model legislation, though it included a second, state-run background check on drivers.
However, the state's House of Representatives in March passed a bill of their own that differed from the model legislation in several areas. Though it did not include fingerprinting or insurance requirements the companies have considered unworkable, Uber and Lyft have rallied against it because they still think it includes too much red tape.
Perhaps their biggest issue is that it would require drivers to obtain a certification from the state, a process that might require drivers to physically go to a state office to become licensed to drive for Uber and Lyft.
Uber's existing background check system is simple: Drivers provide personal information online, Uber uses that to check records, and drivers are given the go-ahead if and when they pass.
The companies see the added driver certification as a threat to their business model, because they think prospective drivers will be less likely to get behind the wheel if they need to jump through more regulatory hoops — the same reason they oppose fingerprinting. While Baker's law would have required a state-run background check, it would have allowed Uber and Lyft to provide drivers' information, meaning drivers would not have to take any further steps to become certified.
Rep. Aaron Michlewitz, who led the drafting of the House bill, has said he believes there should be "separation of church and state" — meaning the government, not the companies, should have a degree of oversight on Uber and Lyft drivers beyond the rules applied by the companies themselves.
The Senate, meanwhile, has mostly been tight-lipped about what its bill will look like. It could be unveiled later this week, according to Senate President Stanley Rosenberg's office. The big question: Will it look more like the model legislation or the House bill — or will it go beyond the House bill to include requirements Uber considers even more of a hassle, like fingerprinting? (Rosenberg in March said the state should be open to fingerprinting, but later walked that back, saying it would only be fair to do so if taxi drivers across the state were fingerprinted. They are not.)
In any event, if the Senate bill differs from the House's — either to Uber's advantage or against it — the two chambers will need to iron out the differences before anything becomes law. They'd have until the end of July, when the two-year legislative session ends, or else the status quo of a gray area uncolored by any clear Uber regulations will continue.
And if the final version of the law is not in line with what Uber and Lyft declare acceptable, it will beg one even bigger question: Will the companies threaten to take its service out of Massachusetts, as they have elsewhere?