Business
Walsh may seek more city control over Uber and Lyft as state debate continues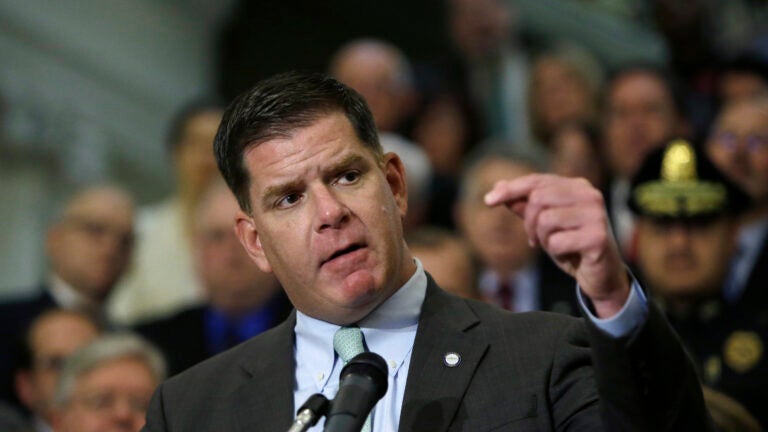 Boston Mayor Marty Walsh may push state lawmakers to allow the city to create its own rules governing Uber and Lyft drivers, which would not be possible under a proposed law governing the ride-for-hire industry released by the Senate this week.
The bill from the Senate includes language that would prevent cities and towns from creating any further laws dictating how the so-called transportation network companies or their drivers operate.
Walsh has previously told reporters that he'd like legislators to pass a law that gives communities the ability to add their own rules.
Walsh spokeswoman Bonnie McGilpin stressed that City Hall was still reviewing the bill Thursday, but said he could petition lawmakers to add amendments to the bill that would give more local control. The bill is expected to see a vote next week.
"We are reviewing the language," McGilpin said in an email. "Based on preliminary analysis of the language, Mayor Walsh is looking forward to working with members of the Boston delegation to file amendments on behalf of the city."
Boston Police Chief William Evans has called for fingerprinting Uber and Lyft drivers for background checks. Walsh has given mixed signals about what he considers an adequate background check: He has suggested some support for fingerprinting, but has also said he could be comfortable with state rules that do not include fingerprinting. The Senate bill would not include any state background checks, instead requiring the companies to conduct their own investigations into the prospective drivers.
In several states, Uber and Lyft have pushed to limit local control to create consistency from community to community. It has been a key aspect of the companies' legislative efforts in several states, including in New Hampshire, where lawmakers recently passed regulations favored by Uber.
Sen. Jamie Eldridge, who helped craft the Senate bill, said Thursday that the provision preempting municipal rules was largely meant to assist local governments by taking the issue out of their hands.
"Some of the cities, their preference was to have the state make the decisions on regulations," he said.
The bill includes another provision that could please local governments. It would require Uber, Lyft, and similar services to pay a 10-cent-per-ride fee to the state, and the money would be doled out to cities or towns based on how many rides began in each community. The money would be earmarked by the cities and towns for transportation-related expenses.
Uber and Lyft have been supportive of the Senate bill. Both have contested a House bill that was passed in March, which they called too restrictive.
If the Senate bill passes next week in its current form, it will require negotiations in a joint conference committee to iron out the differences between the two bills.