Business
Why the next month will be huge for Uber in Massachusetts
It's already been a big year.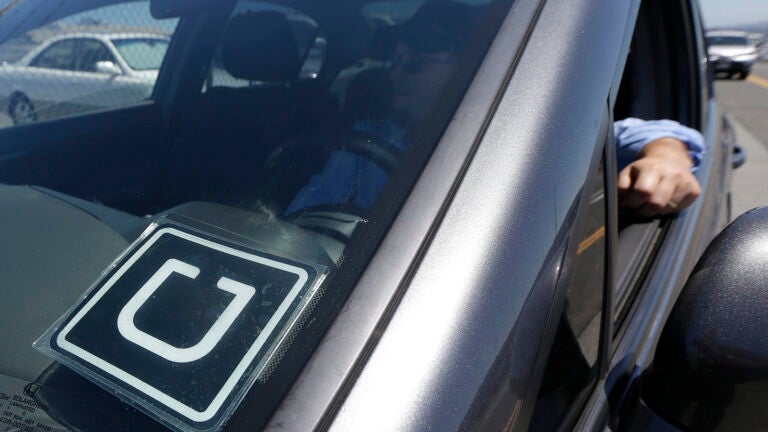 The Massachusetts Senate will debate a bill this week that would set new rules for Uber and Lyft. The bill has the support of the ride-sharing companies, unlike the one already passed by the House in March, which Uber and Lyft describe as a threat to their business model.
If the Senate bill passes, it'll mean the differing House and Senate versions will need reconciling by the end of July. In other words, this next month will go a long way toward determining what driving for and riding with Uber and Lyft will look like in Massachusetts.
But already, the last several months have been ripe with developments for the new era of transportation services in and around Boston. Ahead, a look back at what's happened:
Uber and Lyft like one bill a lot more than the other.
Since 2014, more than two dozen states have passed laws related to Uber, Lyft, and other competitors. In those states, Uber and Lyft have largely been supportive of the laws because their requirements hold the companies to background check and insurance standards they already meet. The Senate bill more closely fits that description, and has the companies' support, while the House version includes tighter state oversight and has been received more contentiously. You can read the basics of the House bill here and the Senate bill here.
Approval of drivers is a key component of the debate.
Under the House's proposal, the state would approve each driver through a background check and certification process separate from the one conducted by the companies. The suggestion has been a big sticking point for Uber and Lyft: The companies say the regulatory hoop could push drivers away from signing up and hurt the supply side of their ride-for-hire businesses, while the state representative behind the bill says the government should play a distinct and separate role in overseeing their fleets. Meanwhile, the Senate bill would not require a state background check.
Uber and Lyft are already banned from Logan Airport. Sort of.
Currently, airport regulations prohibit drivers from accepting hired rides at Logan unless they are licensed livery drivers. The vast majority of Uber and Lyft drivers don't meet that bill. The companies hope to change the rules at some point, but the House bill would cement the ban for five years. In the meantime, Uber has found a workaround, allowing livery drivers to pick up Logan riders at cheaper, non-livery rates. Lyft, however, had been openly allowing its drivers to break the rules until recently changing its app to prevent airport pickups.
With the help of Uber, a grandma in New Hampshire took on City Hall.
Uber financed the legal battle of Stephanie Franz, a grandmother and Uber driver who openly defied a local Portsmouth, N.H. law that the company called too restrictive. After racking up thousands of dollars in fines, Franz got the last laugh. Lawmakers passed an Uber-friendly law in the spring that wiped away existing local ordinances and barred future ones, highlighting a key regulatory strategy for Uber. It's one they hope to put to work in Massachusetts, too—the Senate bill would also supersede any local law.
A federal judge in Boston isn't so sure Uber is any different from a cab service.
Taxi companies have loudly protested the rise of Uber as their business has suffered. They appear to be losing at the legislative level, where more and more states are passing laws that do little to quell their concerns that Uber and Lyft face an unfair regulatory advantage. But they might have a chance to achieve their goals through the courts. Two federal judges—including one in Boston—have said Uber and Lyft are not all that distinct from taxi services and suggested that regulating them differently could violate the taxi company's equal-protection rights.
Boston's highly touted Uber partnership has not lived up to the hype.
Mayor Marty Walsh and Uber made headlines in January 2015, when they announced the company would turn over ride data on a quarterly basis to assist Boston with its city-planning efforts. A year-and-a-half later, public records revealed that the city hasn't really received any useful planning insight from the data so far—and that the city's frustration has occasionally shone through in emails with the company. Walsh's administration is trying to get better data through an amendment to the Senate bill.
Uber denied access to a Harvard startup that compared ride-hailing prices.
Access to Uber information has also been an issue for Urbanhail, a Harvard Business School startup that lists prices for various ride-hailing services next to one another. Uber shut Urbanhail out from its API, making it impossible for the app to list Uber's prices. Critics said the move showed hypocrisy in the face of Uber platitudes about the value of competition.
A driver made a sexual pass at a rider, and Uber didn't handle it well.
An Uber driver sexually harassed a Boston.com writer in the spring. Uber has faced issues involving sexual assault by its drivers in the past, including in Boston. But the company's Kafkaesque response to questions about whether the driver was still active on the service also brought concerns about the company's empathy for those who have been subjected to such incidents.
Some Uber Boston riders can dump surge pricing—for a monthly fee.
Uber is trying out new pricing options around Boston, including a "pass" product that allows riders access to cheaper rides if they pay an upfront cost.