Business
Law would require Uber to pay a nickel for every ride to help the taxi industry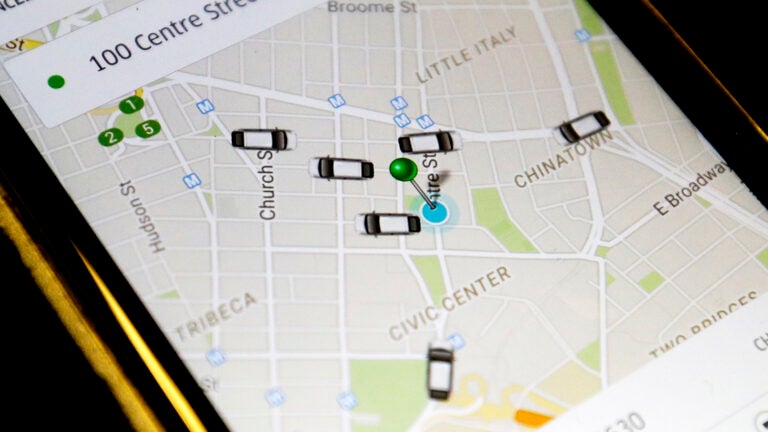 The Sunday night deal struck by Massachusetts lawmakers giving the state oversight of Uber, Lyft, and similar on-demand transportation services would require the companies to pay 5 cents for every ride to help their rivals in the taxicab and livery industries.
The bill requires the companies to pay a 20-cent fee per ride, and they cannot pass the charge on to drivers or riders. Once the law goes into effect, 10 cents from each ride would go to cities and towns to pay for transportation needs and another 5 cents would go to the state's transportation fund. The final nickel would go to the state's economic development arm to fund a program that would provide financial assistance to taxi and livery services, helping them adopt technology, develop their workforce, and otherwise improve their services.
The taxi-assistance fee would stay in effect until 2022, and the broader assessment would disappear in 2027.
The measure hasn't deterred Lyft's support for the legislation, which is mostly friendly to the industry. The company issued a statement early Monday morning celebrating the bill as a positive step, and another statement later Monday urging Gov. Charlie Baker to sign it. Uber has not yet indicated its level of support for the bill.
But the idea that the companies should pay an assessment that will in part assist their competition caught the attention of the libertarian think tank R Street Institute, which supports light-touch laws that allow Uber and Lyft to operate more or less as they have been. In a write-up of the Massachusetts bill, R Street senior fellow R.J. Lehmann had a generally positive take on the bill, but took aim at the taxi-assistance fund.
"Obviously, forcing an innovative new industry to subsidize the incumbent monopoly cartels that previously were trying to shut out any upstart competition is far from ideal," he wrote.
The assessment builds off a proposal originally put forth by the Senate that would have required 10 cents per ride from the companies, with all proceeds going to cities and towns. The House's version of the bill did not include a fee, but called on the state to offer broader assistance to help stabilize the cab industry, including through low-interest lines of credit.
The final version tied those two ideas together by increasing the Senate's per-ride assessment and putting a nickel per ride toward helping the cab and livery companies, while narrowing down the types of assistance that could be offered from the ideas in the House proposal.
State Sen. Karen Spilka, who worked to negotiate the bill's final form, said lawmakers were pointed in their effort to create distinct rules governing the so-called transportation network companies that did not touch cab regulations.
However, she said, the 5-cent-per-ride penance is intended as a way to assist cabs and limo services that have seen their industries thrown asunder by the unregulated advent of Uber and Lyft. Spilka justified the measure as an economic development move — especially the workforce development aspect.
"On a statewide basis, we in the legislature are responsible for assisting working people, assisting with economic development and job creation in whatever reasonable way we can," she said. "I think this is reasonable, I think it will end up helping a lot of individuals and working families."
Matthew Mincieli is a tech industry lobbyist who has been pushing for Uber-friendly laws since last year as northeast executive director for TechNet. He called the taxi assistance program "not ideal," but said he was mostly just glad a bill got done.
"This is another example of state legislature trying to be creative, trying to be fair, and just trying to regulate an industry that is new," he said. "And sometimes in that, they get a little over-creative or a little too cute. Is it a perfect idea? Probably not. … But I think, overall, to get to the place we got to last night, I think it's been a long process and the end result was a good one."
Mincieli said he didn't see the provision as one that should overly upset the ride-hail companies.
"I think there's two ways to look at it," he said. "To tax a company to help their competitor is obviously a slippery slope and not necessarily a practice you'd want to see copied, depending on the industry. But I think in this case, in order to create more of a level playing field, and to keep it consistent with the message that ridesharing companies … just want an opportunity to compete in the market and not be overly regulated, a 5 cent tax or fee that goes to helping the overall industry is not ideal but I don't think it's a deal breaker."