Business
The taxi industry could sue the state over the new Uber and Lyft law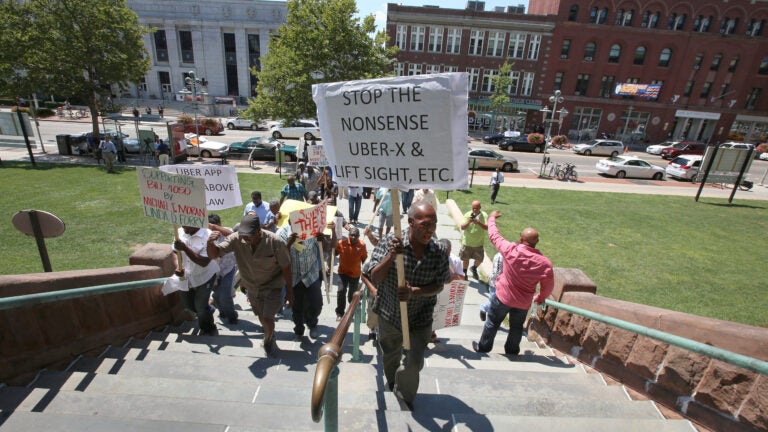 If Gov. Charlie Baker signs a bill passed by the legislature late Sunday night regulating Uber and Lyft, the new law may find itself in the crosshairs of taxi industry lawyers before the ink even dries.
Taxi companies are threatening to add Massachusetts to existing lawsuits against Boston and Cambridge, which claim that the cities' refusal to regulate the on-demand ride-for-hire companies the same way they govern the taxi industry is an unconstitutional violation of the cab companies' equal protection rights. The companies could also file a separate suit against the state, according to Jennifer Pinkham, an attorney representing the cab groups.
The cab companies have argued that they provide the same basic service as Uber and Lyft — picking up and dropping off passengers for a fee — and should be held to the same rules. Boston and Cambridge's failure to do so has decimated their business, the companies claim.
That position has seen some sympathy from U.S. District Court Judge Nathaniel Gorton, who is overseeing both suits.
Earlier this year, Gorton ordered the city of Boston to inform the court by September how it would amend its taxi laws to put Uber and Lyft on similar footing to the cabs. The new state law could offer protection to Mayor Marty Walsh from that order, because he can now claim that regulations for Uber and Lyft are a state issue — one that will now command the attention of Pinkham and the cab industry.
"Given that they're now regulating the industry this way, it will be necessary to bring the state in on this action," Pinkham said. "This bill separately regulates the [transportation network company] industry and it does so in a way that violates equal protection."
Pinkham said she will likely meet with cab officials later this week to decide how to approach the new state law, but said she expects "some action will be taken."
In Chicago, a federal judge has also expressed sympathy to the equal protection argument, and Pinkham told Boston.com in June that other attorneys across the country are considering similar action.
Pinkham has previously acknowledged that the cities could loosen their restrictions on taxi companies rather than tighten regulations on Uber and Lyft.
"That is something that obviously the taxi industry is concerned about, but they're more concerned about making sure there is fairness," she told Boston.com in June.