Business
Mayor Walsh wishes the city had more control over Uber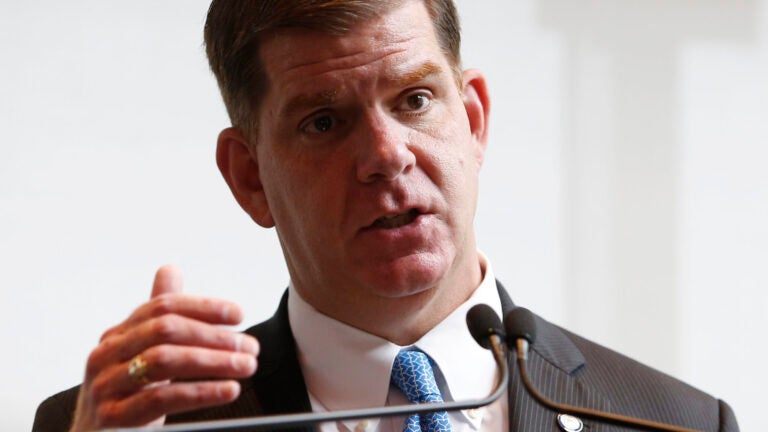 Boston Mayor Marty Walsh is unhappy that the state legislature stripped cities and towns of the ability to set their own rules for transportation services like Uber and Lyft when they developed statewide laws overseeing the ride-hailing companies late last month.
"The fact that we have basically zero regulation power, I think, is a mistake," Walsh said of the so-called Uber bill, which Gov. Charlie Baker signed into law last week.
In an interview Tuesday, Walsh argued that Boston should be allowed to regulate the smartphone-based hired-ride services because it is "the largest city in New England by far" and because it is the site of about 2 million Uber trips per month.
Walsh tempered his criticism by saying he was glad lawmakers "did something" to oversee the previously unregulated industry.
However, he said his administration could approach the legislature in the future to tweak the law and allow more local control. He said he will first "see how it works" under the state's new framework before taking that kind of action.
The state law establishes background check, insurance, car inspection, and vehicle identification requirements for ride-hail companies and drivers. It includes a 20-cent fee levied on every Uber and Lyft ride, half of which will go to cities and towns to pay for transportation needs. That fee will stay in effect for 10 years, but Walsh does not believe it should expire.
"I don't understand why the legislature did a 10-year max on taking money," he said. "Uber's going to be a bigger company. Not just Uber, but car-sharing service, it's going to be a bigger company, and there's no revenue coming in?"
Walsh also complained that the law restricts cities from checking drivers' backgrounds.
It includes a two-part driver background check, with one part conducted by the companies and another conducted by the state. Walsh said he did "not necessarily" believe that process was adequate.
"I think that's one area that we would like to have more oversight," he said.
That clashes with the view of Gov. Charlie Baker, who said last week after signing the bill that the background check process will be "the most comprehensive and the most rigorous one in the country."
Walsh's police chief, Commissioner William Evans, has called for Uber drivers to be fingerprinted, though the mayor said there could be ways for the city to check drivers' backgrounds without collecting their fingerprints.
Walsh noted one positive for his administration from the new law: By being barred from overseeing the companies, he has cover from a court order that could have forced the city to regulate Uber and Lyft by the same rules it applies to taxi companies.
The court order came from a taxi industry lawsuit. The suit argues the city is violating taxis' equal protection rights by holding cab companies to city laws while not regulating Uber drivers.
Walsh said he has yet to discuss the implications of the state law on the court order with his legal team, but suggested the issue is now out of the city's hands.
"Clearly the way the law's written … we can't regulate it," Walsh said. "So it's going to be two very different regulations — the taxis and livery services and Uber and all the other services."
The taxi companies' lawyer has said industry groups may now sue the state to challenge the law on the same equal-protection grounds.
Walsh previously indicated his wish for greater control over Uber and Lyft rules when he pushed for local control while lawmakers debated the issue this year. A former state representative himself, Walsh backed an ultimately abandoned amendment to a Senate bill that would have given Boston the power to add local rules.
The amendment also would have forced the companies to give the city detailed ridership data. That may have been a reaction to issues with the existing data-sharing agreement between Boston and Uber.
The city and Uber agreed to the partnership in 2015, and it was meant to assist with transportation planning efforts. However, emails uncovered by Boston.com showed that city officials have struggled to utilize the data because it is not specific enough.
During the interview, Daniel Koh, Walsh's chief of staff, said the city would like to have "as much data as possible," but defended the existing data-sharing agreement as "a good first step" and a "preliminary data partnership."
Walsh said Airbnb, the online lodging service that allows users to rent out their homes or rooms, is similar to Uber as a web-powered service that governments have not yet fully grasped how to best regulate.
Early on after Walsh took office, his administration began looking into how to regulate the company, ordering inspectional services employees not to fine any Airbnb users in the meantime.
So far, the city has not implemented regulations on Airbnb and other online rental services. Walsh said Tuesday that he has a meeting scheduled "in the next couple of weeks" to further discuss Airbnb, and suggested that Airbnb might add to stress in the city's simmering housing market.
"It depends on how you look at it," he said. "It drives up the costs of rents. … It's a cost-driving factor that we have to look at. I don't know of any situation where Airbnb's in a community where the cost of housing's going to go down, it's only going to go up. So we have to look at all of the different ramifications of having Airbnb in Boston."