Business
Warren Buffett's sister would like help from Boston deciding how to hand out her brother's money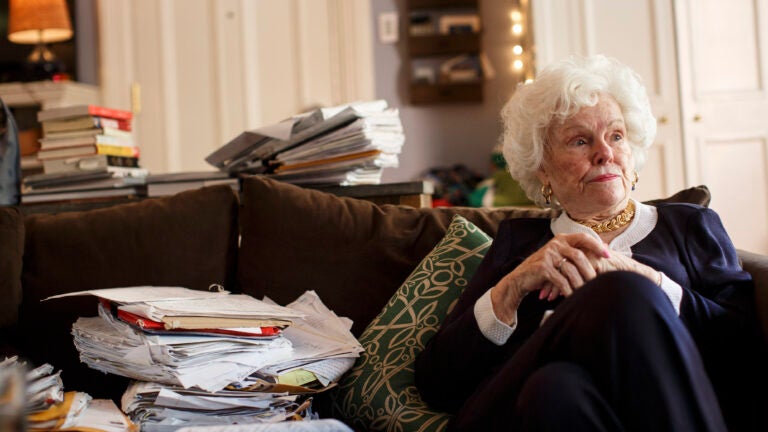 It may not be a surprise that Warren Buffet—the multi-billionaire investor known nearly as much for his charity as he is for his wealth—gets a lot of requests from individuals for money.
So many, in fact, that the 85-year-old has outsourced the process of deciding which requests to fulfill to his big sister.
But now, facing a backlog of requests, Doris Buffett, who moved to the Back Bay last October, is looking for Boston-area residents to help her decide who receives a small slice of her brother's fortune.
In an interview published Saturday by The Boston Globe, Buffett said she is looking for local volunteers who can meet regularly to help decide what funding requests are "reasonable."
"My brother is putting up the money, so we're sort of limitless," Buffett told the Globe. The 88-year-old runs The Sunshine Lady Foundation, which she created—and her brother funds—to help "the working poor and families in crisis."
"He's told me that any time I run out of money, all I have to do is call him," she told the Globe.
Warren Buffet, estimated to be the third-richest person in the world by Forbes (the magazine pegs his net worth of $66.4 billion), has had a long-standing commitment to philanthropy. And in 2010, the Berkshire Hathaway CEO pledged to give 99 percent of his wealth away, during his lifetime or at his death.
"Were we to use more than 1% of my claim checks (Berkshire Hathaway stock certificates) on ourselves, neither our happiness nor our well-being would be enhanced. In contrast, that remaining 99% can have a huge effect on the health and welfare of others," Buffett, a co-founder of The Giving Pledge, wrote at the time.
Over the past decade, the sibling duo have reportedly fielded 22,000 letters from strangers asking for money, and given away more than $12 million.
Her goal is to provide what she calls "life-changing" grants to people who, for reasons beyond their control, have fallen on hard financial times. A check from Doris Buffett is not akin to hitting the lottery; her gifts average about $4,800, although her largest to an individual was nearly $100,000. The intent is to stabilize people struggling with money woes.
According to the Globe, during previous stays in Virginia and Maine, Doris Buffett had about a dozen volunteers to help determine how to allocate up to $2 million in annual grant money, stretched out among at least 250 individual requests.
Some of the requests Buffett has decided to fund include things as small as dentures, winter boots, or children's clothing; but the grants can also go toward mortgage payments or funerals.
As for the volunteers being sought, Buffett told the Globe ideal candidates "have a heart somewhere," and are practical and nonjudgmental. Candidates must apply by letter, via a website set up by her grandson.
"You are thrilled when you can answer somebody's prayers," Doris Buffett told the Globe.