Business
Bruins' new practice arena to open at Boston Landing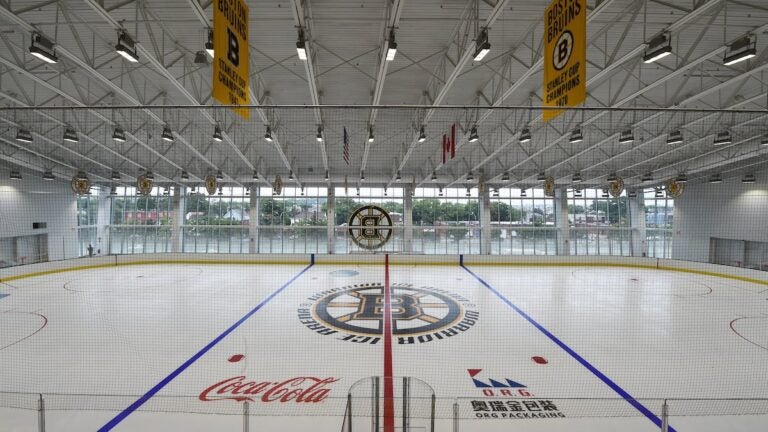 The Warrior Ice Arena, where the Boston Bruins will practice going forward, is slated for a grand opening ceremony Thursday evening.
The arena is a centerpiece of the new Boston Landing development along the Massachusetts Turnpike in Brighton. The mixed-use complex is owned and being developed by New Balance's real estate arm in the area surrounding the storied sneaker company's new headquarters.
The Boston Celtics are also expected to open a practice facility at the site, though that is still a couple of years away. The Bruins and Celtics are both leasing the space from New Balance. The company has declined to publicize the terms of those agreements, but has said it hopes having tenants like the Bruins and Celtics will help to establish the area as a sports-centric corner of the city. Plans also call for Boston Landing to include residential, retail, and office space, as well as a hotel and a new commuter rail station.
The ice arena shares a name with Warrior, a hockey equipment and apparel company owned by New Balance. In addition to housing the Bruins, the 600-plus-seat arena will also feature youth games and public skating sessions, and be available for corporate bookings. Outside, a 68-foot hockey stick adorns the arena.
Thursday's ceremony will be attended by Boston Mayor Marty Walsh, Gov. Charlie Baker, House Speaker Robert DeLeo, and Bruins and New Balance officials, according to Baker's public schedule.
Boston Landing is just one of the big Bruins-related developments underway in the city. The TD Garden property, where the Bruins and Celtics play their home games, and which is under the same ownership as the Bruins, is also undergoing a big mixed-use makeover.
The Bruins, who have long practiced in Wilmington, have tweeted several photos and a video today from the new space. They begin training camp on September 22.
The view from center ice at the Bruins' new practice facility, Warrior Ice Arena, at Boston Landing near @newbalance pic.twitter.com/WC5K1kB2gj

— Boston Bruins (@NHLBruins) September 8, 2016
Locker room ?. #BacktoBoston pic.twitter.com/CC9yhGP8k2

— Boston Bruins (@NHLBruins) September 8, 2016
New strength and conditioning area. #BacktoBoston pic.twitter.com/xtXXXxefqo

— Boston Bruins (@NHLBruins) September 8, 2016
https://twitter.com/NHLBruins/status/773901531548614657