Business
Harvard Square's iconic Curious George Store isn't closing anytime soon
The store's owner anticipates having to move—but not until late 2017.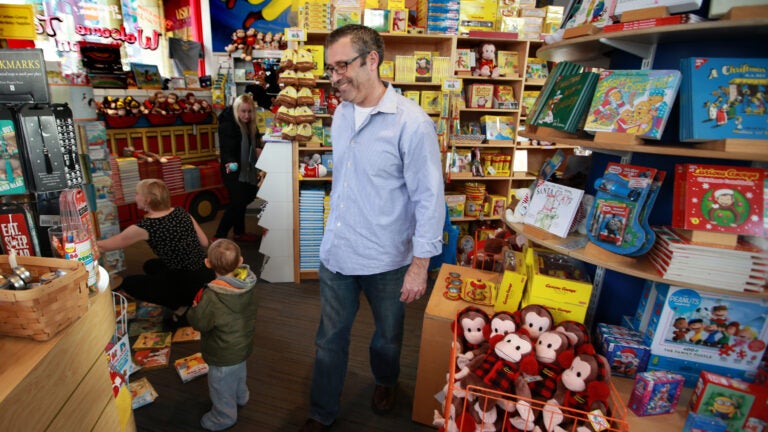 Adam Hirsch, the owner of The World's Only Curious George Store, knows his store's longterm future may be uncertain. But in the short term, his message is less opaque: The store isn't going anywhere anytime soon.
"We will remain open for months and months and months to come," said Hirsch, who, with his wife Jamie, owns the one-of-a-kind Harvard Square brick-and-mortar, selling products featuring its inquisitive namesake.
"We're open now, open for the holidays, open for at least eight to 12 months," he said.
Equity One, a New York-based real estate firm that bought the building in 2015, has proposed a plan that would turn the triangular building Hirsch's store occupies into a shopping mall. If and when the plan is approved and permitted, the Curious George Store will be forced out.
But that time isn't coming particular soon. Given the time it takes to get a redevelopment plan approved and permitted, Hirsch expects his red-and-yellow storefront to be open until August 2017—if not longer.
The Harvard Crimson reported Tuesday that the Cambridge Historical Commission yet again delayed a decision on a modified proposal by Equity One last week, amid outcry from local residents. The commission resolved to take up the issue again at their next monthly meeting.
That said, Hirsch fully expects that a plan eventually will be approved and is looking everyday at potential future destinations, hopefully in Harvard Square, to keep the Curious George Store alive.
Hirsch says Equity One has been "very transparent" and that the firm wants the store to stay until they acquire the permits to redevelop the property, after which the closure of the current location will be a "short order."
"It's ongoing process but the clock is ticking," he said.
Following reports of Equity One's intentions in September, Hirsch launched a petition—which has since exceeded his original goal of 5,000 signatures—to save his store. Hirsch describes the petition more of a public "vote of confidence" in the store than a protest. The response from supporters, he says, was heartening.
"There is a large populace of people that would like us to remain in the square," said Hirsch, though he expressed skepticism in September about staying in the Harvard Square due to the exploding rents in the historic, but ever-changing, plaza.
Hirsch says his most immediate concern is the public misconception, following reports of the Curious George Store's uncertain fate, that the store was already closed.
Ever the assiduous business owner, he says the best way now for fans—or even those who are just, ahem, curious—to ensure the store's future would be to stop by this season.
"Make us part of your holiday shopping," he said. "Come visit."