Business
Whole Foods rethinks expansion as sales keep falling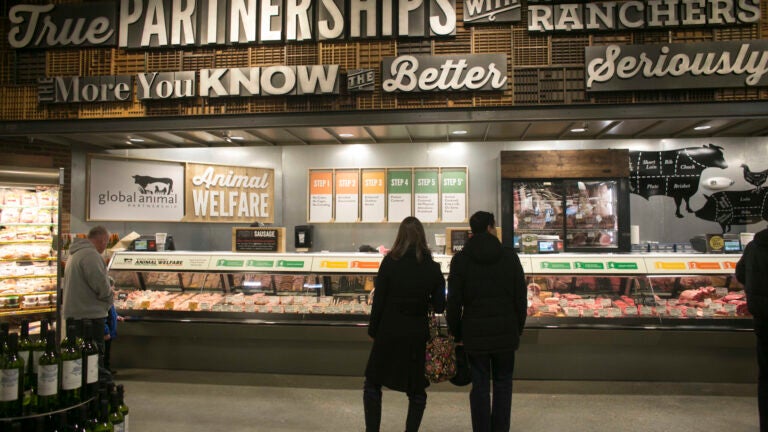 NEW YORK (AP) — Whole Foods is hitting the brakes on its ambitious expansion plans as sales keep dropping at existing stores.
The grocer reported its sixth straight quarter of falling sales at established locations on Wednesday, as organic and natural products have become more widely available at traditional supermarkets. The company said it no longer sees potential for 1,200 locations, up from the roughly 470 it has in the United States, Canada and the United Kingdom.
It said it will close nine stores in the current quarter, while opening only six new stores, including two relocations. The company noted that it still has dozens of stores in the pipeline and that it will continue to grow, but that it will be more careful about signing new leases.
As customers migrate to traditional supermarkets — which Whole Foods CEO John Mackey said have become a "good enough alternative" for some — the company said it will focus on its most loyal customers and getting them to spend more.
By convincing those "Whole Foodies" to add just one more item to their shopping baskets, Mackey said the company could significantly boost its sales.
To do that, the company announced a partnership with a data insights company that could help it better manage merchandising and pricing. Although Whole Foods has been trying to shake its "Whole Paycheck" image, Mackey noted that it doesn't want to compete in a "race to the bottom."
But Mackey said the company still needs to be careful about charging too much.
"Nobody wants to feel they're being cheated," he said, when asked by an analyst during a conference call whether Whole Foods' core customers care about price. Mackey added that Whole Foods doesn't have to be the cheapest, but there can't be "too big of a gap" where people feel the company is taking advantage of them.
In the meantime, Whole Foods has been cutting costs, including by closing its remaining kitchen commissaries where it made prepared foods. Those foods will now be provided by suppliers or made on site. Mackey said he doesn't expect to close too many more stores looking ahead, and believes the company has "cleaned up" its store base for the time being. Late last year, the company also got rid of its co-CEO structure, making Mackey the sole chief executive.
For the three months ended Jan. 15, Whole Foods said sales fell 2.4 percent at established locations. The company said the figure was also down for the current quarter, and it cut its sales and profit forecast for the year.
It earned $95 million, or 30 cents per share, for the period. Not including one-time items, it earned 39 cents per share, in line with expectations. Total revenue for its first fiscal quarter was $4.92 billion, short of the $4.98 billion expected, according to FactSet.
Whole Foods Market Inc. now expects sales at established locations to fall as much as 2.5 percent. It previously said it expected the figure to be flat to down 2 percent. It also lowered its earnings forecast to $1.33 per share or better.
The company's stock was down 3.9 percent at $28.25 in after-hours trading.
___
Follow Candice Choi at www.twitter.com/candicechoi