Business
2 companies with Boston roots will appear on Shark Tank this month
The show airs Fridays at 9 p.m. on ABC.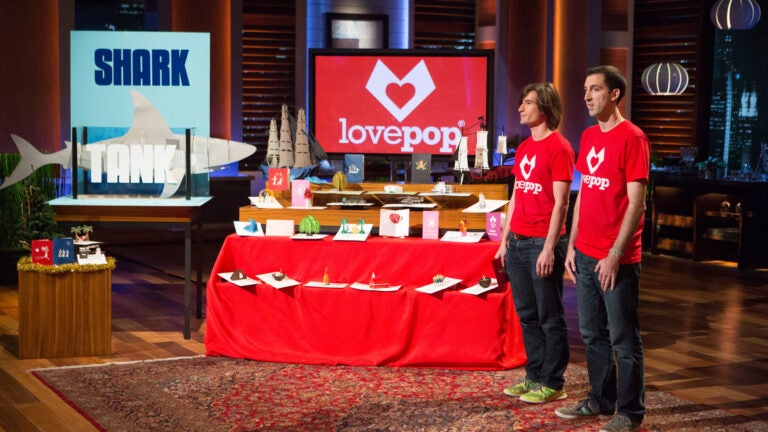 Two budding companies with Boston roots will show off their ideas on ABC's Shark Tank this month.
Lovepop, a company specializing in three-dimensional greeting cards, will make its second appearance on the show. Founders Wombi Rose and John Wise, both Harvard grads, first faced the sharks in 2015, when their year-round pop-up cards won the heart of Shark Tank's Kevin O'Leary. Rose and Wise accepted a $300,000 offer from O'Leary for a 15 percent stake in the company. O'Leary funneled even more money into the business during a financing round about a year later.
Rose and Wise will return to the Shark Tank on May 5 to offer a sneak-peek at their partnership with the Billboard Music Awards: Lovepop has designed brand-new pop-up cards that will be used to present the winners of each category. The Lovepop creations will replace the traditional envelopes used to announce the award winners.
New to the Shark Tank world is Rocketbook, a Cambridge startup that designs digitally-enabled, reusable notebooks. The notebooks pair with a smartphone app that allows users to photograph their notes and upload them to a cloud service, like Dropbox. Then, users can pop the notebooks in the microwave to erase their old notes and start over.
Rocketbook raised over $1.3 million through an Indiegogo campaign in 2015. According to Boston Business Journal, they'll pitch the notebook to the Shark Tank investors on May 12, in hopes that they'll make a deal like Lovepop did two years ago.
Both episodes will air at 9 p.m. on ABC.