Business
A bridal chain closes, and scrambling ensues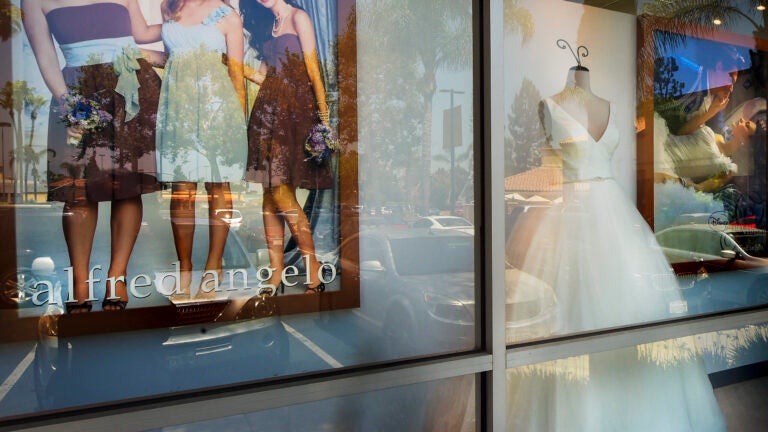 These Bridezillas have a legitimate excuse.
The reason: Alfred Angelo abruptly closed its more than 60 wedding-dress stores Wednesday, leaving brides racing to figure out if they would get the gowns they had ordered. On Friday, the company filed for bankruptcy.
The closings added an element of panic to a wedding process often filled with stress, and brides and bridesmaids shared their exasperation on Twitter and Facebook. They rushed to figure out the status of their orders, and store employees were left trying to explain the situation.
Cyndi Whitten of Houston, whose daughter had ordered a $1,500 gown from Alfred Angelo for her wedding in October, said, "This has turned into the most difficult and stressful part of the whole thing. You just wanted to sit there and burst into tears because your daughter's easy part of the wedding isn't so easy."
My wedding is in 29 days. I'm glad orange is my wedding color because I'm gonna be married in jail if I can't get my dresses. #alfredangelo

— Ashley Austin (@ashaleh22) July 14, 2017
Was standing in my future wedding dress, tears in my eyes, saying yes, when I was told #AlfredAngelo has shut down & I can't order the dress

— Tina Braz (@Tina_Braz) July 13, 2017
The company, which opened in 1933, did not respond to phone calls and emails seeking comment. Patricia Redmond, a lawyer who represents Alfred Angelo, did not return a phone call.
In a letter to customers obtained by The New York Times, Redmond wrote that the company would "encourage" the bankruptcy trustee to "finish and fulfill as many orders as possible."
"The company regrets that this action will have dramatic impact on you," Redmond wrote in the letter.
Despite the uproar after the store closings, Angelo Alfred has said nothing about the situation publicly. Some customers realized that the company had shut down after finding signs posted on locked store doors.
A private company based in Delray Beach, Florida, Alfred Angelo sold its dresses at 1,400 other retailers, in addition to operating its own stores, according to its website. Like other bridal companies, it has faced pressure from bridal fashion startups and traditional retailers pushing low prices. In its bankruptcy filing, the company said it had no more than $50,000 in assets but more than $50 million in liabilities.
Competitors were rushing to capitalize on the company's demise. David's Bridal offered discounts to Alfred Angelo customers if they can show a receipt from the store, as well as free rushed alterations.
Alfred Angelo's failure led Alex Pacifico and her co-workers at the company's bridal store near Dayton, Ohio, to spend Thursday essentially running a guerrilla retail operation. They scrambled to get customers gowns they had ordered and told customers to take sample items they had on hand.
"If we had what customers needed in the store, they were more than welcome to take it with them," she said.
But other brides-to-be and members of their wedding parties were not so lucky.
Christine Danielle, who also lives in Houston, ordered a dress from the bridal retailer in May to wear to a wedding. As of Friday afternoon, she had been unable to figure out where the $195 dress was.
"There's no dress in sight, no refund in sight," Danielle said.
Along with the brides, employees at Alfred Angelo were also left in the lurch. Pacifico worried that she would not get paid for hours worked this week and will lose out on sales commissions.
She said the closing left some customers were angry, blaming the workers for the situation. The employees at the Dayton store worked for about 12 hours that day — for no pay — trying to help customers, Pacifico said.
"They cussed us out," she said. "They called us names. It's a very frustrating situation for all parties."
Whitten, the mother in Houston, said she and her daughter started hearing on social media and bridal chat boards that Alfred Angelo might be closing its stores. Her boss let her off work an hour early Thursday so she could visit the store where her daughter had purchased a gown.
When she arrived at the store around 5:30 p.m., the clerk who had helped her daughter let Whitten into the locked store. The clerk said she remembered Whitten's daughter and found a sample dress in the same style.
"She put it in a bag and said, 'There, it's yours now,'" Whitten said.
On Friday morning, the family got a phone call from a clerk — the store had found her actual dress.
"They gave us one hour this morning, at 9 a.m., to get there and pick it up," she said. "We have a happy ending. It was very unexpected."