Business
For some, the path of retirement takes a detour to a ferry parking lot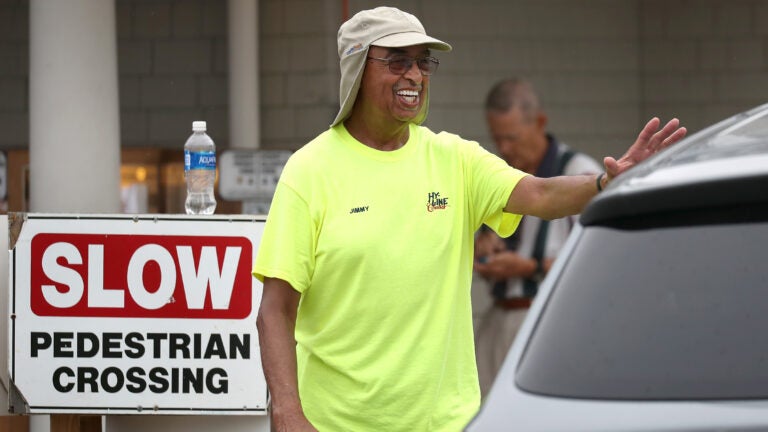 HYANNIS — Retirement leads people to many places: foreign countries, the golf course, the couch. For a number of retirees on Cape Cod, the golden years have led to a much more unconventional place: the Hy-Line ferry parking lots.
There's an ex-DEA agent and a former nuclear physicist among the parking staff for the high-speed ferries, which run to Nantucket and Martha's Vineyard, and a onetime Formula 1-race-car-driver-turned-Mercedes-dealer. The brawny man helping a driver back into a tight parking space used to be a prison guard. And that guy in the safari hat barking into a walkie-talkie? He was a clinical pharmacist at Partners HealthCare for nearly four decades.
"You can only play so much golf,'' said Jim Pender, 82, the former head of the math department at Westwood High School. "I was looking to keep myself out of trouble and out of my wife's hair.''
Beyond paying them minimum wage or just slightly above to stand out in the heat and the rain, the job offers these retirees new insights into­ how differently low-wage service workers are treated.
In just a few weeks on the job, Bruce Jones, 72, a high school counselor who became a college admissions officer and a novelist, has noticed that some passengers look right through "the help,'' unaware of the breadth and depth of experience surrounding them.
"We all have a history that is clearly not observable from our customers' point of view,'' said Jones, who is fairly sure he surprised, and possibly dismayed, a passenger in a Wesleyan cap when he told him he went to graduate school there. "He's probably thinking, 'Is this my future?'
"We go through life not knowing what most people's stories are,'' Jones said. "We make assumptions based on what they wear and what they drive and where they work. And assumptions are a dangerous thing.''
For Patrick Hickey, 63, who worked his way up from packer to production supervisor at Cape Cod Potato Chips, getting to know fellow parking employees from different walks of life has also challenged his assumptions.
"State trooper's got a sense of humor?'' he said wryly of one of his fellow retirees at the lot. "I never got pulled over by one of them.''
Of the 65 workers on the summertime staff, about two-thirds of them are men over 60.
Some have had second homes on the Cape for years, and now that they're retired, they split their time between the Cape in the summer and Florida in the winter. And they are eager for something to do.
Travelers tend to be stressed when they get to the ferry, often having battled traffic — and the clock — to get to the boat on time, and parking employees are expected to remain friendly yet efficient when dealing with short-tempered vacationers.
Jim Lynch won't hire parking lot staffers who seem unable to smile at stressed travelers.
Manager Jim Lynch, a bearded former Hy-Line boat captain, doesn't hire people "if they don't impress me as having a smile or being willing to turn the cheek.''
Indeed, on a recent humid, foggy morning at the terminal, many passengers were not yet in vacation mode. "Why are you yelling at me?'' a woman called out to a fellow traveler over the crowd.
"I feel like I'm going to pass out,'' a flushed young man in red high tops told his friends.
When people return from the islands, their stress levels return, too, said Tony Rossi, 68, a former nightclub owner who later ran a Harley-Davidson rental business before becoming a salesman for the company.
"I wish they were as stress-free as I am,'' said Rossi, who, like many of the retirees on staff, enjoys having fewer responsibilities than he used to have.
Some people get flustered trying to back into a parking space, especially when they're in a hurry to catch a boat. "Keep going back,'' an attendant told a man driving a black Jeep with Connecticut plates on a recent morning. "Now go back the other way. Turn it hard. Now straight back.''
Paul Sullivan, 75, a longtime Boston Edison employee, has found that good old-fashioned teasing can ease the tension, especially when trying to back them into a tight spot. "I've had people say, 'This is a rental car.' And I say, 'Oh, you got one without reverse?' ''
Sullivan, like the others, ­also likes to rib the high school and college students who work there. Noticing one sitting on a bucket fiddling with his phone, Sullivan gestures to him: "These kids are going to wear out their thumbs.''
The "young bloods,'' as their boss calls them, often turn to their electronic devices during downtime, but that doesn't mean they're not listening to what their older coworkers have to say.
Tony Rossi, a former nightclub owner, says he sees the stress on travelers returning from the islands. "I wish they were as stress-free as I am,'' he said.
Jesse Fitzhenry, 19, and Tom Grimmer, 22, who are both headed to officer training school after college, said they have learned some valuable life lessons from the veterans on staff, including one that the best leaders know: "Just because you're in charge doesn't mean you know more.''
For the most part, the retirees working in the Hy-Line lots aren't there for the money, but that doesn't mean they don't think about it. Lew Hatch, 73, a former real estate appraiser and builder who drives a convertible Lexus, thought about exactly how far his $11 an hour goes during a recent purchase at Jordan's Furniture. "I had to work 370 hours to buy two couches,'' he said with a grin.
The careers that many of the parking attendants once had can make it harder for them to face the abyss of retirement, said John Austin, 75, a retired postal service worker who does the early morning shift at the ferry year-round and keeps an eye on a pair of ospreys that nest near Lot 3.
"Most men identify through their jobs,'' he said, "and when you don't have one, what's your identity?''
The retirees may not forge new identities in the parking lot, but some have formed real friendships. John Reynolds, 73, who taught and coached at Bedford High School and wears black suspenders over his substantial belly, holds an annual reunion for the parking lot workers in Florida every February.
Reynolds hitchhiked across North Africa in the 1960s before becoming an Army intelligence officer in Vietnam and used to daydream about traveling the world on a freighter. Now he realizes that's probably not going to happen, and that's OK.
"This is as close as I'm going to be,'' he said, with a hearty laugh, looking at the boat across the terminal parking lot — "a ferry from Hyannis to Nantucket.''
Most of the 65 people employed in summer jobs at the Hy-Line parking lot in Hyannis are retired men.