Business
Boston thinks Suffolk Downs is the key to landing Amazon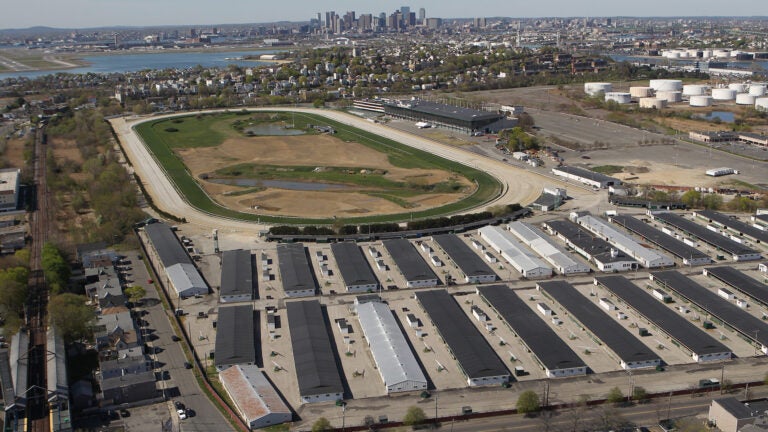 Suffolk Downs is emerging as a leading site among city officials as they put together a bid for Amazon.com Inc.'s second headquarters.
The soon-to-close East Boston horse track meets many of the needs the e-commerce giant says it wants for a campus that could be as large as 8 million square feet and eventually be home to up to 50,000 employees. At 161 acres, the old track property is big enough. It's served by two MBTA Blue Line stops minutes from downtown and Logan Airport. And with a new owner already planning redevelopment, the spot could be ready for construction in time to meet Amazon's 2019 start date.
Those factors have prompted local political leaders to start focusing on Suffolk Downs as a key element of their proposal, which must be submitted to Amazon by Oct. 19. House Speaker Robert DeLeo, who represents neighboring Winthrop, is publicly touting the site. Boston officials say they are still weighing other locations, but acknowledge that Suffolk Downs appears to have most of what Amazon wants.
Not all local leaders are enamored with the site, and several developers have approached Boston officials about other properties they believe might work for Amazon. About a dozen Massachusetts communities — from New Bedford to Lawrence — have said they want to enter the chase.
State economic development secretary Jay Ash said the state probably will submit a bid that includes sites in various cities and towns, to give Amazon a menu of options. "One of the exciting things about Massachusetts is the diversity of assets we have here,'' Ash said. "It would be presumptuous of us to assume that we could predict what Jeff Bezos and his team at Amazon wants in a particular site.''
On Thursday, the board of economic development agency MassDevelopment set aside $200,000 to help fund an Amazon bid.
Suffolk Downs' owners and local officials are planning to meet soon on how best to position the track, which sits in an industrial pocket on the border of Boston and Revere.
DeLeo said Mayor Martin J. Walsh of Boston is willing to make a push. "He seems all guns blazing, ready to go,'' DeLeo said. "He seems to be really committed to the Suffolk Downs site.''
Walsh administration officials wouldn't go quite that far, but agree that Suffolk Downs could be a strong contender for the Amazon complex. It is one of a handful of areas the city targeted for large-scale redevelopment in its recently completed Imagine Boston 2030 plan. It is also the biggest and the closest to being ready for construction.
As city officials put together their Amazon bid, they plan to borrow heavily from the Imagine Boston plan, said John Barros, chief of economic development. "Boston has done an amazing job with this plan, and it makes no sense to deviate from it,'' Barros said.
The site's owner, Boston-based HYM Investments, paid $155 million in May to buy the track and has started planning a large mixed-use development there. A spokeswoman declined to comment on Amazon.
For city and state officials, putting together a comprehensive proposal in little more than a month is daunting, and delicate.
For starters, it's not entirely clear what sort of site Amazon wants.
In its request for proposals last week, the company laid out some specific real estate needs, but also urged cities to "think big and creatively.'' Locally, Massachusetts leaders don't want to alienate the backers of sites that don't make the bid.
Suffolk Downs does have potential drawbacks, including, some say, its location. Amazon's Seattle headquarters are in that city's downtown, noted Brendan Carroll, director of intelligence at real estate firm Perry Brokerage in Boston. The company's Boston offices are located in Kendall Square and Fort Point — more dense, urban settings than a vast campus on the city's marshy northern edge.
"If you look at the pattern of the sites Amazon has selected before, they really focus on sites that are woven into the fabric of the city,'' Carroll said. "But we don't have large square blocks adjacent to the central business district.''
But what Boston and its immediate neighbors do have are mid-sized parcels along T routes. Perhaps the region could string together a few of those to satisfy Amazon's requirements over time, said Don Briggs, president of Federal Realty in Boston.
Briggs, whose firm is building the Assembly Row mixed-use complex in Somerville, is partial to the Orange Line, which stops there, and helped convince Partners HealthCare to build a huge office building at Assembly. There is another 3 million square feet of office space permitted at Assembly and neighboring sites, he said, and the city is planning major development just to the south in Sullivan Square. That could give Amazon plenty of room to start, Briggs said. But so could spots along the Red Line in South Boston and perhaps Widett Circle, he said, or Beacon Park Yard near Harvard University in Allston. All of those areas, he said, were highlighted in Boston's 2030 plan.
"Boston actually has a whole bunch of sites that could work,'' Briggs said. "One of the challenges the city will have is figuring which is the right one.''
In East Boston and Revere, though, they're confident they already have it figured out.
Suffolk Downs is the only site in the core of the region that checks all of Amazon's boxes, said Revere's mayor, Brian Arrigo. He recognizes that state officials have to consider other locations, but said he's anxious to work with Boston and HYM to push hard for the track, including by potentially offering local property tax breaks and improvements to chronically congested Routes 1 and 1A. "We look forward to putting the site against anyone in the region, or in the country,'' he said. "We have a front-runner site, and I look forward to making that known.''
And while neighbors of Suffolk Downs, particularly in East Boston, helped sink plans for a casino on the track property, the idea of Amazon setting up shop there is being received quite differently, said John Nucci, a longtime activist and public official who lives in the Orient Heights neighborhood. As long as plans deal with traffic and add some housing, he predicts his neighbors will be all for it.
"Going into this, there's excitement,'' Nucci said. "It's all positive.''