Business
What we know about New England's Amazon bids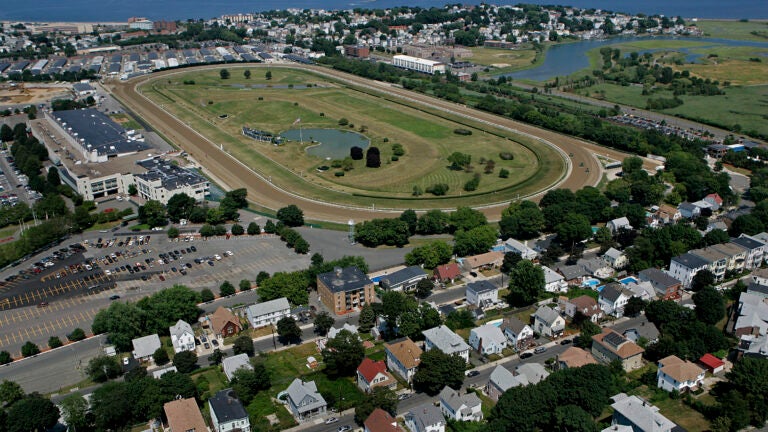 It's not every day that one has the chance to lure one of the world's five most valuable companies. But for cities across the nation, that day is Thursday, when bids for Amazon's new headquarters are due.
The Seattle-based retail giant announced last month that it was seeking a location for its second North American headquarters, promising more than $5 billion in construction and up to 50,000 jobs. According to Business Insider, that was enough to motivate at least 50 major North American cities to assemble a bid. Here's what we know about the proposals coming from New England.
The Massachusetts bids
Even though Amazon encouraged local officials to submit one bid per region, the company will be getting several from the Bay State. And Gov. Charlie Baker says he's not taking sides.
"We're not going to partner with any particular [locale], because there's a lot of different folks who are interested in submitting proposals, and God bless 'em — go for it," Baker told WGBH last month.
Boston
The city fits many of Amazon's preferences and, according to The Boston Globe, Mayor Marty Walsh's administration plans to propose several different locations. The city's first choice is Suffolk Downs, the soon-to-close horse track in East Boston, which appears to fit many of the commerce giant's needs. It's near two MBTA Blue Line stations and is a quick trip by car or train to Logan airport. It's also creative and could be developed in time for Amazon's 2019 deadline.
Walsh strongly hinted on Wednesday that Suffolk Downs will be the city's pick, telling radio station WBUR that Boston's bid will be "really focused around one location" in East Boston.
Walsh said said the #AmazonHQ2 bid is focused on East Boston, specifically an area "not too far from the airport." https://t.co/s45bm2CpnS pic.twitter.com/Ar1dCVuDnN

— WBUR (@WBUR) October 19, 2017
The Globe reports other possible locations include Widett Circle in South Boston, Beacon Yards in Allston, and "a cluster of properties in and around South Station." Amazon already plans on opening a new office with 900 jobs in Fort Point next spring.
Walsh, however, says not to expect the city to get in a "bidding war" for Amazon: "It would have to be, 'Is Amazon the right fit for Boston, and is Boston the right fit for Amazon?'"
Somerville
Mayor Joe Curtatone is submitting a multi-city pitch that would see Amazon's main campus stretch along the Orange Line from Assembly Square to North Point in Cambridge and Boston. According to the Boston Herald, the proposal would even include an office tower next to TD Garden called North Station Tower.
Lynn
A bit farther up the North Shore, officials in the city of 90,000 say they too will be pitching Amazon, pointing to combined properties along the Lynnway as a potential location. Mayor Judith Kennedy admitted to The Daily Item that her city couldn't compete with the space being offered by the likes of Boston, but added, "It can't hurt to try."
Worcester
New England's second largest city — and one of the nation's top emerging startup hubs — is billing itself as a cheaper alternative to the Boston-area bids. Even if it doesn't have an airport the size of Logan, Worcester boasts nine colleges and universities and a resurgent downtown. Former Lt. Gov. Tim Murray, who is leading the city's bid, says Amazon's headquarters could be weaved through different neighborhoods like "puzzle pieces."
The Telegram reported Tuesday that Worcester is offering several sites along Route 20 to host Amazon's "HQ2." The proposal also includes a raft of business incentives, "including up to $500 million in local real estate tax savings, a 100-percent personal property tax exemption over 20 years, an investment tax credit through the state, and research and development tax credits."
Newton Mayor Setti Warren, one of the Democrats running for governor in 2018, is also supporting Worcester's bid.
Weymouth
On the South Shore, an old naval air station in Weymouth now known as Union Point sits ripe for development.
"We have spent two and half years planning for this moment," Kyle Corkum, CEO and managing partner of LStar Ventures, which owns the 1,500-acre property, told the Globe. In an interview with The Patriot Ledger, Corkum said another benefit of the South Shore is more available land and cheaper housing and living costs compared to Boston.
Billerica
Greater Lowell's bid centers around a technology park in northern Billerica, which overlaps into Tewksbury and Lowell, according to the Lowell Sun. Backers say the location offers easy highway and commuter rail access, without the congestion of being close to Boston. The Middlesex 3 Region's bid proposes a "pedestrian friendly campus along the Concord River" by expanding from the Riverview Business Park into other nearby locations. Letters of support in the bid include signatures from six state lawmakers and UMass Lowell Chancellor Jacquie Moloney.
Lawrence
Lawrence, Haverhill, and North Andover are also leading a joint bid to lure Amazon to the Merrimack Valley, according to The Eagle-Tribune. Lawrence Mayor Daniel Rivera told the Globe that the centerpiece will be the former AT&T/Lucent Technologies manufacturing complex along the Merrimack River in North Andover. And proponents said the region has a diverse population of blue-collar and white-collar workers to draw from.
Leominster
Despite its population of just over 40,000 people, Leominster also thinks it can draw Amazon's 50,000-employee headquarters to a plot of land once considered as the location of Massachusetts's first casino.
"Everyone else is just vanilla. They're just the same places that want to pack in as many people as they can, and the rents are high, and they aren't affordable," Mayor Dean Mazzarella told the Sentinel & Enterprise, referring to his city's bid as "Boston light."
"We can offer everything they can and we're just a short train ride away without the burdensome cost of living," Mazzarella said.
Worcester Business Journal reported Thursday that Leominster is offering more than 400 acres and up to $405 million in tax breaks over 13 years, though the city would still receive more than $1.8 billion in tax revenue in that time.
Foxborough
Parking during Patriots games could become even harder to come by if Foxborough officials are successful. Town Manager William Keegan told The Sun Chronicle last month that the 200 acres across Route 1 from Gillette Stadium could serve as Amazon's second home. A spokesman for the Kraft Group, which owns the property, would only tell the paper the group would favor a corporate campus-style development on the property.
Fall River
Fall River already has a massive Amazon distribution center and says it offers the perks of being relatively close to both Boston and Providence — as well as both of the larger cities' colleges and airports. The region's bid would locate Amazon's new headquarters in a technology park near the Fall River distribution center, with the option for expansion in another business park in Freetown.
"The good thing is that they already know where Fall River is," Ken Fiola, executive vice president of the Fall River Office of Economic Development, told The Herald News.
New Bedford 
Officials in nearby New Bedford are putting forward the city's municipal golf course, 100 acres of which has already been designated for development, as the location for Amazon's headquarters. According to the Globe, Jay Ash, the state's economic development chief, mentioned the fishing hub as a "strong option."
The South Coast city offers similar prospects as Fall River in terms of location.
"This would completely change the trajectory of this region," City Councilor Hugh Dunn told SouthCoast Today.
Marlborough
The "495 Crossroads" bid is a partnership between the city of Marlborough and the towns of Hudson, Northborough, Southborough, and Westborough. The proposal offers Amazon a network of 10 development sites providing 6.6 million square feet of space and touts its proximity between Boston and Worcester, the two largest cities in New England.
Taunton
Mayor Thomas Hoye Jr. told the Taunton Daily Gazette that he submitted a bid to Amazon to build their new headquarters on the grounds of the floundering Silver City Galleria mall.
"We're in the mix," Hoye said.
Springfield
In a unique pitch, officials in the Western Massachusetts region are supporting a bid by Enfield, Connecticut, as part of an attempt to bring Amazon to the "Knowledge Corridor," which stretches up I-91 through Springfield toward Amherst.
"There are no state boundaries for our region's workforce, company supply chains and students," Rick Sullivan, president and CEO of the Economic Development Council of Western Massachusetts, wrote in a letter supporting Enfield, according to MassLive.
In addition to the nearby colleges, highways, and Bradley International Airport, the bid would place Amazon's new headquarters in a region rich with culture and outdoor activities, supporters said.
The rest of New England
Other states in New England are also pitching Amazon.
Connecticut:
In a multimedia proposal released Thursday, Gov. Dannel P. Malloy and the Nutmeg State pitched the Greater Hartford and Stamford regions for Amazon. The package — consisting of a website (CTisPrime.com), document, and videos highlighting the state and each site — touts the state's workforce, dozens of universities, and many recreational activities.
One unique advantage the Connecticut bid has over its New England peers is the state's proximity to New York, which they note is accessible by highway or train. Officials boast in the proposal that Connecticut's cost of housing is 65 percent lower than Manhattan, and cost of living is up to 42 percent lower than Boston and New York City.
Details of the included financial incentive package will be kept confidential, according to a press release. 
Despite the state's backing, a few other Connecticut cities are directly pitching Amazon as well. The mayors of New Haven and Bridgeport announced they submitted a joint proposal in a press conference Monday, reports the New Haven Independent.

After asking Alexa where Amazon should locate its second headquarters, Danbury Mayor Mark Boughton reportedly sent the company the key to his city. Fox 61 reports the proposal pitches the former Union Carbide Corporate Center off Interstate 84.
Waterbury submitted its Amazon bid Wednesday for a 100-acre site around a vacant old brass factory with broken and boarded-up windows, reports News 8. Waterbury would "absorb any relocation discomfort or costs" to bring Amazon in, including moving 25 small businesses out, the mayor told the station. He also touted the site's proximity to Interstate 84 and Route 8.
Maine
The Midcoast Regional Redevelopment Authority submitted a former Navy base in Brunswick, Maine, to Amazon in a proposal Wednesday afternoon. Now called Brunswick Landing, the site offers 175 acres of available space and is already home to major e-commerce company Wayfair, the executive director of the agency told the Globe.
Down the coast from Brunswick, the southern Maine town of Scarborough is finishing up its proposal by the Thursday afternoon deadline. Town manager Thomas Hall told the Portland Press Herald that the bid is a long shot, especially because there was no coordination with the state government about tax incentives.
Hall also said the 438-acre horse racing site meets Amazon's requirements, but doesn't have the surrounding population of 1 million the company prefers. Scarborough Downs is currently under contract for purchase, and the potential new owners have "given their blessing" to sell it to Amazon, he told the Bangor Daily News.
New Hampshire
New Hampshire's bid is plugging their business environment, quality of life, and easy access to Boston — while also aggressively trash-talking its southerly neighbor's traffic, living costs, and airport.
"ALL THE BENEFITS OF BOSTON WITHOUT ALL THE HEADACHES," reads the slogan of the Granite State's bid, which proposes Amazon locate its new headquarters at an developing "urban village" right off I-93 in Londonderry.
And the Granite State isn't promising any extra financial incentives.
"Everyone else is still trying to play catchup to this tax incentive we created in 1789 – no sales tax and no income tax," Gov. Chris Sununu said, according to the Associated Press.
Rhode Island 
The mayors of Pawtucket and Central Falls, former factory towns hoping to revive their economies, announced last month that they were planning to fold their cities into the state's pitch for Amazon, according to the Associated Press.
In a joint press release, the mayors said they were "prepared to host Amazon's second headquarters within the Pawtucket Central Falls Train Station District, which straddles both cities" and is expected to have a commuter rail station in 2020. The location is in the "center" of the Providence metro area, which has 1.6 million residents.
The state's overall pitch includes six other locations, the Associated Press reports.
What Amazon is looking for
Amazon says they are looking for a place with "strong local and regional talent," particularly in technology fields; an educated labor force; and a strong university system. Quick access to a major highway corridor and an international airport is also critical, according to the company.
Amazon also says "a stable and business-friendly environment" will be a "high-priority consideration." Couched in that language, of course, is the implicit request that cities offer some — at least initial — business incentives (see: Boston, General Electric).
"Incentives offered by the state/province and local communities to offset initial capital outlay and ongoing operational costs will be significant factors in the decision-making process," Amazon said in their Request for Proposal.
Amazon also stated a preference for metro areas with more than 1 million people that could "think big and creatively when considering locations and real estate options."
What are the odds?
Shortly after the application period opened, Bloomberg reported that several senior Amazon executives were advocating that their new headquarters be located in Boston. However, the company denied that there were any frontrunners.
"We are just getting started with the process, and every city is on an equal playing field," Amazon spokesman Drew Herdener told Boston Business Journal.
Of course, with apologies to Weymouth and Leominster, some cities across the country appear to fit Amazon's appetite more than others.
The New York Times recently ranked American cities according to the requirements listed by Amazon in their Request for Proposal. The final three contenders were Boston, Washington, D.C., and Denver — with the Colorado capital eventually winning out.
Moody's Analytics did a similar analysis. According to the economic research firm, the top 10 metro areas for Amazon's new headquarters are Austin, Atlanta, and Philadelphia. Boston placed ninth.
But don't forget about Canada. Several cities from the United States's northern neighbor — including Toronto, Ottawa, and Vancouver — are putting forward bids. Proponents say Canada's relatively less strict and less uncertain immigration laws could give the country an across-the-board upperhand over the competing cities in the United States.
Amazon says it will make the final selection and announcement of their new headquarters site sometime in 2018.