Business
Slice of Seaport sidewalk selling for nearly $2 million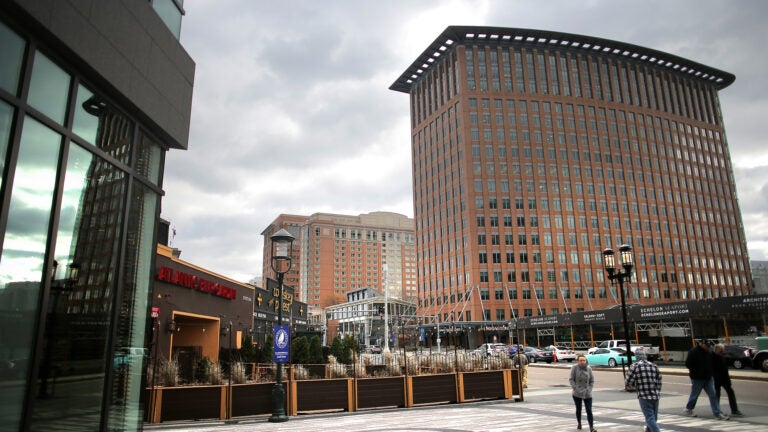 In the ever-more-expensive Seaport district, even the sidewalks can come at a steep price.
Developer Jon Cronin has reached a deal with the City of Boston to buy about 3,000 square feet of the city's sidewalk outside two waterfront bars he owns — for $1.95 million.
That may sound outrageous for a modest patch of concrete — even in a town where parking spaces can sell for more than $300,000 — but Cronin didn't have much choice. Without the tiny triangular-shaped plot, the developer won't have enough space for a $260-million luxury condo tower he wants to build at 150 Seaport Blvd., on the site of the Whiskey Priest and Atlantic Beer Garden bars.
Last year, Cronin offered to pay a lot less for the property — a mere $55,000 — based on appraisals he had done that compared it to other unusable slivers of land in Roxbury, Dorchester, and the South End. He argued that the sidewalk was essentially of no use to any other potential buyer.
That seemed to make sense to the Boston Planning & Development Agency, which indicated it was willing to accept Cronin's offer. Until it wasn't.
Following a Globe story on the proposed agreement, and an ensuing outcry from city budget hawks, the agency commissioned two independent appraisals of its own. They were based on the land's value to Cronin's project, not comparisons to other forlorn lots around the city, and also took into consideration the air rights for building on upper floors over the sidewalk. The city's suggested price was $1.95 million, or about $633 per square foot.
"We're not selling the parcel just for the sake of selling it,'' said BPDA director Brian Golden. "We need to capture the appropriate value from this land.''
A spokesman for Cronin's company, Cronin Holdings, confirmed that the two sides are set to close soon on a deal that will have him pay the city over 10 years, with interest.
Matt Cahill, executive director of the Boston Finance Commission, was one of those who raised concerns about the original price. The new deal, he said, is a win for taxpayers, and a reminder that backroom arrangements between the BPDA and big developers can backfire.
"I'm glad they reevaluated,'' Cahill said. "There's a lot of value in public scrutiny of these deals. It makes people think twice.''
It's also a valid way to value land, said Constantine Valhouli, cofounder of NeighborhoodX, a website that tracks real estate values in Boston and other cities. An old city like Boston is full of odd parcels — in this case, a small parcel left over from a late-1990s realignment of Northern Avenue — and prices are best determined by their worth to a neighbor, not by comparison to one another.
"There's an art and a science to determining value,'' Valhouli said. "This particular price is driven entirely by the site's ability to unlock value for the developer's project.''
The agency has come under fire in recent years for selling off city land at big discounts. A 2015 report by state Inspector General Glenn Cunha criticized it — then called the Boston Redevelopment Authority — for undervaluing the rights to concessions on Yawkey Way and air rights above Landsdowne Street outside Fenway Park in a deal with the Red Sox. Also, a 2014 audit of the BRA found it too often failed to collect lease payments on city-owned properties. Under the Menino administration, the agency would sometimes even give land to developers for free as a way to push large projects forward.
Those days are over, Golden said. From now on, he said, the BPDA will set prices for these kinds of deals based on what a developer plans to do with the property.
"It's utterly legitimate,'' Golden said. "It's fair, it's just, and it's ultimately in the best interest of the City of Boston.''
The land deal marks a key milestone for Cronin's 22-story tower, which would include 124 condos. But it's not quite a green light for the project. It's still awaiting state environmental approvals, and a lawsuit filed by the Conservation Law Foundation aims to stop construction on grounds that the building will prevent public access to the waterfront.
But Cronin Holdings hopes to soon clear those hurdles as well, the company spokesman said, and get to work on what it says will be "one of the few iconic buildings in the Seaport.''