Business
People are trying to hoard Necco Wafers amid reports of the company's demise
"They're shocked and scared."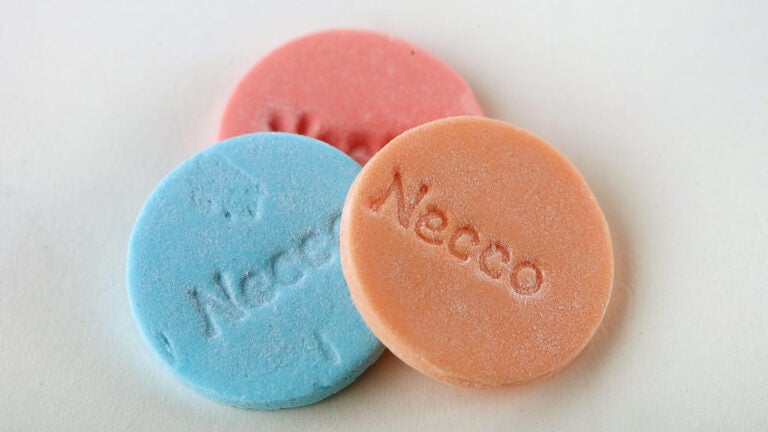 For as much as people seem to enjoy hating on Necco, the 170-year-old Revere-based confectioner is reportedly having a "moment."
According to the Wall Street Journal, Necco fans are scrambling to stockpile the company's products, including its chalky Wafers, amid the reports that the country's "oldest continuously operating candy company" may shut down its Revere plant and lay off the vast majority of its employees. For candy stores and wholesalers across the country, the panic has resulted in a surge in sales.
"They're shocked and scared," Jon Prince, the president of wholesaler CandyFavorites.com in McKeesport, Pennsylvania, told the Journal. "They're not happy about it."
Prince reportedly fielded hundreds of calls from customers, including from some who wanted to buy his entire inventory of Necco Wafers, and had to place limits on individual purchases.
Short for New England Confectionary Company, Necco has long been central to the Boston area's storied history of popular, if divisive, sweets. Necco isn't solely about its namesake wafer. The company also sells other nostalgic products, including Mary Janes, Sky Bars, and the popular heart-shaped Valentine's Day candy, Sweethearts.
However, Necco Wafers — though invariably described as tasting like anything from "drywall" to "stale Tums" — appear to be the product that invokes the strongest response from candy connoisseurs.
The Los Angeles-based CandyStore.com says it received an offer from a woman who wanted to trade her used 2003 Honda Accord for their entire stock of wafers. In a post on the company's website, spokeswoman Clair Robins said they offer was declined, but the woman "ended up buying a couple boxes on her credit card anyway."
The Boston Globe reported last month that Necco CEO Michael McGee wrote a letter to Revere Mayor Brian Arrigo, warning that the candy-maker may be forced to close its plant and make mass layoffs as soon as next month if it can't find a buyer. According to Boston Business Journal, the company has defaulted on more than $100 million in loans and may be headed toward bankruptcy.
According to CandyStore.com, the Globe report coincided with a 50 percent increase in overall Necco sales, including a 63 percent surge for Necco Wafers. The company also reported 253 phone calls and 167 emails inquiring about Necco candies, "many trying to secure large bulk quantities."
"A clear signal of panic-buying," Robins wrote.
Necco did not immediately respond to requests for comment Monday.