Business
Bezos, Buffett, Dimon health venture will be based in Boston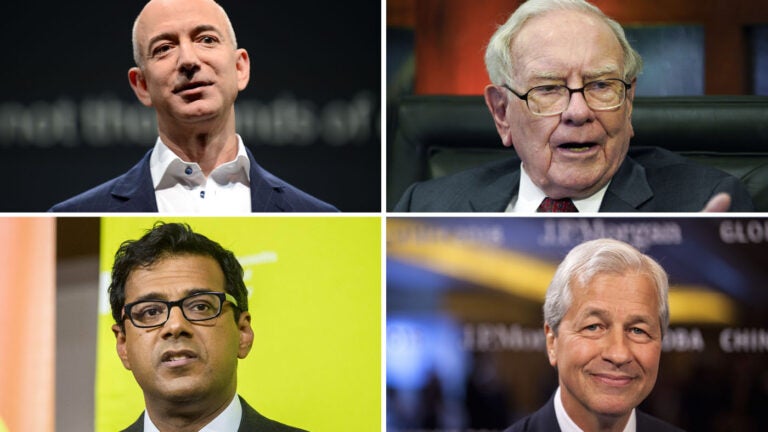 Three of the country's best-known business leaders have turned to Dr. Atul Gawande, a Boston surgeon and best-selling author, to head their new company aimed at reinventing how health care is delivered.
In announcing Gawande's appointment Wednesday, investor Warren Buffett, Amazon's Jeff Bezos, and JPMorgan Chase CEO Jamie Dimon said their still emerging and still unnamed health care venture will be based in Boston. It remains unclear what exactly the company will do, but Gawande's appointment suggests it is aiming high.
"What it says is that they're thinking very big,'' rather than narrowly focusing on technical issues like purchasing, said Dr. Robert M. Wachter, chairman of the Department of Medicine at the University of California San Francisco.
The new company, which the founders said would be "free from profit-making incentives and constraints,'' was established to improve health care and reduce costs for the 1.2 million employees of the three founders. But given the founders' clout, the venture's successes could become a model for health care around the country.
"What's interesting about these big companies is they can use their employees as a laboratory,'' said Kenneth Kaufman, managing director of Kaufman Hall, a health care consulting firm. "To create a laboratory model that changes health care in the US? That's something that gets Atul up in the morning.''
Gawande, a surgeon at Brigham and Women's Hospital, declined a request for an interview through a spokeswoman. In an e-mail to colleagues, he said he would continue working as a surgeon at Brigham and Women's Hospital and a Harvard Medical School professor. He also will also remain a staff writer for The New Yorker magazine, where his articles have shed light on the challenges facing the health care system.
But he will leave his position as executive director of Ariadne Labs, the research center he founded, and become its chairman instead.
Gawande, 52, said he would start work July 9 at the new organization, which he called "one of the most promising opportunities to accelerate improvement of US health care delivery.''
"My vision,'' he wrote, "is to develop high-impact collaborations across the health care sector.''
Gawande said he would build upon the work at Ariadne Labs, which develops systems to improve the delivery of care. These include checklists to prevent surgical errors, a guide to help clinicians talk with patients about their goals and values when seriously ill, a project to reduce C-section rates by improving communication with patients, and other initiatives focused on interactions between patient and physician.
The announcement of Ga-wande's appointment comes at a time of upheaval in the health care industry, as companies reach beyond their traditional service areas. CVS, for example, has attempted to reinvent itself through the acquisition of insurance provider Aetna and is repositioning its brick and mortar stores as health care centers.
Meanwhile, Amazon is also moving into health care on another front. The company has an internal "Grand Challenge'' team called 1492 that focuses on disrupting the industry. The online giant has recently made several high-profile hires of clinicians, pharmacy experts, and former employees of the US Food and Drug Administration.
And last month, a group of Massachusetts businesses launched an initiative intended to cut costs by reducing the number of people who use hospital emergency rooms for routine care.
The new Boston-based company is taking aim at a notoriously inefficient health care system, which Buffett has likened to a "tapeworm.'' US health care spending increased 4.3 percent in 2016 to reach $3.3 trillion, or $10,348 per person, according to the Centers for Medicare & Medicaid Services.
Dr. Donald M. Berwick, former administrator of the Centers for Medicare & Medicaid Services under President Obama, said aides to Buffett, Bezos, and Dimon have spent the last six months talking to experts in health care about their company and who should lead it.
Berwick, president emeritus of the Boston-based Institute for Healthcare Improvement, rejected the idea that it's going to be just a well-funded think tank.
"I think it's going to be a do-tank,'' he said. "It's an activist move by organizations that really do want to make a change, and they have picked a leader in Atul Gawande who is almost uniquely capable of crafting the changes that are going to be needed.''
Gawande's appointment was cheered by many others in the medical and public health communities.
"US health care obviously needs a heart transplant,'' said Dr. Elliott Fisher, director of the Dartmouth Institute for Health Care Policy and Clinical Practice. "Who better than a surgeon, with deeper knowledge of US health care than anyone I know, to guide this effort?''
Andy Slavitt, another former administrator of the Centers for Medicare & Medicaid Services, said Gawande "has a brand and reputation as somebody who is not going to do anything that isn't in the best interest of public health.''
But some questioned whether Gawande knows enough about business and criticized his decision to continue performing surgery and writing while undertaking the new position.
For an enterprise that aims to transform health care, said Craig Garthwaite, professor at Northwestern University's Kellogg School of Management, "I would think you want someone with more business expertise.''
"Atul Gawande is thinking a lot about making the delivery of health care more efficient. It would surprise me if that's what you're trying to do with the Amazon venture,'' Garthwaite said, adding that it's hard to change health care delivery from outside the institutions that provide it.
He also questioned Gawande's decision to continue performing surgery and writing. "Being a CEO is a full-time job,'' he said.
Andrew Dreyfus, CEO of Blue Cross Blue Shield of Massachusetts, dismissed those criticisms. Calling Gawande "a spectacular choice,'' he noted that the surgeon manages Ariadne Labs and has a deep understanding of systems and management. "The fact that he's going to still be a surgeon will increase his credibility as he designs changes in the health care system,'' he said.
Because Gawande is widely respected, when he proposes changes, "Everyone is going to pay attention,'' Dreyfus said.
Gawande, a prolific writer, is known for his books, "Complications,'' "Better,'' "The Checklist Manifesto,'' and "Being Mortal.'' He has been a staff writer for The New Yorker since 1998, according to his website. He has won awards for his writing and, in 2006, was awarded a MacArthur "genius'' fellowship.