Business
New Hampshire is outraged over the Wayfair decision. Here's why.
Granite Staters aren't so much concerned about the Boston-based online furniture store as they are "an important economic advantage" in their own state.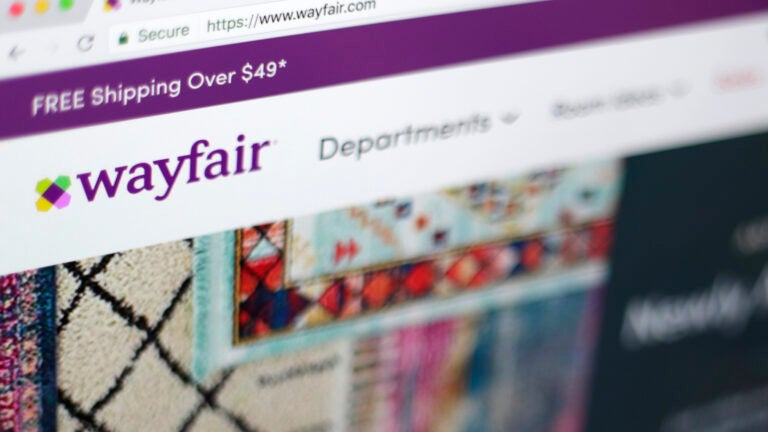 Wayfair was dealt a major loss Thursday morning, and the Boston-based company's neighbors north of the state border are particularly upset about it.
In a 5-4 vote, the Supreme Court ruled that states can require internet retail companies to collect sales taxes in states where they have no physical presence, citing evidence that the rise of e-commerce has deprived states of billions in revenue.
Elected officials in New Hampshire, a state with no sales tax, said the court's decision is also a "devastating" blow to local, small businesses.
Wayfair was the main defendant in the case, after South Dakota sued the Back Bay-headquartered online furniture company and two other internet retailers for violating a 2016 law requiring all merchants to remit a 4.5-percent sales tax if they had a certain amount of sales in the state (which was passed seemingly at Justice Anthony Kennedy's invitation).
The decision overturned a legal precedent dating back to 1992 that prevented states from forcing companies without a local presence to collect a tax, on the grounds that it unconstitutionally violated Congress's authority to regulate interstate commerce. It also drew strong condemnation from elected officials in New Hampshire.
Gov. Chris Sununu called the ruling "outrageous."
"If they think we are just going to take this without a fight, well then they have another thing coming," Sununu tweeted after the decision was announced, pledging to "exhaust all means to make sure that New Hampshire isn't negatively affected by this disastrous decision."
The Supreme Court's #SDvWayfair ruling is outrageous, and if they think we are just going to take this without a fight, well then they have another thing coming. We will exhaust all means to make sure that New Hampshire isn't negatively affected by this disastrous decision. https://t.co/7bywylDpBO

— Chris Sununu (@GovChrisSununu) June 21, 2018
The Republican governor was joined by the state's top Democrats, who called the ruling "devastating" and disastrous."
While Thursday's decision sent the stocks of major online retailers plunging, their sympathies weren't with the likes of Wayfair. Instead, they focused their concern on the impact on local small businesses, who they said may be forced to navigate taxing jurisdictions and "mountains of red tape" due to online transactions in other states.
This decision creates mountains of red tape for small businesses in NH and across the country, hurting their ability to grow and create jobs by selling on the internet.

— Sen. Jeanne Shaheen (@SenatorShaheen) June 21, 2018
#SCOTUS's ruling in South Dakota v. Wayfair is devastating for small New Hampshire companies that sell products online. This misguided ruling will subject Granite State companies to thousands of taxing jurisdictions and will hurt NH small businesses. https://t.co/XJfb69fWrt

— Ann McLane Kuster (@RepAnnieKuster) June 21, 2018
It's not the first time New Hampshire's leaders have mobilized against a potential internet sales tax. But all states have their own small businesses. Why should Granite Staters be so particularly concerned?
Well, as frugal shoppers in the neighboring states well know, New Hampshire is one of five states in country with no statewide sales tax. And as Sen. Maggie Hassan noted Thursday, that is an advantage the state isn't keen on losing.
"New Hampshire's lack of a sales tax is a competitive advantage for our state, and this decision will unfairly punish small businesses that are the backbone of our economy," Hassan said in a statement Thursday.
In a legal brief filed by New Hampshire in April, the low-tax state argued that overturning the physical-presence requirement will harm it's "sovereign interests."
"Permitting other states to extend their sales tax collection obligations into New Hampshire will also dilute an important economic advantage that New Hampshire possesses as a non-sales tax state in attracting new business to open and settle within its borders," the state's lawyers wrote.
In a statement at the time, Sununu added they would "not sit idly by while Washington, D.C. and sales-tax-reliant states try to raid the pockets of Granite Staters."
As the Supreme Court sees it, the governments aren't the ones doing the raiding.
Writing for the majority opinion, Kennedy reasoned that much has changed since the original 1992 ruling.
"The Internet's prevalence and power have changed the dynamics of the national economy," he wrote.
Kennedy cited estimates that said mail-order sales in the United States totaled $180 billion in 1992, whereas e-commerce retail sales alone last year totaled $453.5 billion. Meanwhile, as more and more shopping shifted online, the physical-presence requirement was draining more and more sales-tax revenue from states.
"In 1992, it was estimated that the States were losing between $694 million and $3 billion per year in sales tax revenues as a result of the physical presence rule," the justice wrote. "Now estimates range from $8 to $33 billion."
Kennedy acknowledged concerns that "complex state tax systems could be a burden on small business," but said there are already "various plans" in place to simplify collection. He also left open the possibility that small businesses making limited cross-border sales could try to seek relief if they thought the collection process was overly burdensome.
But that was not the issue before the court and Kennedy did not consider Wayfair, a company with more than $4.7 billion in net revenue last year, to be one of those companies.
"What Wayfair ignores in its subtle offer to assist in tax evasion is that creating a dream home assumes solvent state and local governments," he wrote, going on to list how state taxes pay for public services, like police, fire departments, and roads, that ensure the safety and delivery of the goods the company was selling to customers.
"There is nothing unfair about requiring companies that avail themselves of the States' benefits to bear an equal share of the burden of tax collection," Kennedy said.