Business
What to know about the new CEO of Dunkin' Donuts
Meet the man behind the company's recent branding and menu changes.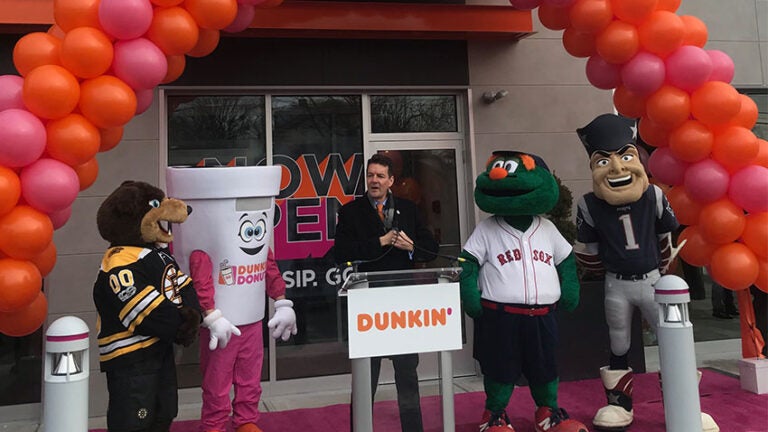 After nearly a decade leading the company, Dunkin' Brands CEO Nigel Travis is retiring.
The Canton-based company announced Wednesday morning that the 68-year-old is moving on from his role, though he will remain executive chairman of its board of directors and focus on developing Dunkin's international businesses.
Travis was replaced by David Hoffmann, the current president of Dunkin' Donuts' businesses in the United States, effective immediately Wednesday. The 50-year-old longtime McDonald's executive joined the company less than two years ago in October 2016. But according to Travis, this has always been the plan.
"When we recruited Dave to Dunkin' Brands 18 months ago with the intent that he would succeed me as CEO, we knew that we were getting a world-class leader with extensive restaurant industry expertise, and he has exceeded all of our expectations," the outgoing CEO said in a statement.
Nevertheless, during a conference call Wednesday, Travis said it had been up to Hoffmann to prove he was the right person for the job.
"He demonstrated very quickly that he had the skills," he said.
According to Bloomberg, Hoffmann will earn a base salary of $900,000 a year, with incentives that could put his annual earnings over $1.1 million and restricted stock units valued around $1.5 million.
Hoffman said Wednesday he isn't planning any drastic shake-ups. But for an idea of what the future of Dunkin' Donuts might look like under his leadership, one doesn't have no look any further than the process already underway. A lot of changes have been happening at Dunkin' Donuts over the last year, and Hoffmann has been at the center of it all.
"I'd say we're in the top of the first inning still," the new CEO said during Wednesday's conference call.
According to the company, Hoffmann has overseen the implementation of a three-year growth strategy plan that, in a shift away from its namesake product, primarily includes positioning Dunkin' Donuts as a beverage-led brand. The reinvention has included expanding its coffee and espresso offerings, while pairing down its food and pastry menu — and even potentially its name.
While the menu reductions resulted in a decrease in national sales last quarter, the company thinks the decision will pay off in the long run as they focus on their strengths. Hoffman noted that, in addition to their recently launched "donut fries," Dunkin' Donuts is planning to unveil a "Dunkin' Run" snack menu in August, amid their larger transition toward drinks.
"Beverage-led on-the-go is really just great coffee fast, and it's as simple as that," he said. "Nobody does iced coffee and hot drip coffee better than us. But there's a whole range of other products that we can get into around beverages, whether it's re-establishing ourselves in espresso-based drinks to teas to plant-based drinks. … We think that's some of the runway for us long term."
Hoffmann also directed the creation of Dunkin' Donuts' next-generation concept store. Unveiled earlier this year in Quincy, the futuristic prototype features, among other things, a sleek design optimized for mobile orders. The concept store even includes a separate, designated drive-thru lane for mobile orders, which was the first-of-its-kind in the fast food industry.
"We want to be a place — and we call it a frictionless experience — where you can however you want, you can pay however you want, and you can get your food however you want," Hoffmann told Boston.com at the time.
The company plans to open 50 similar concept stores across the United States.
Hoffmann has a history in development strategy. Before joining Dunkin' Donuts, he was McDonald's president of high growth markets, which included China, South Korea, Russia, and several European markets. He spent a total of 22 years at the fast food giant, beginning as a crew member in high school before rejoining the company after getting his business degree and working his way up the corporate ladder.
Under Hoffman, Dunkin' Donuts added a net of 313 new restaurants in the United States last year, according to its 2017 report. In 2018, the company is planning to increase its presence in the country by an additional 275 stores. It currently has over 9,000 stores in the United States and more than 12,500 locations worldwide.