Business
Amazon's second headquarters isn't coming to Boston, but the city isn't completely missing out
"I wouldn't say I'm disappointed."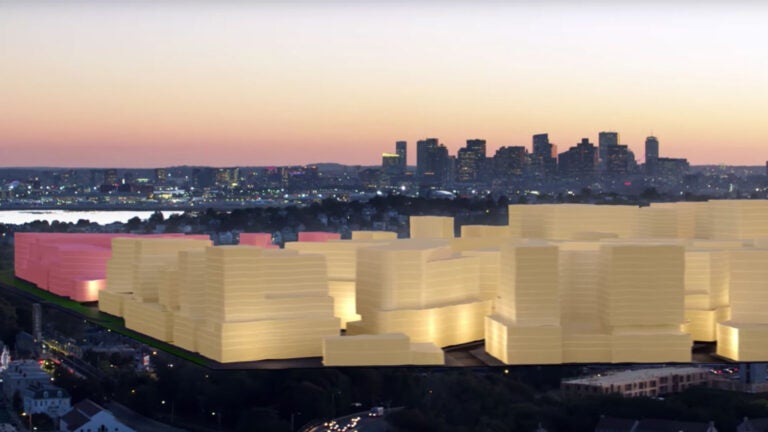 Boston thought it checked off every box on Amazon's wish list: A big, talented workforce. Elite universities. A nearby international airport. And a number of potential locations. It was enough to get the city on Amazon's shortlist of finalists earlier this year.
However, while the e-commerce giant is in the process of expanding its local presence, Boston won't be getting their second headquarters.
The company announced plans Tuesday to split its so-called HQ2 between New York City and Arlington, Virginia — putting a period on the end of the 14-month spectacle in which the online retailer had cities compete for the new hub and its promise of 50,000 new jobs. Amazon also announced it will open a 5,000-job operations center in Nashville.
At this point, Boston's snub didn't come as much of a surprise.
"I wouldn't say I'm disappointed," Boston Mayor Marty Walsh told WBZ in a radio interview Tuesday morning.
Walsh said he would have loved to have had the $1 trillion company come to Boston, reiterating his belief that the city would be a good fit culture- and talent-wise.
"But it looks like they chose two other cities, and that's fine, I wish those two cities well," he said. "I wish those two cities well."
The mayor later added in a statement Tuesday that he was "proud that throughout this process we were able to showcase the best of all we have to offer here in the City of Boston in a way that was transparent and led with our strengths: a talented and diverse workforce, culture of innovation and opportunity for all."
An Amazon spokeswoman declined to provide specifics Tuesday when asked why New York and Virginia were chosen over Boston, pointing to the general criteria outlined in their original HQ2 request for proposal as the basis for their decision. The company's online announcement specifically highlighted the two cities' supply of local "talent," particularly in software development and related fields.
"These two locations will allow us to attract world-class talent that will help us to continue inventing for customers for years to come," Amazon CEO Jeff Bezos said in a statement.
Some other potential factors in why Boston missed out on Amazon's second (and third) headquarters include the fact that the region has a smaller population than New York and Washington, D.C., and thus less capacity to absorb the influx of 50,000 new workers; a relative lack of available real estate for the tech giant to plant its new center; and an already-strained housing market and transportation system.
Additionally, state lawmakers declined to pass a proposal this summer by Gov. Charlie Baker that would have allowed the state to give $20 million in annual tax breaks to businesses for "extraordinary economic development opportunities." Meanwhile, New York and Virginia offered more than $2 billion in combined tax incentives to lure Amazon to their respective communities.
"Economic incentives were one factor in our decision—but attracting top talent was the leading driver," the company said in their announcement Tuesday.
Jay Ash, the state's secretary of housing and economic development, told WBUR on Tuesday that the administration remains in contact with Amazon, even if they hadn't recently communicated about its second headquarters.
"We continue to have discussions with Amazon and other companies about opportunities to grow in Massachusetts and participate in our dynamic innovation economy, engaging our world-class talent and educational institutions," Ash said.
But it isn't as though Boston is getting completely passed over.
Amazon announced plans for a major expansion in the city's Seaport neighborhood this past spring, adding 2,000 workers to its current Boston-area workforce of around 1,200. Located in a 17-story building being constructed in Seaport Square, the new jobs will be in fields related Amazon's cloud-based virtual assistant, Alexa, such as machine learning, speech science, cloud computing, and robotics engineering.
The tech behemoth has been investing in Alexa under the belief that the consumer will continue to shift toward conversational artificial intelligence. The company's existing Boston-area offices, which are based in Cambridge's Kendall Square, are primarily focused on that sort of technology.
"We've grown from a handful of software developers and scientists to a team of more than 1,200," Rohit Prasad, Amazon's Boston-based vice president and head scientist for Alexa, said in May.
The new Seaport office space is set to open in 2021.
Amazon also has fulfillment centers in Stoughton, Everett, and Fall River; book stores in Dedham and Lynnfield; and a robotics plant in North Reading. In total, the company says it has created more than 3,500 jobs in Massachusetts and "continue[s] to hire." Indeed, as of Tuesday afternoon, their job board listed more than 400 openings in Massachusetts.
"Amazon is an important part of Boston's economy, a large employer, and a valuable partner who is actively hiring and expanding in Boston and the area," Walsh said in his statement Tuesday. "While I am proud Boston was named to Amazon's shortlist for its second North American headquarters, our future will not be defined by a single company as we continue to plan for equitable, sustainable growth."