Business
What you need to know about the Stop & Shop strike
The Quincy-based grocery chain is trying to keep things "business as usual" during the work stoppage. Union leaders want customers to take their business elsewhere.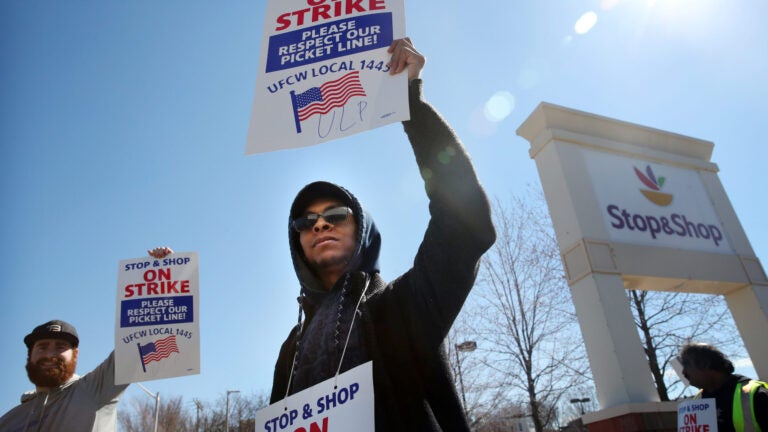 At 1 p.m. Thursday, more than 31,000 Stop & Shop workers across New England walked off the job.
"We are officially out on strike," Jeff Bollen, the president of United Food and Commercial Workers Local 1445, one of the five local unions representing the Quincy-based grocery chain's New England workers, said in a video message.
The work stoppage Thursday comes after nearly three months of negotiations between the company and UFCW leaders failed to produce an agreement on a new work contract. Stop & Shop's contract with the union officially expired on Feb. 23, and the two sides have remained divided over wage levels, take-home pay, and retirement benefits.
As workers begin picketing outside the stores, union leaders are asking Stop & Shop customers to help them apply pressure on the company — by taking their business elsewhere.
"We're asking you to help us out, and shop some place until the strike is over," Bollen said Thursday. "Please support these hard workers who wait on you every day when you come into those Stop & Shops. We've gotten tremendous support from you so far, and we would appreciate future support during this dispute, just until the dispute is over, then you're welcome to come back."
OVER 31,000 workers from STOP & SHOP On STRIKE. This is SOUTH BAY BOSTON

Posted by UFCW Local 1445 on Thursday, April 11, 2019
According to its website, Stop & Shop has 134 locations in Massachusetts, 92 in Connecticut, and 27 in Rhode Island — roughly a 21 percent share of the region's food retail market. The company has noted that it is the only large grocery chain in New England with a fully-unionized store workforce.
"We are disappointed that the UFCW chose to order a work stoppage in an attempt to disrupt service at our stores," Stop & Shop said in a statement Thursday in response to the strike, adding that it has "contingency plans in place to minimize disruption."
Those plans include deploying the company's corporate personnel, as well as temporary replacement workers, to keep stores open.
However, a number of stores were forced to temporarily close in the immediate aftermath of the strike Thursday afternoon, "to ensure the safety of our customers and associates," according to Stop & Shop spokeswoman Jen Brogan. However, Brogan said the company was working "as quickly as possible" to reopen them. A number of Boston-area Stop & Shop locations — including in Boston's South Bay, Brookline, East Somerville, Malden and both stores in Quincy — reopened Thursday afternoon after briefly closing.
Brogan said the company was hoping to keep it "business as usual" for customers who decide to visit their stores during the dispute.
However, the local Teamsters union, which represents Stop & Shop's warehouse workers and truck drivers, has also directed its members to honor the strike.
"DO NOT CROSS PICKETLINES," the union's social media accounts wrote Thursday afternoon.
Peapod, the online delivery company that partners with Stop & Shop, told customers Thursday that the strike should not affects its services, but would inform them "if for some reason an issue arises." Peapod is owned by the same parent company as Stop & Shop, Dutch grocery giant Ahold Delhaize.
Stop & Shop officials say they will continue to negotiate in "good faith" with the UFCW and have published their most recent contract proposals to each of the five unions on its website. According to the company, their proposals include "across-the-board" pay increases and continued generous health care and pension benefits.
"The unions proposed a contract that would increase the company's costs," Stop & Shop officials said Thursday. "This would make our company less competitive in the mostly non-union New England food retail marketplace."
The union has a different view.
They say the company's latest contract proposal includes "unreasonable wage and benefit cuts" that would diminish customer service. Noting that Ahold Delhaize earned $2 billion in profits last year and approved a 11.1 percent shareholder dividend increase just this week, UFCW leaders say their requests for more are "completely reasonable."
According to the union, Stop & Shop also plans to reduce the number of cashiers and rely more on self-checkout lanes.
"Protecting health care coverage so you can keep your family healthy, adjusting wages to keep pace with regional cost-of-living increases, and maintaining pension contributions so you can retire with dignity is not too much to ask," UFCW leaders wrote to members Wednesday. "It is what you have earned and deserve."