Business
Here's what 2020 presidential candidates are saying about the Stop & Shop strike
"When you fight, you fight for families across America."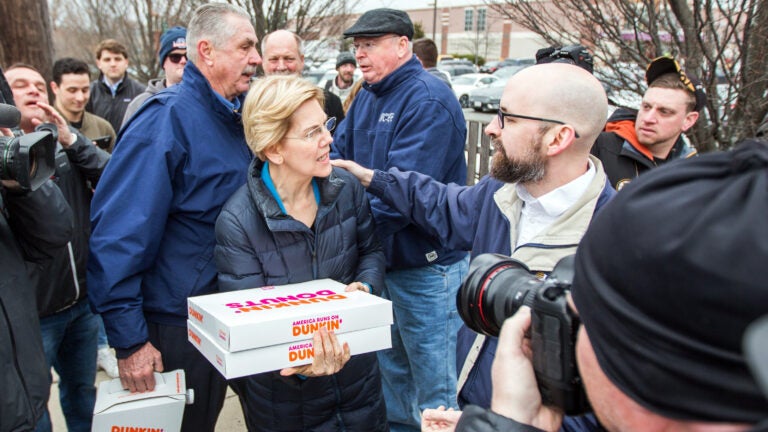 There may not be any Stop & Shop locations in Iowa or New Hampshire, but a number of the Democrats running for president in 2020 are rallying behind the thousands of New England workers who went on strike this week.
Elizabeth Warren was foremost among them.
The Massachusetts senator first announced her support of the strike less than two hours after the Quincy-based chain's 31,000 workers in Connecticut, Massachusetts, and Rhode Island walked off the job at 1 p.m. Thursday afternoon. The strike came after Stop & Shop and its workers' union, the United Food and Commercial Workers, failed to agree to a new contract after months of negotiations over wages, health care, and retirement benefits.
"I stand in solidarity with @UFCW for these hard-working families to be treated with the dignity & respect they deserve," Warren tweeted.
On Friday morning, Warren stood with them literally — joining the picket line outside a Stop & Shop store in East Somerville, a short distance from her new campaign headquarters in Charlestown. The Bay State senator even brought striking workers coffee and doughnuts from Dunkin' Donuts (which was not the first time she has repped the Canton-based chain).
"When you fight, you fight for families across America," Warren told protesters through a megaphone, adding that unions "built America's middle class" and "will rebuild America's middle class."
I stand with the @UFCW and @StopandShop workers on the picket line. This strike is about 31K workers across New England making their voices heard and fighting for living wages and better benefits. When workers fight, workers win. pic.twitter.com/P19WjhRqG6

— Elizabeth Warren (@ewarren) April 12, 2019
While @StopandShop's parent company made $2 billion in profits and got a tax cut from the #GOPTaxScam, @UFCW workers were getting squeezed by low wages and lousy benefits. We're not gonna put up with it. #UnionStrong. pic.twitter.com/iyDxiyqI0F

— Elizabeth Warren (@ewarren) April 12, 2019
Warren urged workers to "stay in the fight until you win."
While the local senator visited workers Friday, other Democratic presidential candidates were with them in spirit.
California Sen. Kamala Harris, Vermont Sen. Bernie Sanders, New York Sen. Kirsten Gillibrand, New Jersey Sen. Cory Booker, and former Housing and Urban Development Secretary Julián Castro all said the workers deserved better wages and benefits.
I stand in solidarity with the thousands of Stop & Shop workers on strike in New England. You deserve fair wages, quality health care, and the ability to retire with dignity. We are with you.

— Kamala Harris (@KamalaHarris) April 11, 2019
.@Stopandshop, a multibillion-dollar company, wants to drastically cut health care for 31,000 workers. I stand with @UFCW workers in their fight to protect health care and workers' rights. https://t.co/JdFpXTMwb8

— Bernie Sanders (@BernieSanders) April 11, 2019
It's unacceptable for CEOs to stack up profits while working families struggle. I stand with the #StopandShop workers striking in New England to fight back against cuts to their wages and health care.

— Kirsten Gillibrand (@SenGillibrand) April 11, 2019
It's a shame that American workers have to go to these lengths just to earn fair wages and decent benefits. I urge Stop & Shop management to put families first and provide fair contracts. https://t.co/P9w2WQGZlC

— Cory Booker (@CoryBooker) April 11, 2019
New England was built by working families, and to ensure the community continues to thrive, we must protect wages and benefits, including healthcare. I urge Stop & Shop to negotiate in good faith with UFCW's New England members. https://t.co/cY4UiSK787

— Julián Castro (@JulianCastro) April 12, 2019
As the only large grocery chain in New England with a fully-unionized store workforce, Stop & Shop officials argue that the company is negotiating in good faith and already provides above-average wages and benefits, compared to the rest of the food retail industry. In a new statement Friday, the chain said their contract proposal includes pay increases for all associates, along with "Gold Level" health care coverage and a defined benefits pension.
However, union leaders say that proposed wages do not keep pace with cost-of-living increases and that Stop & Shop's latest proposal would mean higher health care premiums and, for new workers, reduced pension benefits. Noting that the chain's Dutch parent company, Ahold Delhaize, recorded $2 billion in profits last year, UFCW leaders say their requests for more are "completely reasonable."