Business
3 issues at the heart of the Stop & Shop strike
Here are the reasons negotiations have been locked in a stalemate.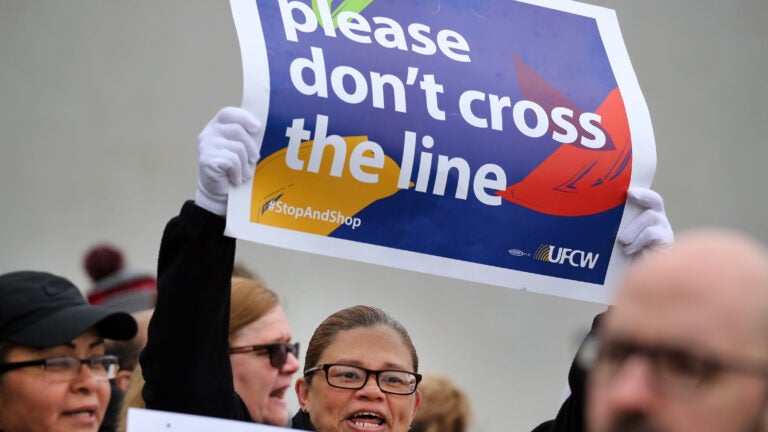 Ten of thousands of Stop & Shop workers across New England walked off the job last Thursday after months of negotiations between company officials and union leaders failed to produce a new contract agreement.
But why?
The Quincy-based company says its latest contract proposal would still provide above-average wages and benefits for the food retail industry, even if it does include cuts for some workers. Stop & Shops officials argue the changes are necessary to stay competitive in an increasing difficult and predominately non-unionized grocery market.
However, leaders of the five local United Food and Commercial Workers unions — which represent 31,000 Stop & Shop workers in Connecticut, Massachusetts, and Rhode Island — remain unconvinced.
They say that Stop & Shop's parent company, Ahold Delhaize, hasn't justified the cuts, noting that the Dutch food retail giant reported $2 billion in profits last year, and recently voted to give shareholders $880 million in dividend payments later this month.
Negotiations between the union and the company resumed over the weekend. But nearly a week into the strike, which has disrupted service and closed some stores, the two sides remained deadlocked Wednesday.
Here are the things they're actually divided over:
1. Health care
Stop & Shop says employee contributions to their "Gold Level" insurance plan have not kept pace with rising national health care costs. To adjust, the company says it will be increasing employee premium contributions by $2 to $4 a week (which translates to roughly $100 to 200 a year).
But according to the union, it could be higher for certain workers. UFCW officials says the average full-time Stop & Shop employee would pay an additional $893 in premiums "over three years," while the average part-time employee with employee-only coverage would pay $603 more over three years.
Still, Stop & Shop says their employees would pay "well below" the national average for health premiums and hundreds of dollars less than what workers at other large companies pay per year.
Under the company's five separate contract offers to the UFCW locals, employee contributions would be 9 to 12 percent for individual coverage premiums or 6 to 8 percent of family premiums — compared to national averages of 20 percent for individual coverage and 28 percent for families.
Another point of contention is Stop & Shop's desire to implement a so-called "spousal exclusion" to its family health care plan. The provision would mean that Stop & Shop employees' spouses would be ineligible for health care coverage if they're offered health care by their own employer. Company officials say they shouldn't be effectively paying another company's health care costs.
The union opposes the provision, noting that it could kick approximately 1,000 employees' spouses from the family health care plan they get through Stop & Shop, regardless of cost or quality of care being offered by their own employer.
2. Wages
Weekends are big for grocery stores, and Stop & Shop says Sunday is the "top shopping day for our customers."
"Making Sunday wage rates more competitive is necessary for proper store staffing," officials wrote in their latest contract offer to the UCFW locals.
Until recently, Massachusetts required retailers to pay time-and-half to employees who worked on Sundays. However, that requirement is being phased out under last year's "grand bargain" bill in exchange for incremental minimum wage increases and a new state paid leave program.
Stop & Shop say time-and-a-half pay would remain in place for both current and future full-time workers. However, part-time workers — which make up about 75 percent of the grocery chain's workforce, according to the union — would see their current premiums "frozen," regardless of future hourly raises. Stop & Shop explains what that would look like in its latest offer:
For example, if you are a Part-Time Associate with a straight-time rate of $12.50 per hour and you currently get time-and-a-half on Sunday, your premium is $6.25 per hour (half of $12.50). The company's offer maintains your $6.25 premium on Sunday. So, when your rate increases to $12.75, you will receive $19.00 per hour on Sunday ($12.75 + $6.25).
The company's offer would also freeze Sunday premiums for Connecticut workers, while time-and-half pay on Sundays remains the law in Rhode Island.
Overall, Stop & Shop says it is offering "across-the-board pay increases" of $0.25 to $0.50 an hour, depending on region, position, and tenure. The company's entry-level positions start at around minimum wage, but with its pay raise scale the company's workers — including managers — average an hourly rate of $21.30.
Unions says the proposed raises amount to less than 2 percent and wouldn't be enough to offset the rising cost of living, as well as increased health care and pension payments for some workers.
3. Pensions
One of the few remaining private companies — and "virtually alone among New England supermarkets" — offering a defined-benefit pension, Stop & Shop says it spends between $1,926 and $2,644 per associate per year on the retirement program, which officials say is increasingly a drag on their finances.
And while they are proposing to keep the program (as opposed to switching to a 401(k) program, which provides less individual security), the company is proposing benefit reductions for non-vested employees.
As requested by the pension fund trustees, Stop & Shop says its proposal would increase company contributions to the pension plan by nearly 20 percent for current full and part-time workers hired on or before Feb. 23, 2014, in order to maintain current accrual levels for those employees.
However, for those hired after Feb. 23, 2014, the company says their new offer is a contribution of $130 a month for an accrued benefit a $40 per month per year of service for full-time workers. Contributions for part-time associates hired after that date would be $32.50 per month ,which will provide a $10 per month per year of pension benefits.
Compared to the current contract, union representatives say that offer amounts to a monthly pension benefit reduction of 32 percent for newly hired full-time employees and 72 percent reduction for  part-time employees.
Stop & Shop says that pension benefits for part-time "are very uncommon in any industry," much less food retail — even if the vast majority of their employees work part-time. In a statement last month, UFCW leaders said they simply weren't willing to accept such far-reaching cuts.
"The men and women who make Stop & Shop a success have earned and deserve affordable health care, a good wage, and the ability to retire with dignity," they said in a statement last week announcing the strike.
"What Stop & Shop workers don't deserve, and what no one who works hard in New England deserves, are unreasonable cuts while the company they work so hard for makes billions of dollars in profits," union officials added.