Business
Marty Walsh caught 'off guard' by Gillette's possible headquarters changes
The news comes as the Boston-based shaving company tries to fend off competitors.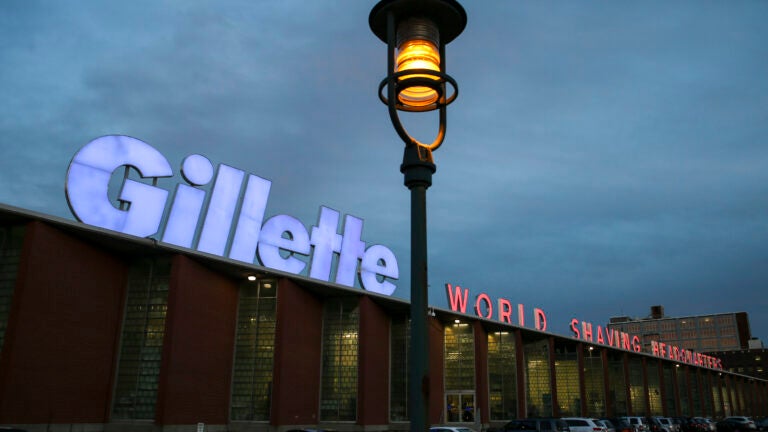 Boston Mayor Marty Walsh says he was somewhat surprised by the news that Gillette is looking at a possible consolidation of its operations in Massachusetts.
Proctor and Gamble, which owns the Boston-based shaving company, announced to employees Thursday that it was "conducting an assessment related to its Massachusetts operations," a company spokeswoman confirmed Friday to Boston.com.
According to WCVB, which first reported the news Thursday, the assessment involves the possible consolidation of Gillette's headquarters in South Boston and its manufacturing facility in Andover, which together employ around 1,300 people.
In a taped interview Friday for WCVB's "On The Record," Walsh said the company's plans "caught me off guard a little bit."
"Their world headquarters is here, and when Procter and Gamble came in and took over the Gillette company, they made a commitment that their intention was not to change the model of Boston as their world headquarters," the mayor said. "They were going to keep it. And it just seems like there's a little bit of concern with some of the conversations that are happening."
Proctor and Gamble spokeswoman Kara Buckley says the assessment is the "first step" in the company's plan to invest in more modern production facilities and office spaces. And while the process will look at how to best locate and structure the company's operations in South Boston and Andover, she said they "anticipate stable enrollment rates in any scenario."
"As we look at all scenarios, our goal will be to retain our talented employees," Buckley said.
Gillette first began manufacturing razors and other shaving products in South Boston around the turn of the 20th century, and its 34-acre headquarters on the Fort Point Channel remains a local landmark, its illuminated sign noticeably visible from I-93.
Buckley says the newly announced assessment is part of an ongoing business reinvention aimed at setting up Gillette for the future with "cutting-edge facilities and capabilities," as the company faces increasing competition from lower-cost, direct-to-consumer razor brands, like Harry's and Dollar Shave Club.
This summer, Gillette reported a still-dominant 52.8 percent market share on men's razors and blades — down from 70 percent in 2010. Over the last few years, the company has slashed its blade prices, launched an order-by-text service, and released a heated razor.
Proctor and Gamble has also recently shifted its marketing strategy with more progressive-minded ads.
At the same time, the Cincinnati-based company, which bought Gillette in 2005, is sitting on increasingly coveted real estate in Boston and has begun selling underutilized portions of its South Boston property for development. In May, Gillette sold a 6.5-acre parking lot for a reported sum of $218 million.
According to WCVB, the forthcoming assessment could involve further shrinking the company's footprint in South Boston, which Walsh wants to preserve.
"It just seems like, a little bit over the past several years there's been a little bit of selling off parcels, looking at development," he told WCVB. "I plan on having a conversation with Gillette, Procter and Gamble, to keep their headquarters here in the city of Boston."
According to the company, they have no plans to move out of city, at least not entirely. Buckley says that Proctor and Gamble plans to work with local officials on whatever changes the future holds.
"Under any scenario, we will maintain a meaningful presence in South Boston, which has been an important part of our heritage — and where we can benefit from, and enable, the strong business and innovation ecosystem that exists in the city today," she said.